Found January 23, 2013 on Obstructed View OLD:
We are getting very close to catchers and pitchers reporting. We might have one or two moves of significance until that point, but I'm going to assume that our team is essentially what we have in front of us. That being said, I'm going to take a broad look at every position to seem what we have there, both now and going forward. First up are the catchers.       Last Year 2013   Career   Name Age AVG OBP SLG wOBA BJwOBA   AVG OBP SLG wOBA MLB Castillo 26 0.265 0.337 0.418 0.327 0.325   0.261 0.326 0.424 0.325   Clevenger 27 0.201 0.260 0.276 0.242 0.246   0.202 0.264 0.281 0.246 AAA Navarro 29 0.319 0.382 0.449 0.371 0.293   0.245 0.306 0.357 0.293   Apodaca 25 0.280 0.387 0.371 0.350               Esposito 33 0.225 0.268 0.275 0.250             AA Brenly 25 0.227 0.295 0.342 0.297               Flores 25 0.167 0.322 0.250 0.289             A+ Gibbs 23 0.200 0.338 0.297 0.312               Lopez 24 0.269 0.338 0.403 0.343             A Krist 22 0.253 0.324 0.447 0.346               Burruel 20 0.250 0.314 0.297 0.290             A- Contreras 20 0.273 0.316 0.357 0.318               Rymel 22 0.188 0.246 0.344 0.279               Escobar 21 0.235 0.355 0.412 0.362             Rk Marra 19 0.322 0.457 0.467 0.434               Mineo 17 0.100 0.182 0.100 0.156             The MLB average wOBA for a catcher last year was .312. MLB Beef Castle is the definite starter next year. He's projected by BJ to have a wOBA of .318. I like him a pretty good deal: his minor league numbers indicate that he is ascending, he improved over the course of the season, and his defensive game-calling abilities are vastly underrated and overreported. Not an area of concern. Steve Clevenger's projection seems incredibly optimistic. I'm not sure I expect an wOBA above .285-.290. If he does reach .310, he becomes a very useful backup/utility guy; it's also the only he stays on the roster. Some people believe he played all of 2012 hurt, but that's either false or stupid (take your pick). Dioner Navarro is 5 years removed from being useful. He's the de facto backup, though he can't hit and can barely field so who knows how long it'll be until he's usurped by Clevenger or someone else. AAA Juan Apodaca is a 26-year old journeyman who put up very nice numbers in AAA last year. He's been with 4 organizations and never reached the bigs. I don't understand why: he's not old, he's walked at every level, and the very few scouting reports I've seen on him indicate he's not terrible behind the plate. He's got low power, but that's no game breaker: he maybe deserves a backup role somewhere but it won't be with the Cubs – they released him last year (he's with the Rangers now). I include him only because he was the primary AAA guy this year: the other guy (that wasn't Castillo) was the abortive Brian Esposito. I haven't seen his release notice on mlbtr so I assume he's still with the club: he's 33 and can't hack it at AAA. Blake Lalli was also booted. The Cubs had 4 primary catchers on the AAA roster last year and none of them will be back. AA Mike Brenly is the "favorite" to break camp with the AAA squad (if Clevenger isn't waived, clears, and accepts). He is the son of Bob Brenly, which is the only reason he was drafted. Since then, he's been an unspectacular, slow-moving catcher. I have no reason to believe he'll ever contribute at the MLB level. Luis Flores put up a .572 OPS as a 25 year backup in AA last year.  A+ Micah Gibbs might be a backup one day, maybe? He walks and he's not particularly old for his level (I mean, he's not a prospect level, but he's not completely worthless yet). He's got no power and for a 3rd rounder has disappointed. Se la vie…Chad Noble was so bad last year that I couldn't even include him on this list. Rafael Lopez is too old for this level, but has been a solid performer so far. Catchers as a rule get a longer age-leash in the minors, so the book isn't entirely closed on him. He's got mediocre gap power, which for a catcher is pretty good. A Yaniel Cabezas had an OPS under .550 and thus didn't qualify for my list, because he isn't a baseball player. Sergio Burruel has youth on his side, but he's been in the organization for 4 years and has never slugged above his OBP. Chadd Krist inexplicably sounds like the name of a porn star to me. He had a very nice season in 2012 and should start the year as the A starter, or maybe the A+ co-starter. A- Wilson Contreras is young and adequate at Boise this year. He also had a 47% CS last year, which is probably unsustainable. He's been in the organization for 4 years and has always been average to middling with the bat, but that's no dealbreaker at all. Lance Rymel was a 28th round draft pick in the 2012 draft and got embarrassed in his 25 games. His BABIP was under .200 so he's a fair bet to look better next year, but he has some definite work to do if he wants to stick around. Carlos Escobar is another 2012 draftee (15th), and he acquitted himself quite well. He'll be 22 next year, and should grab the bulk of the starts for the club next year if not promoted to A outright. Rk Justin Marra is become Youkilis, destroyer of pitchers with poor control. He got a late start to his career after being drafted in 2011, but embarrassed the rookie league much like Vogelbach did (albeit in a much different way). He had a .397 BABIP, so he's a serious regression candidate (as is the fact that he very likely just took the walks given to him), but you couldn't ask much more from a guy in his first taste of baseball. Hits doubles, and walks, what's not to like? Alberto Mineo is 17 and has 62 career PA. I'd be lying if I told you I knew anything about him.  I'm not going to do FRk, because it's so far from my periphery. The Cubs don't have any real breakout candidates anywhere near ready to hit the majors. Depending on how you feel about Clevenger, you might not even have great depth at the major league level. I think that there are a few fringey-prospects in the deep minors (Marra, Escobar, Contreras) but absolutely no one that I'd feel projecting to ever start for the Cubs in the next 4-5 years.  Projected Rosters MLB: Castillo/Navarro/Clevenger AAA: NRI/Brenly/Esposito AA: Gibbs/Flores/Lopez A+: Lopez/Krist A: Escobar/Burruel/(Cabezas?) A-: Contreras/Marra/Rymel Rk: Mineo/?   The post Assume the Position: Catcher appeared first on Obstructed View.
Original Story:
http://www.obstructedview.net/project...
THE BACKYARD
BEST OF MAXIM
RELATED ARTICLES
I actually like Lendy Castillo a fair bit. Lendy Castillo was signed by the Philadelphia Phillies in 2006… as a shortstop. He actually showed considerable promise on the defensive side, but could not hit to save his life. 2007: 684 OPS 2008: 566 OPS 2009: 453 OPS After it was apparently there was no way he was going to hack it even as an all-glove shortstop, the Phillies ended...
Sammy Sosa had an opportunity to go down in history as one of the best Chicago Cubs ever.  Then in 2003 a report came out that labeled Sosa as one of many players the used PED's, and well the rest is history. Sosa now says he's ready to forgive the Cubs, and during a live webcast that he set up, stated that the Cubs should have been retired his #21 jersey via ESPN Chicago. "I...
I am not sure how closely you have been paying attention, but the Chicago Cubs have been making a number of free agent signings over the off season making their 40 man roster a mess, Their free agent signings did not stop last night when reports came out of the newest acquisition Scott Hairston, formerly with the New York Mets. Even though the ball club has not yet confirmed the...
The Chicago Cubs plan on restoring Wrigley Field, with or without the city's help. The team announced a five-year, $300 million plan to rebuild the Friendly Confines at the annual Cubs Convention on Saturday, and owner Tom Ricketts said his family is willing to foot the entire bill -- but only if some long-standing restrictions are lifted. "[We would] like to be treated...
Less than one month until Chicago Cubs baseball is on the air! WGN Radio will broadcast nine games. I wouldn't be surprised if most of the rest are covered on Gameday Radio, as was the case last year. No word yet on any televised games, though I would be surprised if any are non-weekend games. The post Spring Training Broadcast Schedule Announced appeared first on Obstructed View.
Chicago Cubs scout Sam Hughes watches Colin Kaepernick nowadays and still wonders what the strong-armed NFL quarterback might look like on a pitching mound, as a power arm in the pros. It's hard not to, seeing the zip and accuracy on each throw, the competitive fire and focus. The Cubs never even watched Kaepernick throw a baseball before drafting him in the 43rd round almost...
COOPERSTOWN CALL
Sammy Sosa answered several questions during a web chat, and he said that he and Mark McGwire should be in the Hall of Fame.
The Chicago Cubs, adding another veteran to their outfield, have reached agreement with free agent Scott Hairston on a two-year contract, according to major league sources. Hairston, 32, figures to platoon with another free-agent signee, Nate Schierholtz, in right field. David DeJesus is projected to be in center and Alfonso Soriano in left. The New York Mets, New York Yankees...
Sammy Sosa thinks he and fellow steroid-tainted star Mark McGwire belong in the Hall of Fame. Slammin' Sammy also said the Chicago Cubs should retire his number, and he left open the possibility of running for president of the Dominican Republic during an interview Wednesday on the website Ustream.com. Asked if he thinks he or McGwire belong in the Hall, Sosa said: ''...
After a whirlwind weekend and trying to get back to "real life", I finally have a chance to sit down and give my take on the Convention this past weekend.  Now, keep in mind, I went to the Convention with my 13 year old son who lives and breathes baseball, so this weekend was to be more about him than seminars and Q&A sessions.  I would have loved to get to more of the...
Last we checked in on former Chicago Cubs slugger Sammy Sosa, he allowed me to absolutely, 100% legitimately spend two days with him and his new public relations team, as they are trying to attempt to rebuild his image with the hopes of getting him back into the good graces of the incredibly evil Baseball Writers Association of America. Basically, it seems that Sosa wants to get...
Sammy Sosa woke up.   Someone must've told him he didn't get elected to the Hall of Fame.  Now he's all over the media talking about he deserves to be in the Hall of Fame, and how the Cubs should've retired his number a long time ago.   To the first point, I say no. [...]
MLB News

Delivered to your inbox

You'll also receive Yardbarker's daily Top 10, featuring the best sports stories from around the web. Customize your newsletter to get articles on your favorite sports and teams. And the best part? It's free!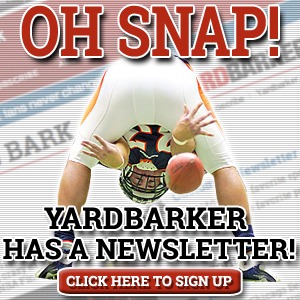 Latest Rumors
The Backyard

Today's Best Stuff

For Bloggers

Join the Yardbarker Network for more promotion, traffic, and money.

Company Info

Help

What is Yardbarker?

Yardbarker is the largest network of sports blogs and pro athlete blogs on the web. This site is the hub of the Yardbarker Network, where our editors and algorithms curate the best sports content from our network and beyond.