Found January 25, 2013 on Obstructed View OLD:
First base looks to be quite a bit rosier for the Cubs than catcher does. They Cubs have a budding star at the top and some very intriguing options at the bottom.       Last Year 2013 Career   Name Age AVG OBP SLG wOBA pwOBA AVG OBP SLG wOBA MLB Rizzo 22 0.285 0.342 0.463 0.349 0.368 0.245 0.324 0.402 0.320 AAA Rohan 26 0.290 0.330 0.449 0.338           AA Bour 24 0.283 0.360 0.455 0.368           A+ Ridling 26 0.238 0.300 0.370 0.310             Jones 24 0.224 0.265 0.300 0.263           A Hoilman 23 0.237 0.326 0.392 0.328             Cuneo 23 0.252 0.339 0.392 0.333             Rogers 22 0.300 0.493 0.420 0.435           A- Vogelbach 19 0.322 0.423 0.608 0.469             Shoulders 20 0.250 0.342 0.447 0.370           Rk Gretzky 19 0.304 0.372 0.330 0.342           The league average 1B last year had a wOBA of .337. MLB Anthony Rizzo had himself a nice little half-season last year. I'd like to see some more walks, but I'm happy with his contact numbers (generally) and his power has developed nicely. He's a cheap, good, middle-of-the-order type of hitter. He is swing-happy, but as long as he can put a bat on the ball who cares? He also crushes off-speed offerings, so he's going to get hittable pitches. Hooray! AAA Greg, of Rohan is probably a Quad-A guy. He put up solid numbers last year, but it was his first taste of AAA at 26. I wouldn't hate having him as the backup 1B (and he bats righty, so he'd presumably platoon well with Rizzo), but his numbers indicate he's eminently replaceable.  Blake Lalli was the primary backup to Rizzo but he's gone now.  AA Justin Bour had a nice little season. He's still young enough to maybe be on the periphery (he'll be 25 in AAA this season) and he's shown ability at every level in his career. He could be a solid backup as early as late 2013/2014. A+ Rebel Ridling is org filler at this point. He'll be 27, in AA, hitting league average, next year. Going to go ahead pass on him. The first time I ever heard of Richard Jones was research for this article. It's the last time you'll ever hear of him, too: he's coming to a Home Depot near you.  A Paul Hoilman is too old to be in A without absolutely dominating. He's a 2011 draftee, so the book is completely written on him, but he better get good in a hurry: 473 PA of .718 OPS ball from 1B is not so good. Ryan Cuneo was released by the Cubs when he couldn't hit himself out of Peoria. He will not be missed. Jacob Rogers brought the thunder in his first taste of professional action, putting up a .999 OPS in Arizona and a .913 OPS in Peoria. He takes a ton of walks. He should be a fast mover in the system; he's already 22 so he should have a pretty firm grasp of minor-league quality hurlers. He's a fringey-prospect but someone I'll be keeping an eye on. A- Call me crazy, but I'm not sure Daniel Vogelbach isn't the 2nd best prospect in the Cubs organization (Baez is one with a bullet). Vogelbach has a few years to get in shape to play first (and I've heard the first whispers that he could even end up at left field if he improves as rapidly as he has). I don't care about getting him to the outfield; if he plays at first, he could be a special hitting prospect. Using this handy tool (and assuming A numbers, since A- doesn't fit in there), Vogelbach was already better than Vitters was last year (dying laughing). He's got very good plate discipline. He makes contact. He's got legitimate plus-plus power, and that includes doubles power (he hit 21 in 283 PA last season). He's got one of the best 5 or 10 bats in all of the minor leagues, and the Cubs are lucky to have him (and 1B prospects are slightly thin at the moment, anyway). Rock Shoulders hit very well in his limited time, too. He's not a high-quality prospect, but he could put himself there with a nice season in 2013. Rk Trevor Gretzky sure looks like a bust. He's still only 19, but he has absolutely no power. He plays 1B and LF, neither all that well, and he's tall but not strong. He'll get his chances (7th round, 2011), but I'm not holding my breath.  All in all, this isn't a bad bunch of players. I'm not sure where I'd put these guys in a list of our top prospects, but Vogelbach is certainly one, with Bour and Shoulders getting some fringe-consideration at the bottom of the top 30.  Projected Rosters MLB: Rizzo/Clevenger? AAA: Bour/Rohan AA: Ridling A+: Rogers/Jones A: Vogelbach (I'd love to see him start the season at A+ or even AA, but I'll take A+)/Hoilman A-: Shoulders/Gretzky I don't like keeping Shoulders at A-, but I do think it's where he'll start the season.  The post Assume the Position: First Base appeared first on Obstructed View.
Original Story:
http://www.obstructedview.net/minor-l...
THE BACKYARD
BEST OF MAXIM
RELATED ARTICLES
Sammy Sosa had an opportunity to go down in history as one of the best Chicago Cubs ever.  Then in 2003 a report came out that labeled Sosa as one of many players the used PED's, and well the rest is history. Sosa now says he's ready to forgive the Cubs, and during a live webcast that he set up, stated that the Cubs should have been retired his #21 jersey via ESPN Chicago. "I...
Pitcher Carlos Villanueva and the Chicago Cubs have completed a $10 million, two-year contract. Villanueva will earn $5 million annually as part of Saturday's deal. The sides had agreed to the contract in mid-December, pending a successful physical. The 29-year-old right-hander spent the past two seasons with Toronto and went 7-7 with a 4.16 ERA last year in 16 starts and 22...
I am not sure how closely you have been paying attention, but the Chicago Cubs have been making a number of free agent signings over the off season making their 40 man roster a mess, Their free agent signings did not stop last night when reports came out of the newest acquisition Scott Hairston, formerly with the New York Mets. Even though the ball club has not yet confirmed the...
The Chicago Cubs and right-handed pitcher Carlos Villanueva agreed to terms on a two-year $10 million contract. To make room for Villanueva, right-handed pitcher Lendy Castillo was designated for assignment. Villanueva, 29, joins the Cubs after pitching the last seven seasons with the Brewers (2006-10) and Blue Jays (2011-12). Villanueva has 56 starts and 245 relief appearances during...
Spring training is just around the corner and the 2013 Cubs are set to kick off their Cactus League schedule on February 23rd. It's a split squad game and the game against the Angels will even be televised on WGN. It's not until April 1st that non-practice games will be played, but it's time to get excited. They might be better than we think. A few weeks ago I came up...
Less than one month until Chicago Cubs baseball is on the air! WGN Radio will broadcast nine games. I wouldn't be surprised if most of the rest are covered on Gameday Radio, as was the case last year. No word yet on any televised games, though I would be surprised if any are non-weekend games. The post Spring Training Broadcast Schedule Announced appeared first on Obstructed View.
In the 2000s, the Chicago Cubs and the owners of the rooftops surrounding Wrigley Field had quite a tiff going on. The Cubs put up fences in the bleachers blocking the view of the Wrigleyville rooftops, so the rooftop owners built their seats higher above it. Then the ballclub put up another screen blocking the view, claiming it was for "post 9/11 security screens." After years...
Sammy Sosa woke up.   Someone must've told him he didn't get elected to the Hall of Fame.  Now he's all over the media talking about he deserves to be in the Hall of Fame, and how the Cubs should've retired his number a long time ago.   To the first point, I say no. [...]
Last we checked in on former Chicago Cubs slugger Sammy Sosa, he allowed me to absolutely, 100% legitimately spend two days with him and his new public relations team, as they are trying to attempt to rebuild his image with the hopes of getting him back into the good graces of the incredibly evil Baseball Writers Association of America. Basically, it seems that Sosa wants to get...
It's pretty rare that I ever side with "The Man" in any business argument, and yet here I am, siding with Tom Ricketts when it comes to his little border war with the Rooftop association. To be honest, however, this isn't a case of "The Man" vs. small business. This is "The Man" pitted against a smaller "The Man" situation. Let's backtrack a bit. You see, the...
MLB News

Delivered to your inbox

You'll also receive Yardbarker's daily Top 10, featuring the best sports stories from around the web. Customize your newsletter to get articles on your favorite sports and teams. And the best part? It's free!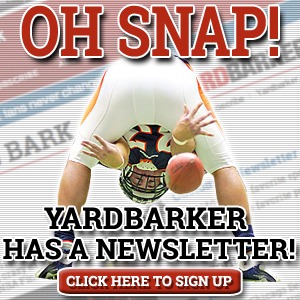 Latest Rumors
The Backyard

Today's Best Stuff

For Bloggers

Join the Yardbarker Network for more promotion, traffic, and money.

Company Info

Help

What is Yardbarker?

Yardbarker is the largest network of sports blogs and pro athlete blogs on the web. This site is the hub of the Yardbarker Network, where our editors and algorithms curate the best sports content from our network and beyond.