Posted October 04, 2012 on AP on Fox
The Houston Astros' last season in the National League was a forgettable one. The Astros said goodbye to the senior circuit with a whimper, posting their second straight 100-loss season before moving to the American League West for 2013. Houston finished with the worst record in the majors for the second year and its 55-107 mark is the worst in franchise history, one game below last year's finish, in Jim Crane's first season as owner. This group of Astros never really had a chance after the few remaining veterans were jettisoned before the trade deadline and they were forced to play with a roster comprised of just one player who made more than $1 million. Their payroll at the end of the year was down to $61.7 million, higher than only Pittsburgh and Oakland. ''We've done a lot of work this year,'' Crane said. ''It doesn't look like it on the field because the results aren't there yet, but I think it's been fun. We've made a lot of changes. I think that's going to pay off as we move forward.'' The Astros fired manager Brad Mills on Aug. 18 and Houston's former Triple-A manager Tony DeFrancesco finished the season on an interim basis. Last week they named Washington third base coach Bo Porter manager and he'll take over once the Nationals are eliminated from the postseason. That means Houston will enter a different league with a first-time manager and new uniforms, which are to be unveiled next month, for next season. The question is if all these changes will equate to more success on the diamond. By trading away virtually all their veterans over the last three seasons, the Astros slashed their payroll and restocked a farm system which had been left barren under previous management. They acquired 15 players, most of whom were prospects, in the trades they made this year alone. That infusion of talent helped transform Houston's minor league teams from among the worst in baseball into some of the best. ''We'll continue to stay with the plan which is build from within,'' Crane said. ''Once we get a nucleus of players we feel can play at the major league level we'll start filling it in. Certainly there's a nucleus here. We like a lot of things we've seen, but we do have a lot of holes.'' Houston picked up high school shortstop Carlos Correa with the No. 1 pick in the draft and believe he can be the face of the franchise in a few years. They'll add another top prospect in this year's draft as they'll again pick first. Among the positives in Houston's dreadful season was the development of several young players. Second baseman Jose Altuve was named to the All-Star game and led the team with a .290 batting average and 167 hits. The Astros were also impressed with his improved defensive performance. Houston claimed outfielder Justin Maxwell off waivers from New York in April and the 28-year-old had a breakout season. Maxwell flourished after injuries and inconsistent play left opening day center fielder Jordan Schafer out for a good chunk of the season. Maxwell displayed versatility in playing all three outfield positions and showed power at the plate, leading the team with a career-high 18 homers and finishing second with 53 RBIs. It was his first chance to be an everyday player after he combined to play 122 games in parts of three seasons with the Nationals before landing in Houston. He hopes to remain with the Astros as they continue to rebuild next season. ''This is a great opportunity,'' he said. ''We've got an exciting owner, going to a new league, getting new uniforms. I like all the pieces we have. It looks like they're trying to build a winning organization from within.'' The Astros saw some good signs from Brett Wallace at first base. He spent half of the season in Triple-A before taking over at the position when Houston sent high-priced veteran Carlos Lee to Miami. The left-handed Wallace had nine homers in 66 games and finished with a .253 average. ''There have been ups and downs, but I feel confident about the adjustments that I've made and the progress that I've made as far as driving the ball and driving in runs,'' he said. ''It's not a finished product, but I definitely feel like I put myself in a lot better position at the plate right now to damage more consistently.'' He was encouraged by the progress the team made in the last month of the season when they won two series against teams that were still in contention. ''We've been playing a lot better and I think as we gain more experience and come together as a team, we're going to be able to win more and more games,'' Wallace said. More encouraging signs came from Houston's pitching where reliever and sometimes closer Wilton Lopez posted a 2.17 ERA in 64 games. Rookie Lucas Harrell had the best season among Houston's starters and went 11-11 with a 3.76 ERA in 32 starts. ''Hopefully everyone can build on their individual successes from this year and hopefully have a better team year next season,'' he said. ''These young guys should see that this is a big opportunity for all of us and we have to make the most of it.'' ----- AP Sports Writer Ron Blum contributed to this report from New York.
Original Story:
http://msn.foxsports.com/mlb/story/As...
THE BACKYARD
BEST OF MAXIM
RELATED ARTICLES
JERSEY FOUL
Man, the Astros just can't do anything right, can they? The newest American League team is getting ready to unveil a new look complete with a new logo and uniforms next month, but they accidentally gave us a sneak preview thanks to a graphic (above) on the team's website inviting fans to come to the launch party. Playing with the brightness and exposure settings gives us a...
The Houston Astros say they'll have a new radio broadcast team next season. In a statement issued Thursday, the Astros say they've begun a search for a successor to veteran broadcaster Milo Hamilton, who announced that 2012 would be his last season as lead play-by-play announcer. Hamilton had been in the post since 1985. The Astros also announced that the contracts of radio...
The catcher for the Houston Astros seemed to do "The Snake" as he tried to sneak into second base in a game against the Chicago Cubs. When you go in sliding head first they shouldn't need to apply first-aid to your head. His feet did almost make it in first as they were right behind his head.He looks like he got a nice shave at least.Here's one angle of the play...
The Houston Astros endured the worst season in team history in 2012 by losing 107 games—just narrowly edging out last year's squad that lost only 106 contests.  In the team's final game as a National League franchise, catcher Carlos Corporán found himself on the wrong end of a botched hit-and-run in the 8th inning against the similarly anemic Chicago Cubs. ...
The woeful Houston Astros were wrapping up another horrible season on Wednesday when a play occurred that in its essence signified just how miserable things have become down in Texas. About to ring up a the team's 107th loss this season, the play in question certainly put an exclamation point on it. Or maybe a [...]
What makes it so difficult to analyze the results of the 2012 Houston Astros was that this season was never really even about the 2012 Astros. The franchise spent this year with one eye on next year. Sure, the schedule-makers had the Astros play, but despite a rather encouraging 22-23 start, they still managed to finish 55-107, the worst mark in franchise history. So that'...
October 3rd, 2012 marks the end of the Houston Astros presence in the National League Central Division.  Beginning next season, the Astros will compete in the American League West, thus evening out the number of teams in each league and division. Over the course of their 50 year tenure in the National League, the Astros, also formerly known as the Colt .45's, have had many ups...
Astros News

Delivered to your inbox

You'll also receive Yardbarker's daily Top 10, featuring the best sports stories from around the web. Customize your newsletter to get articles on your favorite sports and teams. And the best part? It's free!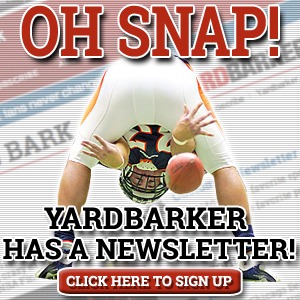 Latest Rumors
The Backyard

Today's Best Stuff

For Bloggers

Join the Yardbarker Network for more promotion, traffic, and money.

Company Info

Help

What is Yardbarker?

Yardbarker is the largest network of sports blogs and pro athlete blogs on the web. This site is the hub of the Yardbarker Network, where our editors and algorithms curate the best sports content from our network and beyond.