Found March 24, 2012 on hardballchat.com:
Atlanta Braves 3B Chipper Jones announced this week that this season will be his last. His last season has not gotten off to the start that he might have been hoping for as he is now scheduled to undergo knee surgery. On Monday, the future Hall of Famer will undergo arthroscopic surgery to repair a torn meniscus.
The injury Jones sustained was while the veteran was stretching before batting practice according to ESPN. Jones suffered a similar injury last season but Braves skipper Fredi Gonzalez believes Jones will return by the home season opener this season.
"When he had it last year, it was only 17 day, and talking to Chipper, he feels like he can make it back for our home opener (April 13th) The difference between this year and last year, last year he was in midseason form when he did it. Now he's in conditioning mode, so it's possible it can be another week," said Gonzalez.
Eric Schmidt is the owner/editor of thepigskinreport.com. You can follow Eric on Twitter @bucco40 and make sure to visit the pigskinreport FB page. Make sure to visit our other sites- hardballchat.com, roundballchat.com and centericechat.com for all of your sports needs.
You can find Eric's work on Fox Sports, Yardbarker and at Ballhyped.com.
Original Story:
http://www.hardballchat.com/2012/03/a...
THE BACKYARD
BEST OF MAXIM
RELATED ARTICLES
Chipper Jones will miss the start of his last season due to arthroscopic surgery on the left knee he injured shortly before he announced his impending retirement. Jones slipped during stretching a little while before his press conference March 2, the Braves said, and will undergo his sixth knee surgery March 26. He is hoping to return for the team's home opener on April 13...
Chipper Jones has already announced that this is his final year in the MLB. He even went so far as to say he wasn't sure he could make it through this season. Then, late this week, it was announced that he's going to need surgery before the season to shore up his knee and that he hopes to return before the start of play in April. I'm not sold. At some point this year...
It's been a long and wonderful road Larry Wayne, and we'll be sorry to see you go. The news announced via the Atlanta Braves Twitter account Thursday morning made us a little sad even though we've seen it coming since at least 2010: Chipper Jones is retiring following this season. He held an emotional press conference later on in the day, which every single one of...
SCOTT JACOBS Chipper Jones announced today that he will retire at the end of the 2012 season. As the final active player from Atlanta's dominant 1995-2005 stretch in which the Braves won 100 games 5 times, Jones was the heart and soul of the Braves offense. Carried by pitching aces, Greg Maddux, Tom Glavine, and John Smoltz, the Braves unprecedented success in which they won 14...
Some opponents you loathe. You watch with venom in your heart for how they destroy your team, for their arrogance and attitude. Other opponents you respect and admire, and salute for their longevity and talent. Such is the case with the Braves' Chipper Jones. The inevitable became official this morning when Jones announced this would be his final season playing third base for...
By Bud L. Ellis Chipper Jones debuted in the big leagues as a shortstop in1993 ATLANTA — In the spring of 1994, a 21-year-old converted shortstop found himself trying to make a major-league roster. At the same time, a 21-year-old college student found himself trying to make his mark as sports editor of his college newspaper. And on the airwaves that spring, a song worked its way...
Earlier today, Chipper Jones announced that he will be retiring at the end of the season after almost two decades spent entirely with the Atlanta Braves.  Jones will retire as one of the Braves' all-time greatest players, finishing in the top three in many of the team's offensive categories (along with Hank Aaron and Eddie Mathews).  He will also end his career as one of the...
It was announced earlier today that Chipper Jones, one of the greatest sports villains in New York history, will be exiting stage right at the end of the season. When you think about some of the prominent villains over the last 25 years Reggie Miller, Michael Jordan, Pedro Martinez, Ken Griffey Jr. and Jones stand out. For as aggravating as it was seeing him and the Braves beat...
FORT MYERS, Fla. –– First, Jason Varitek retired. Then, earlier this week, Braves third baseman Chipper Jones announced his retirement, effective following the 2012 season. In a span of weeks, two of Jarrod Saltalamacchia's mentors have closed the books on their illustrious careers. Considering Jones advised him as a rookie in the Atlanta organization, that retirement announcement...
Kent Covington is joined by sports writer and BravesWire contributor, Bud Ellis, to discuss Chipper Jones' retirement. NOTE: This was recorded prior to public announcement that Chipper Jones will undergo knee surgery and begin the season on the DL.  (Please notice "play in popup" link under flash player. This is often a more convenient way to listen.) Before you go, check...
KISSIMMEE, Fla. (AP) -- Tyler Pastornicky had four hits and Freddie Freeman added three and the Atlanta Braves tied the Miami Marlins 5-5 in 10 innings, just hours after Chipper Jones said he will retire at the end of the season. Jones did not play on Thursday. Pastornicky has struggled this spring, but lifted his batting average to .224. Freeman boosted his spring average to ...
A loaded Grapefruit Roundup tonight at 8pm Hear me talk about the Joba Chamberlain's injury and answer the critics who believe I am off base in my criticism of his judgement. I also talk about Chipper Jones being an all-time Mets killer, and what the Wilpon victory in court means for the Mets. Joining me during the hour is Neil Keefe of WFAN, Brian Erni of Metsblog and author...
Braves News

Delivered to your inbox

You'll also receive Yardbarker's daily Top 10, featuring the best sports stories from around the web. Customize your newsletter to get articles on your favorite sports and teams. And the best part? It's free!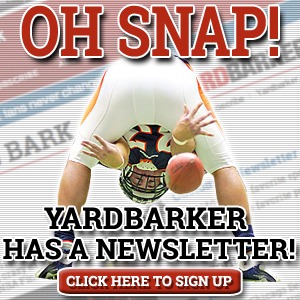 Latest Rumors
The Backyard

Today's Best Stuff

For Bloggers

Join the Yardbarker Network for more promotion, traffic, and money.

Company Info

Help

What is Yardbarker?

Yardbarker is the largest network of sports blogs and pro athlete blogs on the web. This site is the hub of the Yardbarker Network, where our editors and algorithms curate the best sports content from our network and beyond.