Found March 01, 2012 on isportsweb.com:
PLAYERS:
Nick Markakis
,
Adam Jones
,
Matt Wieters
,
JJ Hardy
,
Mark Reynolds
,
Chris Davis
,
Zach Britton
,
Jeremy Guthrie
,
Brian Roberts
,
Tommy Hunter
,
Jake Arrieta
,
Chris Tillman
,
Dana Eveland
,
Jason Hammel
,
Wei-Yin Chen
,
Kevin Gregg
,
Matt Lindstrom
,
Alfredo Simon
,
Jason Berken
,
Brad Bergesen
,
Pat Neshek
,
Brian Matusz
TEAMS:
Baltimore Orioles
,
Boston Red Sox
,
Colorado Rockies
When you're a team like Orioles, you learn to appreciate the little things.  Series wins.  Staying competitive into the summer.  Developing young talent.  Knocking one of your biggest rivals out of the playoffs by winning five of seven head-to-head meetings in September.
You know.  The little things.
Baltimore enjoyed September success at Boston's expense (Stringer/ PressBox)
Baltimore may be a long-suffering franchise but for a shining moment last season, everything felt right.  It felt almost as good as a trip to the playoffs.  In a division where big hitters and big spenders rule, the Orioles are usually stuck in the cellar, dreaming about how to extricate themselves from a predicament that seemingly has no end.  In baseball the rich stay rich, and the rest fight for the few remaining postseason spots; while the small-market Rays have managed to turn things around in Tampa, the O's are still looking to achieve a similar feat in Charm City.  Yet thanks to a tenacious attitude, Baltimore's 2011 ended on a high as the team played spoiler and sent the Red Sox reeling to the worst collapse in baseball history.
Sure, Boston's fall had to do with more than just the Orioles, but the Birds were the proximal cause of the demise.  And when you finish at 69-93, in last place yet again, you take your victories where you can find them.  A winning September gave the O's something to build on, and for all its recent struggles, this team does feature plenty of talent.  Baltimore's biggest mistake is one of geography, and while that's not fixable, each new season offers a chance for teams to redeem themselves on the field.
3 Up
Best case scenario for 2012
It would take everything breaking right for the O's, but finishing out of the cellar would be quite an accomplishment.  The lineup has its share of effective bats, but they need to stay healthy and play to their potential.  Nick Markakis, Adam Jones, and Matt Wieters form a solid enough core that can certainly do damage, and a resurgent J.J. Hardy has added some pop to the order.  Mark Reynolds employed a new rigorous off-season workout in an attempt to slim down for third base duties; if his new regimen can elevate his batting average while allowing him to maintain his 30-40 HR power, he could be an asset.  Baltimore needs to put it all together for an extended period.  It needs to have consecutive winning months.  It would be an uphill battle but overtaking Toronto for fourth place isn't completely out of the question.
Most important Orioles
Catcher Matt Wieters has become the face of the franchise.  Heading into his age-26 season, he's about to enter the prime of his career.  Last season saw him crack the 20-HR mark in just 500 at bats, and as his power at the plate develops to match his prowess behind it, he should become a formidable weapon.  Outfielders Nick Markakis and Adam Jones are, along with their backstop, the heart of this offense.  Markakis had a rough start last year and needs to come out of the gate swinging in 2012.  Jones has seen improvements in his power swing, but needs to get his on-base skills in better shape.  Collectively, this trio needs to set the tone for the rest of the club.
Potential breakout players
Former Ranger Chris Davis, who came over in the Koji Uehara deal, will be taking over at first base as Reynolds crosses the infield.  Davis was a masher in the minor leagues and delivered an .880 OPS in his rookie half-season in Texas.  But since then, his career has been a story of regression.  Faced with a real opportunity to be a full-time starter, Davis needs to step up and convert potential into reality.
On the mound, Baltimore is rife with young pitching.  Zach Britton and Brian Matsuz both have real upside and showed flashes of brilliance in previous seasons.  But the southpaws suffered setbacks last year, particularly Matusz who endured a very tough campaign.  With Jeremy Guthrie having been traded away, the Baltimore rotation is in search of an ace.  So who will step up?
3 Down
Worst case scenario for 2012
The worst case is the status quo for the Orioles.  In a way it's comforting; you can't drop below last place, and if that's where the team ends up yet again then, well, it's something that everyone is accustomed to.  It's an unfortunate truth, but the team has set the expectation that it will finish far behind the leaders in the A.L. East.  And before anyone feels too badly for the poor Birds, remember that they play in a sizable media market with access to several major cities.  They have a storied tradition with a big-time baseball pedigree.  If this organization wanted to change its culture of losing, it could.  It wouldn't be easy, but it could happen.  Of course, if that commitment existed then Dan Duquette wouldn't be the new GM, but that's another topic for another day.
Areas of concern
It's a long list.  Can Mark Reynolds handle the hot corner?  Can Brian Roberts, who has been plagued by physical injuries and concussion problems, stay on the field?  What's the solution in left field?  Will Chris Davis actually deliver?  And what should any of us think about the pitching?
What can the Orioles expect from their young pitching? Arrieta, Matusz, and Britton could make or break the rotation (Fiume/ Getty)
The rotation and bullpen are the biggest worries.  With the departure of Guthrie, Baltimore's most reliable starter is probably Tommy Hunter.  Other candidates for the rotation include Britton, Matusz, Jake Arrieta, Chris Tillman, former Athletic and Blue Jay Dana Eveland, former Rockie Jason Hammel, and imports Wei-Yin Chen and Tsuyoshi Wada.  It's not exactly a group that inspires confidence.  Hammel and Eveland are both near 30 and Wada is 31; the rest average about 25 years old.  That kind of youth and relative inexperience makes it hard for the club to know exactly what it has.
The bullpen isn't much better.  Kevin Gregg is a serviceable closer but he'll likely give way this year to Jim Johnson.  Matt Lindstrom came from Colorado in the Guthrie deal, Alfredo Simon will move from the rotation into relief, and Jason Berken and Brad Bergesen will be back in mediocre action.  One interesting name is Pat Neshek, a one-time stud who is looking to regain his form.  But overall, the pitching isn't in very good condition.
Who needs to bounce back from a down 2011
Brian Matusz has too much stuff to be this bad, and Nick Markakis can't suffer another spring like last year's.  It seems like he's been manning right field forever, but Markakis is only 28 years old.  This is still his prime and has to yield better results than an OPS in the high .700s.  Matusz was just a wreck in 2011 and needs to prove that 2010 was closer to the truth.
For the Orioles, a team with such a small margin for error, everything has to mesh.  Everything has to work.  No one can under-achieve if these guys expect to do the unexpected.
Original Story:
http://isportsweb.com/2012/03/01/balt...
THE BACKYARD
BEST OF MAXIM
RELATED ARTICLES
It's that time again. Today, I will try to predict the Oriole win total using estimated playing time, projections and the WAR spreadsheet from Beyond the Boxscore.I used Sky Kalkman's updated WAR Spreadsheet for the calculations and based on Matt Swartz's article on testing projections systems at Fangraphs.com, I used a combination of ZiPS and Oliver projections for the...
The infield was put together last week, leaving the outfield and the bench to be projected from the position players.Nolan Reimold (LF):500 PA, .253/.340/.431, -4 fielding, 1.4 Wins Above ReplacementIt'll be interesting to see what Reimold can do if he gets a full healthy season to play. At 28 years old already, there isn't a lot of time left in what should be his prime years...
What else can baseball fans do in January but dream of October? In You May Say I'm a Dreamer, the Outside Corner staff will imagine the route to a World Series in 2012 title for all 30 teams. Out of all of the teams that could win the 2012 World Series, is there more of a longshot than the Baltimore Orioles? The O's play in the ridiculous tough AL East, are plagued by...
For 14 consecutive seasons, the Baltimore Orioles have tried nearly everything to improve. Now, they're going the foreign route. Dan Duquette, the Orioles new top baseball man, believes that one way for the team to get better is to look outside the United States - for players. Two of Duquette's first two signings were left-handed starters Wei-Yin Chen from Taiwan and Japan...
If you missed it yesterday, Ben Badler of Baseball America has some pretty fascinating background about the Orioles saga with Korean prospect Seong-Min Kim. You probably heard about the signing when the Korean Baseball Organization filed a protest with Major League Baseball due to the Orioles failing to follow protocol. The deal ended up being voided, Kim was suspended by the KBO...
For Oriole fans who are travelling down - or are in Florida - to catch Opening Night at Ed Smith Stadium in Sarasota: *** Orioles Announce 2012 Spring Training Opening Night Plans The Orioles have announced plans for the first game of their 2012 spring training season and their 3rd season in Sarasota. The team will face the Pittsburgh Pirates at the newly renovated Ed Smith Stadium...
Heading into the season, Matt Wieters has emerged as a leader for the Baltimore Orioles. Many have argued whether or not he is a bust – despite only having played in the major leagues for less than two full seasons. That being said, he's far from it. So Wieters has not turned into the next Johnny Bench, or a "Mauer with Power". The promise of the night when he debuted is...
Orioles pitcher Tsuyoshi Wada, shut down since Sunday with left elbow inflammation, played catch on Thursday with no problems and is slated to do so again on Friday.
Several minutes before top pitching prospect Dylan Bundy was set to throw his first batting practice, Orioles first baseman Chris Davis crouched down with his bat and gestured to the 19-year-old Bundy.
SARASOTA, Fla. -- Add Orioles pitcher Tommy Hunter to the growing list of pitchers already dealing with ailments this spring.
MLB News

Delivered to your inbox

You'll also receive Yardbarker's daily Top 10, featuring the best sports stories from around the web. Customize your newsletter to get articles on your favorite sports and teams. And the best part? It's free!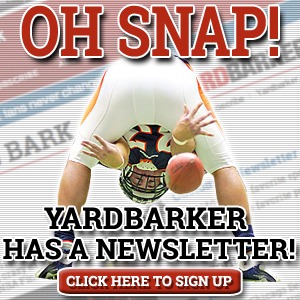 Latest Rumors
Best of Yardbarker

Today's Best Stuff

For Bloggers

Join the Yardbarker Network for more promotion, traffic, and money.

Company Info

Help

What is Yardbarker?

Yardbarker is the largest network of sports blogs and pro athlete blogs on the web. This site is the hub of the Yardbarker Network, where our editors and algorithms curate the best sports content from our network and beyond.