Found January 09, 2013 on SF Lunatic Fringe:
Sometime today, we'll find out who the Hall of Fame class of 2013 is.  I fully don't expect to see Bonds on it, even though he should be. Everyone is a little confused by what should be going on this year.  ESPN's review of their 18 voters on staff showed just one player making it in: Craig Biggio.  The Baseball Blogger's Alliance, of whom I am a voting member, also selected just one: Jeff Bagwell.  One ESPN writer decided to not vote for anyone, although I'm pretty sure that's a cry for help and attention. That's okay, I'm sure eventually reality about the era (you know, that it happened) will sink in, and these people will stop trying to avoid it like the deep south mostly likes to avoid talking about race relations for the century from 1870-1970. Until then, the things that Bonds did will stand alone, and continue to amaze me, both on paper, and in memory.
Original Story:
http://www.sflunaticfringe.com/2013/0...
THE BACKYARD
BEST OF MAXIM
RELATED ARTICLES
As a surprise to, well, virtually no one, home run king Barry Bonds failed to make it into baseball's Hall of Fame Wednesday.With just 36.2% of the vote, the beleaguered former big leaguer has yet to come out and comment on his lack on inclusion (why would he?)...but there's a good reason for it.Dude is on vacation.  In Hawaii.A day after pictures of the seven-time National...
Baseball Hall of Fame votes rolled in today and Barry Bonds couldn't escape the drug taint of the Steroid Era, coming in with 36.2% of the votes when 75% gets you admission. If only he had reminded the BBWAA of the hat he wore on the back of 1992 Upper Deck card number 134. Bang, done.
It is easy to dislike Barry Bonds for his churlish behavior. It is impossible to keep him out of the Hall of Fame. I voted for 10 players the maximum allowed on my 2013 Hall of Fame ballot, and Bonds was one of them. He was not the only one whose name has been linked to performance-enhancing substances. I also voted for Jeff Bagwell, Craig Biggio, Roger Clemens, Rafael Palmeiro...
There's a chance the podium under the chandeliers in the gold-and-ivory-colored Vanderbilt Room of the Waldorf Astoria Hotel will go unused Thursday. With the cloud of steroids shrouding the candidacies of Barry Bonds, Roger Clemens and others, baseball writers may fail for the only the second time in more than four decades to elect anyone to the Hall of Fame, rendering a news...
News to us today was the fact that people still give a **** about the Baseball Hall of Fame, specifically black guys. After the announcement came out a little after 2:00 p.m. they went nuts on Twitter. No Bonds, Sosa, Clemens or Piazza making it into Cooperstown today! @Gooch_FoCray was not impressed: Barry Bonds, Roger Clemens, Curt Schilling no hall of fame??? Pleeease f*ck...
Keep all the cheaters out of our club. That was the prevailing sentiment from several baseball Hall of Famers who were happy to see Barry Bonds, Roger Clemens and Sammy Sosa excluded from the Cooperstown fraternity Wednesday. ''I'm kind of glad that nobody got in this year,'' former Detroit Tigers outfielder Al Kaline said. ''I feel honored to be in...
For the first time since 1996, Cooperstown will not see any new faces inducted into the Baseball Hall of Fame. The most notable players who did not get the 75 percent vote required to be inducted were Barry Bonds and Roger Clemens. This isn't going to be a surprise to most as they were both [...] [[ This is a content summary only. Visit my website for full links, other content, and more! ]]
Judgment day has arrived for Barry Bonds, Roger Clemens and Sammy Sosa to find out their Hall of Fame fates. With the cloud of steroids shrouding many candidacies, baseball writers may fail for the only the second time in more than four decades to elect anyone to the Hall. About 600 people are eligible to vote in the BBWAA election, all members of the organization for 10 consecutive...
We all expected this to happen; it was a foregone conclusion. So why are many of us so upset? With Wednesday's Hall of Fame vote, both baseball fans and players alike have been done a great disservice and have had our opinions insulted-- cast aside like the rights of criminals. As a society, more and more it seems as though the will of the people is discounted and disregarded...
The Baseball Hall of Fame for the first time since 1996 will have no inductees. This is the first year that most the players who are suspected to be steroid users are all on the ballot. Barry Bonds, Mark McGwire, Sammy Sosa, Roger Clemens, and Rafael Palmeiro all received less [...]
The 2013 Hall of Fame ballot…. turns intelligent people into fools. The Steroid Era destroyed cherished baseball records. By the time it was over, the most successful players of our time, like Barry Bonds, Roger Clemens, and Mark McGwire, saw their integrity destroyed. This Hall of Fame vote was supposed to be one of the most celebrated of all-time. Instead, it has turned into...
MLB News

Delivered to your inbox

You'll also receive Yardbarker's daily Top 10, featuring the best sports stories from around the web. Customize your newsletter to get articles on your favorite sports and teams. And the best part? It's free!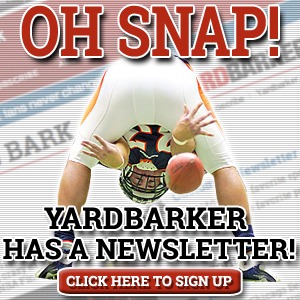 Latest Rumors
Best of Yardbarker

Today's Best Stuff

For Bloggers

Join the Yardbarker Network for more promotion, traffic, and money.

Company Info

Help

What is Yardbarker?

Yardbarker is the largest network of sports blogs and pro athlete blogs on the web. This site is the hub of the Yardbarker Network, where our editors and algorithms curate the best sports content from our network and beyond.