Found March 12, 2012 on Fox Sports North:
FORT MYERS, Fla. Chartered flights. Five-star hotels. Tens of thousands of fans in state-of-the-art ballparks. Yes, things are a bit nicer in the major leagues. For several Twins minor leaguers, last season was their first taste of the bigs. Numerous injuries and 99 losses meant several young players had an opportunity to show their stuff with Minnesota late in the 2011 season. Several months later, those same players are trying to make a case to stay in the majors in 2012. "Once you have a taste of the big leagues, you don't want to go back to the minor leagues," said outfielder Rene Tosoni, one of several Twins to make his major league debut in 2011. "But when you get back there, that's all you want to do is get back to the big leagues. Your goal is to stay out of the minor leagues. You want to be playing in the big leagues as long as you can." Tosoni, 25, spent a decent part of 2011 with Minnesota, playing 60 total games in the majors and 73 with Triple-A Rochester. There were others, such as outfielder Joe Benson and first baseman Chris Parmelee, who didn't get that chance until September. Both Benson and Parmelee skipped Triple-A altogether last year, going straight from Double-A New Britain to the Twins in September. The two-level leap didn't seem to affect Parmelee, who batted .355 while slugging .592 in 21 games for the Twins. That included four homers and 14 RBIs in 76 at-bats. "The difference between Double-A and the big leagues was the pitching was a little bit better," Parmelee said. "But at the same time, they were around the zone a little bit more, so I felt like it was a little bit easier to hit. The lights are brighter. The balls are whiter. That's what I think helped me out a lot through the time I was up there was just staying relaxed in the game itself." Benson, ranked by Baseball America as the No. 99 overall prospect prior to this season, didn't have quite the success in the majors last September that Parmelee did. Benson batted just .239 with a .270 on-base percentage in 21 games (71 at-bats). He's been off to a slow start this spring, too, hitting 3-for-14 in his first six games. Benson did hit a deep home run in Sunday's game against the Yankees. He homered 16 times with New Britain last season and 27 combined homers in 2010 between New Britain (23) and High-A Fort Myers (4). That power is something Benson is hoping to exhibit this spring as he fights for a roster spot. "I'd like to make power part of my game," Benson said Sunday after his solo homer. "It's something you can't consciously think about or force, but it just comes with repetition, putting good swings on baseballs, going up there with a good plan and plate approach. Eventually some of them start getting backspin and balls start flying. But for today, the rest of camp, I'm just trying to battle, be aggressive and try to stay out of those two-strike counts." Twins manager Ron Gardenhire knows the early-spring struggles have weighed on Benson, but Minnesota's skipper was glad to see the 24-year-old Illinois native snap out of it with a homer Sunday. "He's got all the tools. Now it's about harnessing that," Gardenhire said of Benson. "Making it to the big leagues (last year) is a good thing. He saw what he needed to work on." Tosoni has quickly become friends with veteran third baseman Sean Burroughs, whose locker is next to Tosoni's in the Hammond Stadium clubhouse. On the other side of Tosoni's locker is fellow Canadian Justin Morneau. Those two have been next to each other since Tosoni's first camp with the Twins three springs ago. For his first two years in Fort Myers, Tosoni was also next to slugger Jim Thome. "A couple good lefties right here," Tosoni said. "Good to take in some information and take it to the field." Now that players like Tosoni, Benson, Parmelee and others have had several spring trainings under their belts as well as a taste of the majors last season they've become more comfortable and assertive, both on the field and in the clubhouse. "You have to be more comfortable when you've been around it for a few years," Gardenhire said. "They've been in camp, most of those guys, for two or three years now. We expect that. That's kind of the process. Better each year, more comfortable, and know what we have to do. We get away from having to, as they say, hold their hand step-by-step every day." Yet while last year's taste of the major leagues was a great learning experience for Minnesota's young players, it doesn't result in any guarantees this spring. "It doesn't matter how old you are, whether you're 20 or 40. You're always fighting for a job," Parmelee said. "You've always got to compete. You've just got to go out there and give it 100 percent. That's how I look at it. It doesn't matter what age you are. You've still got to go out there and earn a spot." Follow Tyler Mason on Twitter.
Original Story:
http://www.foxsportsnorth.com/03/12/1...
THE BACKYARD
BEST OF MAXIM
RELATED ARTICLES
FORT MYERS, Fla. With the New York Yankees in town, the Minnesota Twins rolled out what looked like a potential Opening Day lineup -- for a few hours, at least. Center fielder Denard Span was scratched from the lineup with a stiff neck just before game time. Span played in just 70 games last season due to a concussion and has also been hampered by vestibular neuritis during his...
FORT MYERS, Fla. Twins left-hander Francisco Liriano cruised through his first two starts of the spring, throwing a total of five scoreless innings. Through two more scoreless innings Tuesday against Toronto, he seemed to be continuing that trend in start No. 3. But the wheels fell off for Liriano in the third inning as he allowed four runs on four Blue Jays hits, including back...
PORT CHARLOTTE, Fla. Twins outfielder Denard Span is confident that the stiffness in his neck is unrelated to the concussion symptoms or vestibular neuritis he's dealt with over the past few years. Span said he's "optimistic" about the recent injury, and said Monday that he hopes to be back on the field within the next few days. "It feels a lot better than...
FORT MYERS, Fla. Ben Revere's speed nearly got him in trouble last year. As he laced a triple to right field during a mid-July game at Target Field, Revere sprinted around second base and headed for third. But the Twins outfielder was seemingly going too fast and stumbled over his own feet. After a nifty somersault, Revere popped back up in stride and slid safely into third...
FORT MYERS, Fla. Brian Dozier is a pretty good baseball player, but he's also a pretty good golfer. Dozier, the Minnesota Twins' 24-year-old shortstop prospect, was a four-sport athlete at Itawamba Agricultural High School in Fulton, Miss. He was the quarterback of the football team and the point guard on the Indians basketball team, as well as a shortstop. But he always...
FORT MYERS, Fla. (AP) -- Nick Blackburn pitched three scoreless innings and the Minnesota Twins hit three home runs Sunday to beat a New York Yankees split squad 5-1. Blackburn gave up three hits without a walk. Danny Valencia, Joe Benson and Mike Holliman homered for the Twins. Minnesota had hit just three home runs in its first nine exhibition games. Yankees starter Phil Hughes...
NEW YORK (AP) -- Two minor league pitchers in the Minnesota Twins' organization have been suspended 50 games each under baseball's minor league drug program. Major League Baseball announced Tuesday that Yeison Florentino and Ezequiel Zarzuela each tested positive. They both play on the Twins' team in the Dominican Summer League team. The suspensions are effective at...
If these guys are around in the mid to later rounds make sure to invest them. 9) Ben Revere (OF, Minnesota Twins) As a late pick I REALLY like Revere. Last year in 117 games he stole 34 bags; this season he should easily steal 40+. We know Revere lacks power, but other than that he doesn't hurt you fantasy wise. Although he only hit .267, in September Revere turned it on with...
Francisco Liriano's fast spring start slowed Tuesday when the Toronto Blue Jays scored four runs off him in the third inning and beat the Minnesota Twins 8-2. The streaky lefty, who pitched a no-hitter last year while going 9-10, struck out five. But Toronto's Travis Snyder and Travis d'Arnaud hit consecutive two-run doubles off the right-field fence against Liriano...
Nick Blackburn pitched three scoreless innings and the Minnesota Twins hit three home runs Sunday to beat a New York Yankees split squad 5-1. Blackburn gave up three hits without a walk. Danny Valencia, Joe Benson and Mike Holliman homered for the Twins. Minnesota had hit just six home runs in its first nine exhibition games. Yankees starter Phil Hughes threw three shutout innings...
DOWN AND OUT: Justin Morneau hit just 4 homeruns in 2011. This post was written and contributed by Kellen Hunter. Picks for 2012 During the fantasy baseball draft, nothing quite beats the thrill of getting the most in-demand players on your roster. If you're serious about your team, you spend hours poring over predictions and stats, making your picks and setting your lineups...
MLB News

Delivered to your inbox

You'll also receive Yardbarker's daily Top 10, featuring the best sports stories from around the web. Customize your newsletter to get articles on your favorite sports and teams. And the best part? It's free!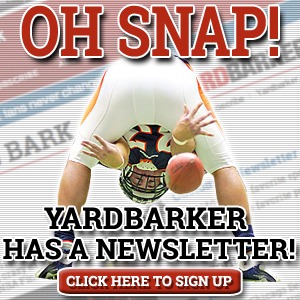 Latest Rumors
The Backyard

Today's Best Stuff

For Bloggers

Join the Yardbarker Network for more promotion, traffic, and money.

Company Info

Help

What is Yardbarker?

Yardbarker is the largest network of sports blogs and pro athlete blogs on the web. This site is the hub of the Yardbarker Network, where our editors and algorithms curate the best sports content from our network and beyond.