Found May 21, 2012 on Fox Sports Midwest:
ST. LOUIS Despite an MRI Monday that revealed no structural damage to Lance Berkman's right ACL, the Cardinals first baseman fears he will wake up from surgery Friday to find out it was replaced. Monday's exam revealed a torn meniscus and cartilage damage in his right knee, which will likely be repaired Friday at The Steadman Clinic in Vail, Colorado. But doctors will also examine Berkman's ACL further and the possibility remains that it could end up being replaced during the same surgery. Based on how it feels now, Berkman is preparing for the worst. "All of the information that I'm getting plus what I'm feeling leads me to believe that there is an issue with the ACL," Berkman said Monday. "I'm hoping that's not the case but I'm not sure that's the case. "It's not gone but it's effectiveness is debatable considering the way I got hurt. They wont know about that until I go under the knife." Berkman went down Saturday while reaching for a throw while covering first base. He leaned on his knee before quickly falling to the ground. He was helped off the field and placed on the disabled list a day later. He walked through the Cardinals clubhouse Monday on crutches. Despite not being torn, the 36-year-old is concerned that his right ACL has been stretched to a point where it will still need to be replaced. He pointed out multiple times Monday that the support of a healthy ACL wouldn't have allowed for a serious injury to happen during a routine play. "The major concern at this point is, is it effective in protecting that joint from sliding around, which all the evidence points to its not," Berkman said. "But that doesn't mean when they get in there, they wont say well you had a little tear in your meniscus and that's what caused the sensation. "To be perfectly honest, fearful is the wrong word but I'm certainly concerned that not just what the injury is but why did it happen? That's what needs to be addressed. Even if I get this thing fixed, if the joint is not stable, it's going to happen again. I talked to the doctors today and they said then you can really mess it up if you have the instability and try to go out there and play." The plan is for Berkman to be examined Thursday afternoon in Colorado with the surgery coming the next day. Dr. Thomas Clanton, who performed a previous knee surgery on Berkman, will be involved in the consultation and surgery. While doctors are repairing his torn meniscus, they will examine the ACL and determine whether or not it's strong enough to support his right knee joint. If they deem it in need of repair, they will replace it during the same surgery. "It's either giving enough support or it's not," Berkman said. "And if it's not, it's got to be redone. You can't retighten it. You have to replace it. It's purely a judgment call on the part of the surgeon. "Think of it like a rope. You can actually cut halfway through a rope and still use it to climb as long as it doesn't lengthen. But if it gets too long it doesn't matter if it's torn or not, it doesn't give you any support and that's the issue, the support of the joint. "I'm going into the surgery preparing to have the ACL fixed. We'll have all the decisions made as to what kind of graph and that kind of thing in case they have to fix it." General manager John Mozeliak pained a more positive picture, saying Berkman would receive a second opinion but that he was likely to miss six-to-eight weeks with the meniscus tear. In 14 big-league seasons, Berkman is a career .294 hitter with 1,836 hits, 359 home runs, 1,197 RBI and 1,115 runs scored. He's played in just 13 games this season after already missing three weeks with a calf injury. He's hitting .333 with one home run and four RBI. And while not allowing himself to fully think about possibilities, Berkman acknowledged that his career could be over should the ACL need to be replaced. "I'm prepared for anything," Berkman said. "You certainly think about, Well if I have to get my ACL repaired, I might be done playing.' The doctor kind of said that. He said you're not a young man again and I said I know it. I look in the mirror and I see the grey in the beard. "And having come back from one already, it's a tough deal. It's a very significant injury and it's very tough to come back from it. Not that its impossible but it is tough and you don't know where you're going to be at mentally, in terms of am I willing to make the commitment it will take to get back at a high level?" Pressed as to whether or not already winning a World Series would be a factor in his decision to come back should the ACL be torn, Berkman said, "There's no doubt. The older you get, the more you accomplish, the more things you check off your list, the less motivation there is. "It's like climbing Mt. Everest. Once you've climbed it once, do you really want to put yourself through that to climb it again? All those things come into play. I'm not saying I don't want to climb it again, I'm just being honest that that kind of thinking starts to enter your psyche. "The good news is, anything like this, just from a quality of life standpoint, I want to get this thing rehabbed as good as I can because I still want to run around with the girls and kick a soccer ball and do things like that. The baseball ability is not going away so if I decided that's something I want to do, because of the timing of this, it would be pretty easy to be ready for spring training next year no problem, if that were the best case scenario." Should the ACL not need to be fixed, Berkman would likely still be out until after the All-Star break due to the meniscus tear. Berkman signed a one-year, 12 million extension with the Cardinals last September. He will be a free agent after the season.
Original Story:
http://www.foxsportsmidwest.com/05/21...
THE BACKYARD
BEST OF MAXIM
RELATED ARTICLES
Lance Berkman confirmed that he will have surgery on his injured right knee in Houston Thursday morning by Dr. Mark Adickes. "Today was the consultation and I'm getting it done first thing in the morning," Berkman said in Houston Wednesday. Berkman will undergo the procedure to repair a torn meniscus as well as torn cartilage in the knee but he said there may be additional...
The Matt Adams era has begun. The highly touted prospect was called up from Triple-A Memphis Sunday when the club placed first baseman Lance Berkman on the disabled list with an injury to his right knee. Adams, who hit .340 with nine home runs, 10 doubles and 27 RBI in 37 games for Memphis, arrives with plenty of hype after speeding through the Cardinals farm system with some impressive...
Lance Berkman is likely headed for another reconstructive knee surgery based on the preliminary diagnosis from Los Angeles Dodgers doctors. The team physicians on site at Dodgers Stadium on Saturday told the St. Louis Post-Dispatch Berkman probably had a torn ACL. Berkman had ACL reconstruction surgery in 2005. Berkman was placed on the disabled list Sunday. He will find out...
St. Louis Cardinals first baseman Lance Berkman injured his right knee while taking a throw at first base during the second inning of Saturday night's game against the Los Angeles Dodgers. Berkman stretched out to take the throw from shortstop Rafael Furcal, and kept his left foot anchored on the bag for the third out of the inning. Berkman hopped a few feet before slumping...
Lance Berkman was diagnosed with a torn meniscus in his right knee on Monday and will seek a second opinion before the team sets a timetable for his return. The Cardinals aren't ruling out ACL damage because tests were "uncertain." If Berkman suffered no ACL damage, he could return in six weeks, general manager John Mozeliak said. When Berkman left Saturday'...
LOS ANGELES (AP) -- St. Louis Cardinals first baseman Lance Berkman injured his right knee while taking a throw at first base during the second inning of Saturday night's game against the Los Angeles Dodgers. Berkman stretched out to take the throw from shortstop Rafael Furcal, and kept his left foot anchored on the bag for the third out of the inning. Berkman hopped a few feet...
LOS ANGELES (AP) -- The St. Louis Cardinals placed first baseman Lance Berkman on the 15-day disabled list Sunday because of an injured right knee. Berkman was hurt while stretching for a throw from shortstop Rafael Furcal on Justin Sellers' groundout in the second inning of Saturday night's 6-0 loss to the Los Angeles Dodgers. Berkman will have an MRI exam Monday in St...
Been there, done that. As unfortunate as Lance Berkman's injury is, and as devastating a blow it is to the St. Louis lineup, the Cardinals have faced about as much adversity over the past 15 months as any team in Major League Baseball. Yet, they just keep winning. When pitcher Adam Wainwright went down prior to the start of last season, many were already writing off the Cards...
Hot News for OF Lance Berkman
Lance Berkman is out for awhile, but Tyler Greene is unexpectedly picking up the slack for the St. Louis Cardinals. Greene looks to continue his hot stretch at the plate as the Cardinals go for another win against the San Diego Padres in the middle game of this series Tuesday night. St. Louis (23-19) learned Monday it will be without Berkman for at least six weeks as he undergoes...
Lance without an ACL isn't NE good.  With a torn meniscus, Lance Berkman is only out for six to eight weeks.  "Hello, I'm Keith Morrison of Dateline.  Today's story is about an aging vet.  A vet that the media began reporting as finished.  Done.  But where this vet saw the end, his knee saw just a setback.  Also, on tonight's Dateline:  Can you get cancer from playing...
Cardinals News

Delivered to your inbox

You'll also receive Yardbarker's daily Top 10, featuring the best sports stories from around the web. Customize your newsletter to get articles on your favorite sports and teams. And the best part? It's free!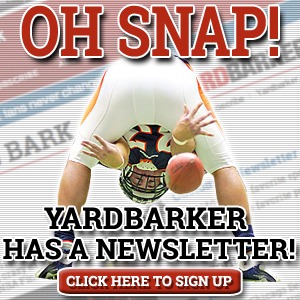 Latest Rumors
The Backyard

Today's Best Stuff

For Bloggers

Join the Yardbarker Network for more promotion, traffic, and money.

Company Info

Help

What is Yardbarker?

Yardbarker is the largest network of sports blogs and pro athlete blogs on the web. This site is the hub of the Yardbarker Network, where our editors and algorithms curate the best sports content from our network and beyond.