Found March 03, 2013 on Fox Sports Arizona:
Willie Bloomquist had what has become his signature Diamondbacks' at-bat Saturday. After taking a strike, he doubled down the right-field line. He stayed inside the ball and found an open landing place. Kelly Johnson once said he saw the same approach every time Bloomquist hit, and he sounded envious when he said it. Healthy again after missing virtually all of the final two months of 2012, Bloomquist appears to be back in form, and he will not give an inch in the competition for the D-backs starting shortstop spot, even as some national reports indicate that newcomer Cliff Pennington is the top candidate. "Thats fuel to my fire," Bloomquist said before leaving Diamondbacks camp to join Team USA for the World Baseball Classic. "Ive never gone into the season with a mindset of being a backup. If thats what ultimately happens, thats what ultimately happens. But I wasnt raised to sit and watch. Being a competitor, I dont like watching. I always feel like I can be a guy out there somewhere helping our team win." Bloomquist played a major role as the D-backs primary shortstop the last two seasons, even if that was not the original plan when he signed as a free agent before the 2011 season. He took over as the starter after Stephen Drews ankle injury that July and held the job for almost exactly a year, until a lower back injury late last July limited him to two starts in August and one pinch-hit appearance in September. Despite missing two months, he set career highs in batting average (.302) and doubles (21). "For me to come in and give up the job I worked eight or nine years to get ... thats a pretty bold statement if I am just going to give that up. That is not going to happen. If someone is going to beat me out, they are going to have to play well, he said. "I know it doesnt change the way I play. Im going to go out and do what I can. Some days its going to be good. Some days its going to be ugly. But Im going to go out and compete every day." Bloomquist, Pennington, John McDonald and Didi Gregorius are the four shortstops in major league camp, although Gregorius has been delayed by a right elbow injury and will open the season in the minor leagues, most likely at Class AAA Reno. Labeled the shortstop of the future when he was obtained over the winter in the Trevor Bauer trade, Gregorius began hitting off a tee two weeks ago and began playing catch at 60 feet late last week. That leaves Bloomquist, Pennington and McDonald, all of whom have some credentials. If Bloomquists back is no longer an issue, McDonald would be a late-spring trade candidate, general manager Kevin Towers said at the winter meetings. The D-backs have talked more recently about keeping all three for the first 10 days of the regular season to protect their assets. Because Bloomquist and Pennington both bring a lot of versatility to the roster, Towers indicated there could be some mixing and matching. Pennington played second base down the stretch in Oakland last season after the As acquired Drew. "We see it probably more as a platoon-type situation at short," Towers said earlier in spring. The numbers align. Bloomquist, a right-handed hitter, batted .317 against left-handers and .295 against right-handers last season and is a .281 hitter against lefties in his career. Pennington, a switch-hitter, has been better against righties, hitting 60 points higher against them last season and 20 points higher (.253) in his career. Through his 11 seasons, Bloomquist has been study in adaptability. He is one of three major leaguers since 2006 to have played at least 50 games at second base, shortstop, third base, left field and center field. He played 25 games in left in his first season with the D-backs before settling in at shortstop, where his .981 fielding percentage is fourth in the NL in the last two years. He played left field in an early spring training game, and Joe Torre made it sound as if he could play Bloomquist all over the field in the WBC. "If he is healthy, he is certainly going to be a part of our team and play quite a bit, manager Kirk Gibson said. "Well see he comes out of the WBC (healthy). Well move him around. Its not like I have him slotted into having him play this many games at this position." Bloomquist immersed himself in core strengthening exercises to combat a slight cartilage tear in his lower back over the winter, and he also plans to make adjustments in his pregame routine, as difficult as that may be. "Ive always been a guy that likes my repetitions, and Im learning that when I feel good, Ive got to just stop right there instead of taking that extra 15-20 ground balls or 20-25 swings just to really make sure. I have to just get to a point where I feel good and trust that it is there," he said. "That will be a little bit of an adjustment for me. I have never been like that my whole career. But Im not 20 anymore. I have to be a little bit smarter about things. The D-backs believe they pushed Bloomquist too hard last season, another reason they entered the shortstop market for Pennington and Gregorius over the winter. They seem to feel that he might be best-suited as a handyman capable of starting at several spots, depending upon who might need a break. "Ive never had a problem with where Ive played," Bloomquist said. "If it ends up being more of a utility role, thats 100 percent fine with me. I have no complaints about it. But in my mind, there is a difference between being a utility guy playing once every 10 days and being a utility guy and playing five out of seven days. "Early on the year before, thats kind of how Gibby was using me as. I love that. I have zero problems with that. Thats almost makes it exciting, to where it is something different every day. Both things have challenges. "The bottom line is I want to play."
Original Story:
http://www.foxsportsarizona.com/03/03...
THE BACKYARD
BEST OF MAXIM
RELATED ARTICLES
SCOTTSDALE, Ariz. -- Diamondbacks long reliever Josh Collmenter led a group of rookies to the Arizona Renaissance Festival in Apache Junction on Saturday for the second year in a row. He's become the ringleader of what may become an annual rookie hazing ritual. It could hardly be more fitting that Collmenter would be the player to take on the responsibility, as he's also...
SCOTTSDALE, Ariz. Team Mexicos loss was Team USAs gain, as Diamondbacks right-hander David Hernandez switched teams for the World Baseball Classic on Saturday in an eligibility snafu. Originally scheduled to pitch for Mexico, Hernandez found out Friday that his family tree did not go back far enough for him to qualify. But when Cleveland reliever Chris Perez was a late scratch...
PHOENIX -- At FanFest last month, Diamondbacks left-hander Tyler Skaggs said he planned to treat every chance to pitch this spring, while competing for the final spot in the starting rotation, as if it were the seventh game of the World Series. Manager Kirk Gibson said recently that he believed that self-imposed pressure has had something to do with Skaggs early spring struggles...
2013 Fantasy Preview: Arizona Diamondbacks Expectations were high for the Diamondbacks entering 2012, as the team was coming off a postseason trip that ended in extra frames during a decisive Game 5 of the NLDS in Milwaukee. With enviable starting pitching depth, and complementary pieces emerging in the form of Paul Goldschmidt and late-2011 acquisition Aaron Hill, the D-Backs...
SCOTTSDALE, Ariz. -- At 13, Martin Prado saw what Venezuelan youth league teammates Miguel Cabrera and Francisco Rodriguez could do and wondered if he fit the sport. If he would ever fit. Now, Prado finds himself compared to hitters such as Edgar Martinez and Placido Polanco. Dedication and a singleness of purpose can cover a lot of ground. I never thought from that group I would...
As the MLB season quickly approaches, we here at Cosby Sweaters wanted to provide you with the necessary tools to go into this year confident in your 2013 baseball knowledge. Over the next  4 weeks we will supply you with a summary of all 6 divisions and 30 teams that make them up. We will assess each team's line-ups,  pitching rotations, potential downfalls and give a final...
Expectations were high for the Diamondbacks entering 2012, as the team was coming off a postseason trip that ended in extra frames during a decisive Game 5 of the NLDS in Milwaukee. With enviable starting pitching depth, and complementary pieces emerging in the form of Paul Goldschmidt and late-2011 acquisition Aaron Hill, the D-Backs looked to be positioned for another trip to the...
Lest Team USA be accused of not playing to win the World Baseball Classic, consider the gamesmanship involved in the Americans' latest roster decision. When Cleveland Indians closer Chris Perez withdrew from the tournament Friday because of a shoulder injury, USA needed to find another relief pitcher. They chose Arizona Diamondbacks right-hander David Hernandez. On one level...
Ex-Cub Tony Campana laced a two-run pinch-hit double to cap a four-run 6th, and then tripled in the 8th, helping to rally the Arizona Diamondbacks to a 6-2 victory over the Cubs in Cactus League action this afternoon at Dwight Patterson Field at HoHoKam Park in Mesa. Tags: Spring Training RecapRafael DolisJeff SamardzijaTony Campana.Read more about Tony Campana Helps Rally D...
Barry Zito pitched three shutout innings, Brandon Crawford had three hits and the San Francisco Giants beat the Arizona Diamondbacks 5-3 on Sunday. John McDonald and Cliff Pennington each had two hits for the Diamondbacks, who have lost two in a row for the first time this spring. Adam Eaton, Willie Bloomquist and Jon Griffin drove in runs for Arizona. Buster Posey drove in a run...
We all knew this would happen. After seeing this happen time and time again, this was inevitable. Any time the Chicago Cubs let go of a player, they always come back to bite the hand that once fed them. This very situation happened for what seems like the millionth time in the history of this franchise, happened yet again today. Allow me to set the scene for you. In today's Spring...
MLB News

Delivered to your inbox

You'll also receive Yardbarker's daily Top 10, featuring the best sports stories from around the web. Customize your newsletter to get articles on your favorite sports and teams. And the best part? It's free!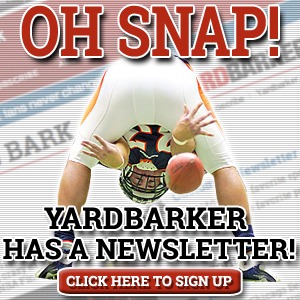 Latest Rumors
The Backyard

Today's Best Stuff

For Bloggers

Join the Yardbarker Network for more promotion, traffic, and money.

Company Info

Help

What is Yardbarker?

Yardbarker is the largest network of sports blogs and pro athlete blogs on the web. This site is the hub of the Yardbarker Network, where our editors and algorithms curate the best sports content from our network and beyond.