Posted April 05, 2013 on AP on Fox
John Farrell had to fight through a crowd just to get to his own pregame news conference upon his return to Toronto as manager of the Boston Red Sox. Five television cameras and a throng of more than 20 reporters were waiting outside the Red Sox clubhouse to speak to the man who gave up his job as the Blue Jays skipper and bolted to join their division rival. ''Is there a special event tonight,'' Farrell jokingly asked before Friday night's series opener between the Blue Jays and Red Sox. Not exactly. Just the chance for an estimated 42,000 fans to vent their fury at a turncoat manager. And Toronto wasn't wasting any time. As the crowd trickled in during batting practice, a derisive chant rang out from the far reaches of the upper deck. Then, during pregame introductions, Farrell's name was greeted with hearty boos. The catcalls swelled again when Farrell came out to exchange lineup cards at home plate. He appeared not to be bothered, laughing and joking with current Blue Jays manager John Gibbons. Farrell doffed his cap as he walked back to the Red Sox dugout, and the boos increased again. Farrell said he walked to the ballpark on Friday from the team hotel, a 2-mile trip through downtown Toronto, and had polite chats with three fans who stopped to talk to him. ''Surprisingly, a number of people welcomed me back,'' he said. ''To have a couple of casual conversations on the way in was a good way to come to the ballpark.'' Farrell said there are no hard feelings on his end about his two-year stint in Toronto, which produced a 154-170 record and two fourth-place finishes in the AL East. ''This is a great city,'' he said. ''Unfortunately, over the past couple of years, some things didn't play out on the field as we had hoped, planned, intended.'' He also said he didn't begrudge those who chose to boo him. ''That goes back to how much people care, and that's a good thing,'' Farrell said. ''That's a good thing for the Blue Jays, and they've got a lot to be excited about. This is a darn good team that we're going up against, and we've got our hands full this weekend.'' Boston's pitching coach from 2007-2010, Farrell was the heir apparent to Terry Francona before going to Toronto at a time when it seemed as though Francona would be sticking around long term. But when Francona was let go after an unprecedented collapse in September 2011, the Red Sox tried to get Farrell back. Talks fell apart when Blue Jays general manager Alex Anthopoulos asked for a top player in return. The Red Sox turned to Bobby Valentine to bring discipline to a team whose players drank beer and ate fried chicken in the clubhouse during games. But Valentine alienated so many players that Boston was forced to bail out on the season, trading three highly paid but underperforming players for a chance at a fresh start in 2013. After going 73-89 in 2012, finishing one spot above the last-place Red Sox in the AL East, the Blue Jays allowed Farrell to leave. Toronto traded him for shortstop Mike Aviles, and the Red Sox also received reliever David Carpenter. Farrell drew criticism from Toronto fans who questioned his commitment, and were upset that he referred to the Boston role as his ''dream job.'' But the former pitcher insisted his focus never wavered. ''I know I can look myself in the mirror and say that I gave the Blue Jays organization everything I had on a given day,'' he said. Farrell took two Blue Jays staffers with him. Brian Butterfield was hired as third-base coach after an 11-year run in Toronto, and Torey Lovullo - Farrell's first base coach with the Blue Jays - came over to serve as Boston's bench coach.
Original Story:
http://msn.foxsports.com/mlb/story/Bl...
THE BACKYARD
BEST OF MAXIM
RELATED ARTICLES
Don Cherry is known for his hockey acumen, but the Hockey Night in Canada commentator is also very opinionated when it comes to baseball. Cherry, who is a fan of the Toronto Blue Jays, happened to catch Friday night's game against the Red Sox, and a few things stood out to him. Cherry not only disagreed with how the crowd treated Red Sox manager John Farrell is his return to Toronto...
Apparently the fine people of Toronto didn't take to kindly to the fact that current Red Sox manager John Farrell wanted to reunite with his former organization this past offseason, eh? As a matter of fact things are looking rather bleak for the former Toronto manager as he makes his return to the city he left months ago. If you're watching the game at home don't expect...
John Farrell isn't a very well-liked guy in Toronto these days, and that will be abundantly clear throughout the Red Sox' weekend series with the Blue Jays. Farrell, who spent two seasons as Toronto's skipper before arriving in Boston, is likely to hear boos throughout the series at Rogers Centre, as some Jays fans have gone as far as to label the Red Sox manager a "scoundrel"...
It took about two weeks last season to realize the Red Sox' clubhouse was divided. It took less than that this season to realize everyone is now pulling in the same direction. The Red Sox squeaked out a 6-4 win over the Blue Jays on Friday. The performance was far from perfect, leaving much to be desired from an execution standpoint, but the energy and camaraderie in the Boston...
8 a.m. ET: Now, let's see how the Red Sox respond after a loss. Good teams bounce back and thrive in the face of adversity, and after dropping a 4-2 decision to the Yankees on Thursday, the Sox will be tested for the first time on Friday. Making life more difficult, however, is the fact that they'll be going up against the talent-laden Blue Jays in Toronto. Felix Doubront will...
The welcome (home) party John Farrell has received since leaving the Blue Jays and (re-) joining the Red Sox in the offseason has been an all-out bender, as Red Sox Nation couldn't be happier to have Farrell leading the local nine this summer and beyond. But how are the folks north of the border in Toronto reacting to Farrell fleeing Hogtown after just two seasons? Not good, according...
John Farrell and the Boston Red Sox weren't fazed by a hostile reception from Toronto's fans. Instead, they turned all the boos into a boost of energy. Mike Napoli hit a two-run homer and drove in the go-ahead run in the eighth inning, and the Red Sox beat the Blue Jays 6-4 on Friday night in Farrell's return to Toronto. A packed house of 45,328 let Farrell have it...
Toronto fans came in floods as cheers and boos showered down from all around the stadium in what might be the biggest crowd I have ever seen in the Rogers Centre. Whenever the Red Sox got a run, the Blue Jays responded quickly, all until the Red Sox took the lead for good in the top of the eighth inning. In light of four combined home runs from both teams, here are the four bases...
With a strong series in New York, the Boston Red Sox head to Toronto with a 2-1 record and with the return of John Farrell, this will certainly be an interesting series for both teams.  The most interesting stat for…
On Sunday, Shane Victorino was thrown out trying to score from second on a passed ball. Although it was an aggressive baserunning play by the outfielder that just didn't work it, it might also be a harbinger of what's to come in 2013 for the Red Sox. Manager John Farrell has made it no secret that he likes his teams to be aggressive on the bases when it's the right time. So...
MLB News

Delivered to your inbox

You'll also receive Yardbarker's daily Top 10, featuring the best sports stories from around the web. Customize your newsletter to get articles on your favorite sports and teams. And the best part? It's free!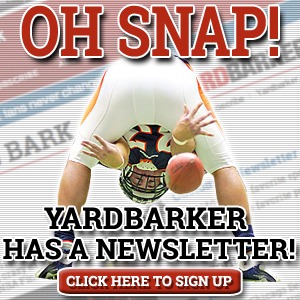 Latest Rumors
The Backyard

Today's Best Stuff

For Bloggers

Join the Yardbarker Network for more promotion, traffic, and money.

Company Info

Help

What is Yardbarker?

Yardbarker is the largest network of sports blogs and pro athlete blogs on the web. This site is the hub of the Yardbarker Network, where our editors and algorithms curate the best sports content from our network and beyond.