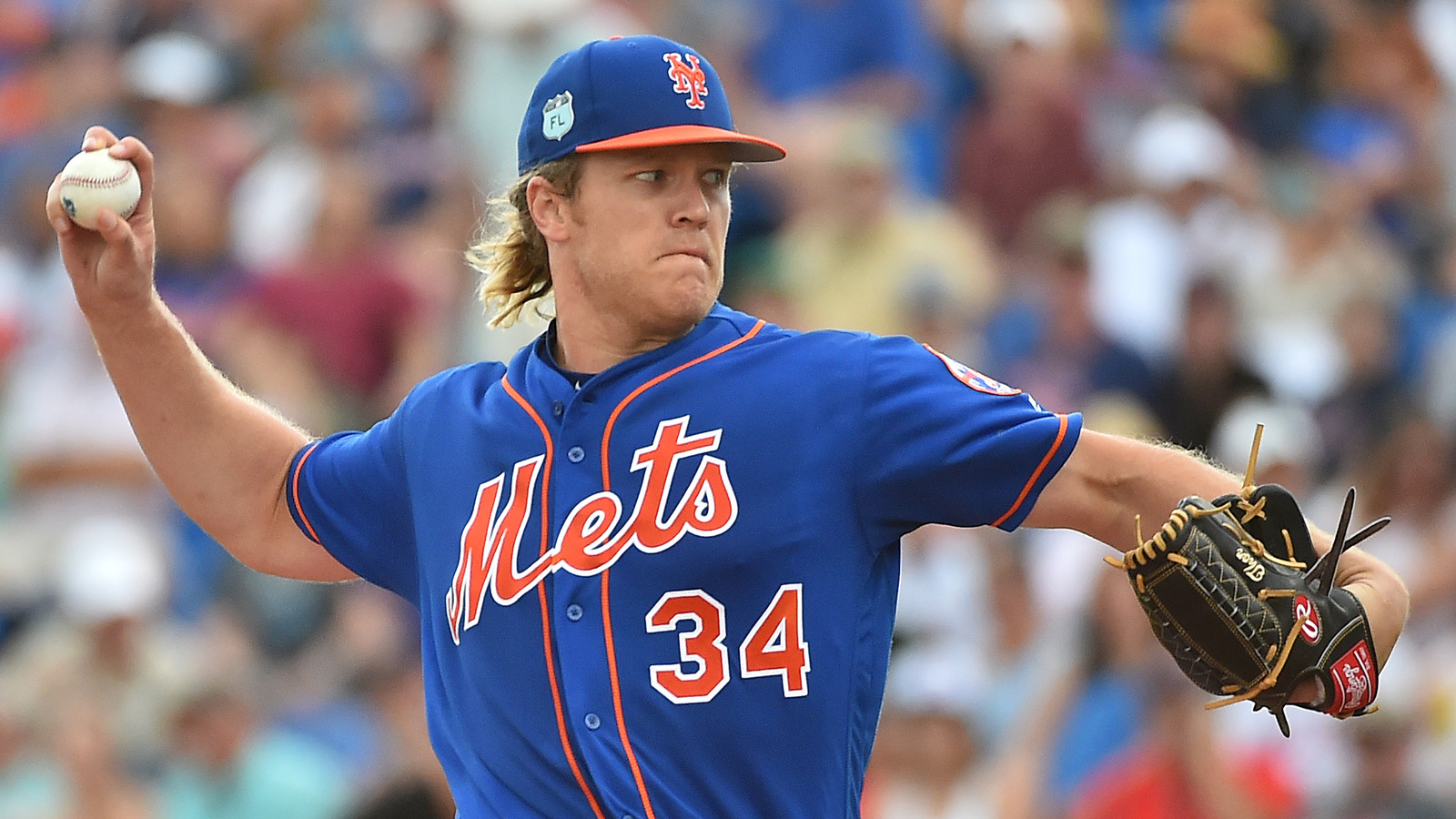 Is Mets starting pitcher Noah Syndergaard the frontrunner for the NL Cy Young Award?
Jasen Vinlove-USA TODAY Sports
While the World Series recognizes baseball's best team, the MLB awards honor the game's best and brightest stars.
Looking ahead, who do those figure to be in 2017?
Which two second-year managers do we expect will win the Manager of the Year Awards?
Who will prevail between Andrew Benintendi and Yoan Moncada as the American League's best rookie? Will anyone challenge Dansby Swanson in the National League?
Which junior-circuit pitcher are we expecting to see win his second career Cy Young Award? Who will prevail through a crowded senior-circuit field to win his first?
We expect youth to be served in both league's MVP voting. Which second-year studs will prevail?
Who will win the major MLB awards in 2017?
American League Manager of the Year: Scott Servais, Seattle Mariners
Servais enjoyed some success in 2016, going 86-76 in his first year as the Seattle's skipper. That was a 10-game improvement from 2015. While we're not expecting another 10-game bump from the Mariners in 2017, we do expect to see postseason baseball in Seattle for the first time since 2001.
Coincidentally, that's also the last time a Mariners' manager won this award.
If the rest of the American League goes as expected, even contending for a playoff spot gives Servais a huge edge in the Manager of the Year race.
Teams like the Cleveland Indians, Boston Red Sox, Texas Rangers, Toronto Blue Jays and Houston Astros all may top Seattle in the standings, though we expect that at least one will not.
But the Indians, Red Sox, Rangers and Blue Jays all made the playoffs in 2016. The Astros did not but qualified the year before and had the eventual World Series champs on the ropes. They also have one of the junior circuit's best rosters.
The Mariners have been close in 2014 and 2016. But overall, this is a franchise that's dealt with a lot of futility over the last 16 years.
Breaking away from that futility and ending longest postseason drought will be what bolsters him in the eyes of the voters.
National League Manager of the Year: Brian Snitker, Atlanta Braves
Snitker's candidacy is not unlike Servais'. Like Seattle, we expect to see Atlanta in the playoffs.
The Braves haven't experienced futility for as long as the Mariners. Still, the last three years have been quite rough.
So, why the optimism for a playoff spot?
For starters, the Braves were much better with Snitker at the helm, going 59-65. That may not seem like much to write home about, but Atlanta was 9-28 under Fredi Gonzalez. That's a 39-123 pace. All of a sudden, 59-65 doesn't seem so bad, does it?
The Braves also got a lot better after the call-up of Dansby Swanson. He'll be with the team for all of 2017.
That, along with some savvy offensive moves, has put Atlanta in position to be vastly improved in 2017. Granted, the top of the National League East is loaded. But if the Braves can finish ahead of either the Washington Nationals or New York Mets in the National League East, we like their chances of sneaking in to the Wild Card race.
In general, the National League is strong at the top. Teams like the Nationals, Mets, Chicago Cubs, St. Louis Cardinals, Los Angeles Dodgers and San Francisco Giants are expected to be strong. And at least one of them will miss the playoffs.
But Atlanta is heading in the right direction after three years of futility. Some of those teams might be better, but they're coming from a much stronger position. After the last three years, a team like the Braves even contending for a playoff spot will give Snitker a leg up in voting.
American League Rookie of the Year: Andrew Benintendi, outfielder, Boston Red Sox
Entering the year, this would seem to come down to Benintendi and Yoan Moncada, now in the Chicago White Sox organization.
Moncada got a brief MLB cameo in 2016 and struggled. Seeing his struggles made it a lot easier for Boston to move him to Chicago in the Chris Sale deal.
Benintendi showed significantly more polish in his cameo. In 118 at-bats, he slashed at .295/.359/.476, hit two home runs and played great defense.
In addition to not looking as polished in 2016, Moncada doesn't have as many exterior positives as Benintendi does heading into 2017.
The White Sox have a good lineup, but who really knows how Moncada is going to fit into it? Given that Chicago isn't expected to contend in 2017, the South Siders may well wait to call Moncada up as a way to buy more years of contract control.
That's not a concern with the Red Sox. Boston is expected to contend, and as such it can't really be cute with Benintendi. Contending teams need to have their best lineup on the field all season, and for Boston that includes Benintendi.
Additionally, even with the loss of David Ortiz, the Red Sox lineup is loaded. That will help him put up monster numbers. Look for him to score around 100 runs and if he bats in the right position, maybe drive in 100, as well.
Even if you're not a fan of old school stats like that, know that the voters are. Also, know that if he's putting up numbers like that, chances are that Benintendi's new-wave stats will follow.
With all of that in mind, it's hard to like anyone else for this award.
National League Rookie of the Year: Dansby Swanson, shortstop, Atlanta Braves
Swanson drew 39 walks with the Braves in 2016. If even one of those walks was an out, or even a hit, he would have had 130 at-bats and this award would be wide open heading into 2017.
But with only 129 at-bats in 2016, Swanson is the senior circuit's clear Rookie of the Year favorite heading into 2017.
Swanson did a lot of hitting during 2016. Between A+ Carolina and AA Mississippi, 2015's No. 1 overall pick hit .275/.362/.426 with nine home runs and 13 steals in the minors. Upon getting called up to the big club, he slashed at .302/.361/.442 with three homers and three steals in limited time.
Moving up through the pro ranks ahead of his MLB call-up did not phase him. Moving up two levels from AA to the majors did not phase Swanson, either.
If his offensive numbers don't move you, Swanson also plays strong defense at a premium position. That's something voters usually salivate over. If Swanson helps Atlanta even contend for a playoff spot, it's another notch in his belt.
Swanson is just a blue chip prospect. At this point, it would be a surprise to see anyone else take this award.
American League Cy Young: Corey Kluber, starting pitcher, Cleveland Indians
Other starters in the American League have questions. How will Chris Sale handle the pressure cooker that is the Boston market? Is Rick Porcello a great pitcher, or is he a good pitcher that had a great year in 2016? Can Dallas Keuchel bounce back? Is Justin Verlander a year too old? Would the voters vote for a reliever like Zach Britton?
No such questions exist with Kluber. Over the last three seasons, Kluber has emerged as the most reliable starter in the junior circuit.
The alarmists out there may look at his strikeout rates and note that they've steadily declined, which is true. But consider a couple things.
One, even in the strikeout-heavy era that we're in right now, a starting pitcher striking out more than one hitter per inning is still fantastic. Kluber isn't close to dropping below that rate.
Two, his walk rates are exceptional for anyone, especially a strikeout pitcher. What that means is that Kluber knows how to pitch. The shut-down stuff is great, but Kluber is also not going to hurt himself by putting men on for free. Power pitchers frequently crash to earth hard when they can't strike hitters out at the same rate that they once did. Kluber's control will make that transition much easier.
Look for Kluber to have a good year while fronting one of the American League's best starting rotations. Also, expect him to add another Cy Young Award to his mantle when the season is over.
National League Cy Young: Noah Syndergaard, starting pitcher, New York Mets
Whoever wins this award will have earned it. Syndergaard is one of a stacked field of pitchers that includes Clayton Kershaw, Jake Arrieta, Jon Lester, Madison Bumgarner, Johnny Cueto, and of course, 2016 winner Max Scherzer.
Predicting any of those guys would be completely logical. So, why Syndergaard?
The jump he made in 2016 is simply too great to ignore. He went from 150 innings in 2015 to 183.2 in 2016, but lowered his ERA from 3.24 to 2.60. Thor also bumped his K/9 rate up from 10.0 to 10.7. Also, much like Kluber, he kept a remarkably modest walk total (2.1 BB/9) for such a powerful arm.
As if all of that wasn't enough, Syndergaard gets to make half of his starts at Citi Field. While the drawn-in fences have made the park a little more hitter friendly, it's still a clear pitcher's ballpark.
Lastly, other than Kershaw and Bumgarner, all of the pitchers mentioned above are north of 30. Kershaw and Bumgarner aren't, but both have been in the league since before they were 20. There's a lot of mileage on those tanks.
Syndergaard, meanwhile, is 24. Those guys may not all be on the downhill slide yet, but they're not ascending, either. Syndergaard clearly is.
All of those factors combined to make him our leading candidate to emerge though a crowded field and win the National League Cy Young's Award.
American League MVP: Gary Sanchez, catcher, New York Yankees
It's always tempting and logical to go with Mike Trout here. The problem is that voters are traditionally biased against players on bad teams. They overcame that bias in 2016, but will they do it two years in a row? We're not expecting much from the Los Angeles Angels in 2017, either. So for Trout to win the MVP, they'll have to. It may not be fair, but it's hard to imagine.
That opens up the field quite a bit, which is where Sanchez comes in.
When Sanchez came up at the end of 2016, it was hard to do anything but fall in love with his power. He hit 20 home runs in only 201 at-bats, or a home run in every 10.05 at-bats.
Consider the following.
Buster Posey led all backstops with 539 at-bats in 2016. If he had homered at Sanchez's pace, he would have hit either 53 or 54 home runs, depending on which way we choose to round. Either number would have blown away single season records for home runs by a catcher (42). Even if we focus only on the at-bats that Posey logged as a catcher (473), he would have hit 47 home runs.
So, the power that Sanchez showed in 2016 was prolific for any position. For a catcher, that kind of pop is literally unheard of.
The Yankees aren't committing to the older players anymore. In fact, most of them are off of the roster. So, as long as Sanchez is healthy, he'll be in the lineup. How good can he be? It's scary to think about.
Remember, Sanchez wasn't just a long ball or bust kind of guy in 2016, either. In addition to those 20 home runs, Sanchez also slashed at .299/.376/.657. On the negative side, he struck out 57 times in those 201 at-bats. Over 500 at-bats, that works out to about 142 strike outs. But while that's a high total, it's not alarmingly so for this era, especially for a guy with Sanchez's pop.
The other element that works in Sanchez's favor is that he's a catcher. Even if his numbers dip, voters usually have a soft spot in their hearts for guys who put on the tools of ignorance every day and put their bodies though that. Even if we're not talking about 50 home runs, it will be hard to ignore big offensive numbers from a guy at that position.
National League MVP: Corey Seager, shortstop, Los Angeles Dodgers
Like Sanchez, Seager is a 2016 rookie. So, we're definitely expecting a youth movement in 2017.
The Los Angeles shortstop thrived in 2016, winning the National League Rookie of the Year Award unanimously.
In fact, he finished behind only Kris Bryant and Daniel Murphy in MVP voting.
Seager hit .308/.365/.512, slugged 26 home runs, drove in 72 runs and scored 105. He did all of this while playing at the traditionally offensively light position of shortstop.
That's not bad for a debut. Imagine how good Seager can be now that he's fully acclimated to Major League Baseball.
Of course, Seager has more working in his favor.
He plays in a big market. With that, Seager is not going to fall off of the radar of any voters. He also plays for a loaded team that will at worst qualify for a Wild Card spot in the National League.
All of that will help his cause in the eyes of the voters.
Also helping Seager is the likelihood that two (or more) players on a stacked Cubs team will split votes. Even if that doesn't happen, Chicago was baseball's most hyped team in 2015 and 2016, and figures to be again in 2017. Traditionally, even if the attention is well deserved, it leads to voter fatigue.
So Seager has many factors leaving the door open for him to win an MVP in 2017. Look for him to surge through that door.
MORE FROM YARDBARKER
MLB News

Delivered to your inbox

You'll also receive Yardbarker's daily Top 10, featuring the best sports stories from around the web. Customize your newsletter to get articles on your favorite sports and teams. And the best part? It's free!