Found December 07, 2011 on 22gigantes:
Baseball Saved Us
For the past two winters, the San Francisco Giants have been engaged in rumors about Japanese baseball players.
In 2010, they were linked to Tsuyoshi Nishioka, who wound up going to the Minnesota Twins. And just this week, the Giants were rumored to be interested in obtaining Hiroyuki Nakajima of the Seibu Lions, before general manager Brian Sabean squelched the rumor with a flat out denial of such interest.
Oh. And today marks the 70th anniversary of the day that the Japanese bombed Pearl Harbor.
All of this got me thinking about Japanese ball players in general.
I mentioned something about the Nakajima rumors on the 22gigantes Facebook page the other day and my middle son, Jordan, who's now 20, reminded me that "the Japanese are pretty good at baseball. They like it almost as much as you do, Dad."
Subjectivity aside, it's entirely possible Jordan gleaned that little bit of information from his subconscious.
That's because I happened to stumble upon a fantastic children's book 16 years ago that I repeatedly read to all three of my boys.
Baseball Saved Us (Lee & Low, 1995) is the story of a young Japanese-American boy, whose family is suddenly whisked away to an internment camp after the attack on Pearl Harbor. The story unravels from the eyes of the young boy, who not only learns about the injustices of war in a 1940s America, but also loses his innocence about people in general, as well.
The boy's father senses the frustration building within the desolate camp when his eldest son confronts a group of the grandfathers sitting around doing nothing. The teenager lashes out at his father when he's asked to fetch him a glass of water ("get it yourself!"), and the elders in the barracks snap back at the kid about respecting his elders. All the while, the younger brother is watching the scene unfold from the doorway. It's at this point we can see the cultural fabric beginning to tear between the Japanese immigrants and their American-born descendants.
The father decides right then and there that something is needed to keep everyone busy. And connected as a culture.
Baseball.
So the boys' father sets about to create his own league, complete with a baseball diamond that would make Ray Kinsella proud. The women show their resourcefulness by using mattress covers to sew uniforms.
As the internees play ball, they learn a bit about themselves. Particularly, the young boy who's telling the story.
Now segregated, he reflects about how he's treated differently by his American classmates and neighbors back home in California. (Warning: Mochizuki uses an inflammatory racial epitaph in the book on two separate occasions to emphasize how his characters are mocked by a pre-civil rights era America. Be ready to tell your kids not to use that term themselves.)
It is from this place of hatred, importantly, that the young boy draws his strength.
He can't help but notice a white prison guard who has been lurking over the camp all this time from atop a watchtower, wearing sunglasses that seem to penetrate the boy's angry heart with every glinting reflection of the sun. The boy thinks the prison guard is judging him, but when he gets a game-winning hit in a championship game, the guard smiles and gives the boy a "thumbs up."
It's this sense of accomplishment that propels the boy to be more confident when he returns home after the war to continue his baseball playing career. He's once again put in a situation where he must break free from the racial tension that seeks to hold him back. This time, it's not a prison guard, but a group of insensitive American parents who heckle and mock him as he steps up to the plate in a game-winning situation.
My kids absolutely loved this book. Through its pages, it gave us plenty of opportunities to discuss racism, justice, and the game of baseball. Highly recommended.
22gigantes' rating: 5 out of 5 balls.
To order Baseball Saved Us from Amazon, click here.
I hope you enjoyed reading "Book review: "Baseball Saved Us" by Ken Mochizuki." I'm interested in your opinion on this article. Why not leave a comment at 22gigantes.com?
Original Story:
http://feedproxy.google.com/~r/22giga...
THE BACKYARD
BEST OF MAXIM
RELATED ARTICLES
'We've made a few bids ... ' Sabean said at the winter meetings. 'That's not going too well. The bidding in general is not going very well.'
The Giants knew that they weren't going to acquire a "household name," as general manager Brian Sabean said before the Winter Meetings, but even with payroll nearing its limit, Sabean thinks the club has improved.
The Giants won't re-sign Carlos Beltran or Cody Ross this winter, GM Brian Sabean told reporters, including John Shea of the San Francisco Chronicle (Twitter link). Manager Bruce Bochy hinted as much, after yesterday's Angel Pagan acquisition, saying the Giants seemed "pretty set" in the outfield, writes Andrew Baggarly of the San Jose Mercury News. "Simply...
General manager Brian Sabean said Wednesday that with guaranteed and projected salaries factored in, the Giants have hit their $130 million player payroll limit.
Rojas has a fastball that touches the mid-90s. The San Francisco Giants already have Angel Pagan (and possibly some extra cash or even a player to be named later), but that wasn't enough. They had to go and snag right-handed pitcher Luis Rojas from the Mets in today's Rule 5 draft in Dallas. Maybe it's because the Mets got Andres Torres and Ramon Ramirez in the Pagan trade...
Tim Lincecum, Spring Training The San Francisco Giants offered Tim Lincecum a 4-year deal, but Lincecum wants a 8-year deal. He's also okay with just signing a 1 or 2-year deal, according to Jon Heyman (via twitter).   Heyman also says (via twitter) the Giants have since talked to Lincecum's agent, but still not much progress. They still have the big gab between the 8-years...
The Giants will not explore trading ace Tim Lincecum if they're unable to sign him long-term this winter, GM Brian Sabean told reporters including Andrew Baggarly.  Lincecum is under team control through 2013, and is line for a historic arbitration payday for each season.  Yesterday we learned that Lincecum's agent met with the Giants but little progress was made.
8:45pm: One of the proposals is believed to be Andres Torres and Ramon Ramirez for Angel Pagan, tweets Baggarly. That would match up with the two-for-one rumors we heard earlier about the Mets. 8:42pm: The Giants are "far down the road" on two trade proposals and GM Brian Sabean thinks the team may make a move tonight, according to Andrew Baggarly of the San Jose Mercury...
The more general manager Brian Sabean and manager Bruce Bochy addressed roster projections Monday, the more it appeared the Giants ' makeup in 2012 will be a lot like 2011 - but with Aubrey Huff in left field.. "Yes, I...
Even if the Giants are done signing offensive players -- and judging by rumors that seems unlikely -- the batting lineup could look completely different in different parts of 2012. That's because, according to Brian Sabean and Bruce Bochy in Dallas at MLB's Winter Meetings, we could see plenty of Buster Posey at first base ... and some Pablo Sandoval behind the plate. No...
MLB News

Delivered to your inbox

You'll also receive Yardbarker's daily Top 10, featuring the best sports stories from around the web. Customize your newsletter to get articles on your favorite sports and teams. And the best part? It's free!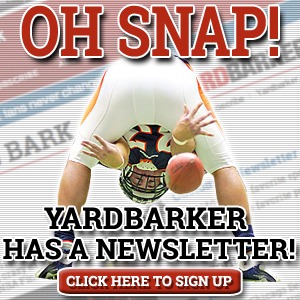 Latest Rumors
The Backyard

Today's Best Stuff

For Bloggers

Join the Yardbarker Network for more promotion, traffic, and money.

Company Info

Help

What is Yardbarker?

Yardbarker is the largest network of sports blogs and pro athlete blogs on the web. This site is the hub of the Yardbarker Network, where our editors and algorithms curate the best sports content from our network and beyond.