Manager Fredi Gonzalez and the Braves training staff are taking no chances on lingering injuries this season. That is the residue of last September's collapse, caused in part by catcher Brian McCann's weak offense after coming back too soon from a strained left oblique. So when right-fielder Jason Heyward woke up Monday morning with a tender right oblique, there was no question he'd be out of the lineup. Obliques were an issue for the Braves all last season from the beginning of the season. From right-hander Jair Jurrjens though right-hander Brandon Beachy, center fielder Nate McLouth, first baseman Freddie Freeman to McCann, the strained oblique was the injury du jour. Third baseman Chipper Jones's surgically repaired left knee will be a topic all this season. He and Gonzalez knew that going into the season and they are managing games accordingly; Jones calls Gonzalez every morning to let him know whether he can play. But Jones is a veteran who knows his body thoroughly and who can accurately gauge how well he can perform. For everyone else, Gonzalez wants to see proof. When McCann texted Gonzalez on Sunday morning that he wanted to play that day, after leaving Friday's game and sitting out Saturday with a sore right intercostal (ribcage) muscle, he was put through some paces by the training staff. Heyward will be tested every bit as thoroughly, given how thumb and shoulder injuries clung to him all last season, causing Gonzalez to platoon for him in right. He slumped so badly that general manager Frank Wren, in his season wrap-up with reporters, went so far as to say that Heyward was not guaranteed the starting right field position in 2012. In Heyward's absence Monday, infielder-outfielder Eric Hinske was deployed to right. Not quite as speedy as Heyward, Hinske lumbered to an inelegant catch almost into the stands in the first inning, but was one of the bright spots for the Braves on offense, going 4 for 4 with an RBI in the 9-3 loss to the Pirates. Gonzalez is leaning toward holding Heyward out of Tuesday's game versus the Phillies, so Hinske might get even more at-bats. NOTES, QUOTES -LHP Mike Minor's nine strikeouts tied for the second most in a game in his career, but that wasn't a lot of consolation to him after taking the 9-3 loss to the Pirates Monday. "I had a lot of strikeouts but I really don't have an explanation why," he said. "My secondary pitches were below average. I guess my best pitch was my change-up and they had a couple hits off that." -SS Tyler Pastornicky's two great, long at-bats in Saturday and Sunday's games made hitting coach Greg Walker beam. He's not concerned with the inconsistencies, reminding everyone that he's a 22-year-old kid in his first year in the majors playing for a team with high expectations. -1B Freddie Freeman refuses to wear a shin guard no matter how many times he fouls a ball off his leg and foot. "I'm not one of those guys," he says. But he probably should be, given how he's limping around the clubhouse. It didn't hurt him during his home run trot in the first Monday, though. -RF Jason Heyward jokingly calls it "an unfortunate incident" that he was out of the lineup Monday after waking up with a sore right oblique. He has no idea how or when it happened, only that it doesn't feels as bad as the only other time he had an oblique problem, in the minors in 2009. This is merely tender to the touch. He is getting multiple rounds of treatment and will rest, hoping to keep this to a two- or three-day episode. -RHP Jair Jurrjens pitched seven innings for Class AAA Gwinnett against Toledo on Sunday, allowing only one earned run on four hits. He walked three and struck out four on 93 pitches (54 strikes). The Braves haven't put any set number of starts on Jurrjens' minor league purgatory. ROSTER REPORT -RF Jason Heyward (sore right oblique) sat out April 30. Manager Fredi Gonzalez said he may sit him May 1 as well. -RHP Arodys Vizcaino (Tommy John surgery in March 2012) went on the 15-day disabled list retroactive to March 26. He is expected to miss the season. -LHP Robert Fish (left elbow tendinitis) went on the 15-day disabled list retroactive to March 26. QUOTE TO NOTE "If every day after we give him a day off he gets two hits and drives in a run we'll be good with it." -- Manager Fredi Gonzalez, on giving 3B Chipper Jones regular days off.
Original Story:
http://www.foxsportssouth.com/05/01/1...
MORE FROM YARDBARKER
MLB News

Delivered to your inbox

You'll also receive Yardbarker's daily Top 10, featuring the best sports stories from around the web. Customize your newsletter to get articles on your favorite sports and teams. And the best part? It's free!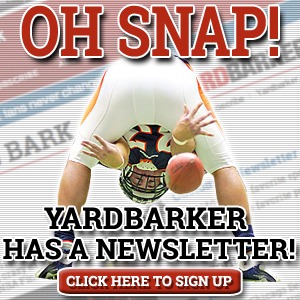 Latest Rumors
Best of Yardbarker

Today's Best Stuff

For Bloggers

Join the Yardbarker Network for more promotion, traffic, and money.

Company Info

Help

What is Yardbarker?

Yardbarker is the largest network of sports blogs and pro athlete blogs on the web. This site is the hub of the Yardbarker Network, where our editors and algorithms curate the best sports content from our network and beyond.