Found September 06, 2012 on Fox Sports South:
PLAYERS:
Jeff Baker
,
Miguel Batista
,
Brian McCann
,
David Ross
,
Jose Constanza
,
Randall Delgado
,
Cory Gearrin
,
Peter Moylan
,
Bobby Cox
,
Lyle Overbay
,
Chris Johnson
,
Julio Teheran
TEAMS:
Atlanta Braves
,
Chicago Cubs
,
Arizona Diamondbacks
,
New York Mets
ATLANTA If you dont recognize all the new faces in the Braves dugout, dont worry. You have company. The Braves, like all the clubs in the majors, have been adding players to their rosters since Sept. 1, when they expanded from 25 to 40 players.Lets take a look at the recent additions, some of who are familiar faces, and some arent: Jeff Baker Position: INFOF BatsThrows: RR The Skinny: The Braves traded for Baker to fill a need for a right-handed bat off the bench. Baker is hitting .260 with four home runs and 20 RBIs for the Cubs, the Tigers and the Braves this season. He also provides versatility, having played third, second, first and right and left field in his career. Bakers best season was 2007, when he hit .268 with 12 homers and 48 RBIs for the Rockies. Miguel Batista Position: P BatsThrows: RR The Skinny: The veteran pitcher, who is listed as 41 years old, has been to more cities than Delta. The Braves are his 11th team, joining Arizona, Washington, Seattle, the New York Mets, Toronto, Kansas City, Pittsburgh, St. Louis, the Chicago Cubs and Florida. Batista, who is 102-115 in his 18th year, started five games for the Mets this season, but will be a reliever with the Braves. J.C. Boscan Position: C BatsThrows: RR The Skinny: This is the fourth trip to the majors for Boscan since 2010. At 32 years old, hes not considered a prospect, but provides insurance should either Brian McCann or David Ross need to rest or heal their aches and pains. Boscan, who hit .189 with three home runs and 23 RBIs at Gwinnett this season, has 16 major-league at-bats. Hes hitting .143 with the Braves this season after going 3-for-9 with them last year. Jose Constanza Position: OF BatsThrows: LL The Skinny: Like Boscan, Constanza isnt a prospect, but provides speed and defense off the bench. He impressed the Braves by hitting .303 with seven steals in 42 games in 2011, but hes hitting only .225 this year to go with four steals. Expect Constanza to get an occasional start in left field and enter games as a defensive replacement. Randall Delgado Position: P BatsThrows: RR The Skinny: Delgado is back, but he likely will eat up middle innings out of the bullpen this month. Delgado, who is 4-9 with a 4.42 ERA with the Braves, made eight starts at Gwinnett, going 4-3 with a 4.06 ERA. He still struggled with his control, walking 21 batters in 44 13 innings after walking 42 in 91 23 innings with the Braves. Delgado could start if needed. Cory Gearrin Position: P BatsThrows: RR The Skinny: Gearrin was effective in his two previous times with the Braves this season, allowing one earned run in 11 13 innings for a 0.79 ERA. He was with the team in June and then again for the first two weeks of August. Gearrin, who was 1-1 with the Braves in 2011, can close he had nine saves in Gwinnett this year but likely will work the middle innings this month. Peter Moylan Position: P BatsThrows: RR The Skinny: The longtime fan favorite and once rubber-armed reliever from Australia has returned to the Braves after working his way back from severe shoulder surgery last Oct. 3. Former manager Bobby Cox used Moylan extensively from 2006-2010, but hes had three major surgeries in the past five years, causing him to miss practically all of 2011 and this year. Moylan already has a win and hasnt allowed a run in two innings this month. Lyle Overbay Position: 1B BatsThrows: LL The Skinny: Overbay is another veteran brought in to provide an experienced bat off the bench. The 12-year veteran who had his best season -- .312, 22 home runs and 92 RBIs -- with Toronto in 2006, hit .292 with two homers and 10 RBIs in limited duty with the Diamondbacks this year before Arizona let him go after acquiring Chris Johnson from Houston. He has 133 career home runs and a .271 career average. Julio Teheran Position: P BatsThrows: RR The Skinny: The organizations top prospect has pitched in only one game for the Braves this season, allowing four runs in 4 13 innings against Toronto on June 10. He struggled in Gwinnett, going 7-9 with a 5.08 ERA after posting a 15-3 record and 2.55 ERA there in 2011. He was more effective at the end of the season, giving up three earned runs in his final 14 13 innings.
Original Story:
http://www.foxsportssouth.com/09/06/1...
THE BACKYARD
BEST OF MAXIM
RELATED ARTICLES
The Braves are in a tight wild card race with less than 30 games left in the regular season, so at this point it's safe to say every inning counts. Despite the fact that Atlanta has been in the hunt all season and almost always seems to be in the hunt, they rank in the middle of the pack in average attendance for home games. Turner Field isn't exactly Yankee Stadium when it...
ATLANTA -- There was a time, not too long ago, when I thought Brian McCann would be the next face of the Braves. In my mind, he was the only candidate to replace Chipper Jones as the heart and soul of the franchise. He would be the guy in the commercials and doing the video announcements at Turner Field and spending his entire career in the familiar uniform. Who would be a better...
ATLANTA Mike Minor had a simple explanation why the Colorado Rockies couldnt touch his pitches. I threw a lot of crap in there early, he said. I dont think they knew what was coming. If confusion was his best ally, he should employ it more often. Minor struggled with his control, as has often been the case this year, but he didnt allow a hit until the seventh inning on Wednesday...
Complete game. NL Player of the Month. No biggie.   It really hurts my heart that I can't cheer for Meds anymore. He was one of my favorites, on my list of "I'm going to get his shirsey" players. But if you were in my shoes, how would you feel, not knowing why? I'm not a stalker, I never asked him for a mention or a RT, and I've always been supportive....
Jim Tracy wasn't sure what happened. All of a sudden, the ball was rolling behind the pitcher's mound, and Juan Francisco was racing home with a run for the Atlanta Braves. As it turned out, with the only run of the game. An inexplicable error on a routine toss from the catcher to pitcher wound up costing the Colorado Rockies a second straight 1-0 loss to the Braves on...
ATLANTA (AP) -- Tim Hudson pitched seven scoreless innings and the Atlanta Braves posted their second straight 1-0 victory over the Colorado Rockies on Thursday, winning both times with an unearned run. This was an especially galling loss for the Rockies. Juan Francisco raced home with the lone run when Colorado starter Jhoulys Chacin (2-5) dropped a routine throw back to the mound...
NEW YORK (AP) -- Every which way Chipper Jones turned at Citi Field, someone wanted to thank him. Mets chief operating officer Jeff Wilpon presented the Atlanta star with a pricey piece of 3-D artwork. A policeman gave him a firm handshake, an usher provided a pat on the back. A man intercepted Jones in the hallway near the clubhouse, reached into a shopping bag and handed over...
ATLANTA (AP) -- Mike Minor held Colorado hitless for six innings, Craig Kimbrel earned a four-out save and the Atlanta Braves beat the Rockies 1-0 on Wednesday night. Minor (8-10) lost a no-hit bid in the seventh when Jordan Pacheco led off with a single. Pacheco stole second, but was stranded when Minor struck out Ramon Hernandez swinging, Chris Nelson on a foul tip and Andrew...
Chipper Jones has spent much of his 19-year career tormenting the New York Mets and their fans. The future Hall of Famer is getting one last series to do it in person. Jones will try to help the Atlanta Braves extend their NL wild-card lead in the opener of a three-game set Friday night. Jones is ending his long and outstanding career after this season, and he's spent a great...
I know I have Brett Anderson's slider on Best Of The Week a lot, but I mean … look at it. —– GIFcap: Hate To Invoke Greg Maddux, But Kris Medlen Looked Like Him Yesterday —– I was actually unaware that Zach Britton had stuff like that before I started doing this. R.A. Dickey's Knuckleball... Read More »
Believe it or not, the Mets have actually been winning games here lately. Tonight they begin a three-game series at home with the Atlanta Braves and will aim to keep the good times rolling. New York has finally started to start piecing together wins, having gone 8-3 over their last 11 games to put them at 65-72 on the season. It's obviously still been a disappointing season overall...
MLB News

Delivered to your inbox

You'll also receive Yardbarker's daily Top 10, featuring the best sports stories from around the web. Customize your newsletter to get articles on your favorite sports and teams. And the best part? It's free!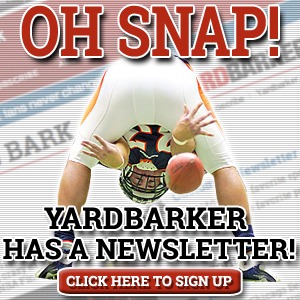 Latest Rumors
The Backyard

Today's Best Stuff

For Bloggers

Join the Yardbarker Network for more promotion, traffic, and money.

Company Info

Help

What is Yardbarker?

Yardbarker is the largest network of sports blogs and pro athlete blogs on the web. This site is the hub of the Yardbarker Network, where our editors and algorithms curate the best sports content from our network and beyond.