Found February 04, 2012 on Fox Sports South:
PLAYERS:
Peter Moylan
,
Christian Bethancourt
,
Andrelton Simmons
,
Yohan Flande
,
Sean Gilmartin
,
Dusty Hughes
,
Jason Rice
,
Adam Russell
,
Zeke Spruill
,
Evan Gattis
,
Jose Yepez
,
Ernesto Mejia
,
Drew Sutton
,
Josh Wilson
,
Todd Cunningham
,
Jordan Parraz
,
Arodys Vizcaino
,
Julio Teheran
,
Randall Delgado
,
Tyler Pastornicky
,
Edward Salcedo
,
Matt Diaz
,
Bobby Cox
TEAMS:
Atlanta Braves
,
Pittsburgh Pirates
,
New York Mets
Injured reliever Peter Moylan and four of the Braves' top prospects are among the 21 non-roster players who have invited to spring training this month. Moylan, who had back and shoulder surgery in 2011, is expected to return to the team sometime this summer. Top catching prospect Christian Bethancourt and shortstop Andrelton Simmons are among the players not on the 40-man roster who will be with the team in Florida. Here is the full list: PITCHERS (7): LHP Yohan Flande, LHP Sean Gilmartin, LHP Dusty Hughes, RHP Peter Moylan, RHP Jason Rice, RHP Adam Russell and RHP Zeke Spruill. CATCHERS (5): Christian Bethancourt, J.C. Boscan, Evan Gattis, Matt Kennelly and Jose Yepez. INFIELDERS (5): Ernesto Mejia, Andrelton Simmons, Drew Sutton, Joe Terdoslavich, Josh Wilson. OUTFIELDERS (4): Todd Cunningham, Luis Durango, Stefan Gartrell, Jordan Parraz. Moylan was a free agent, but signed a 1 million minor-league deal in January after pitching in only 13 games last year. He was the workhorse of the bullpen in 2007 and 2009-10, pitching at least 80 innings in each of those seasons. With Spruill and Gilmartin also invited, it means that eight of the Braves' top 10 prospects, according to Baseball America, will be with the team this spring. Pitchers Arodys Vizcaino, Julio Teheran and Randall Delgado and shortstop Tyler Pastornicky are on the 40-man roster. Here are Baseball America's top Braves prospects for 2012: 1. Teheran, RHP 2. Vizcaino, RHP 3. Delgado, RHP 4. Simmons, SS 5. Gilmartin, LHP 6. Edward Salcedo, SS3B 7. Pastornicky, SS 8. Spruill, RHP 9. Bethancourt, C 10. Brandon Drury, 3B Teheran, Vizcaino, Delgado, Simmons and Bethancourt are included in MLB.com's Top 100 prospects. Pitchers and catchers will report to ESPN's Wide World of Sports Complex in Lake Buena Vista, Fla., on Feb. 19. The rest of the team is scheduled to arrive on Feb. 24, and the first full-squad workout will be on Feb. 25. Diaz on mission to improve Backup outfielder Matt Diaz is determined to boost his numbers from 2011, when he hit .263 with no home runs and 20 RBIs in 116 games with the Pittsburgh Pirates and Braves. It was his first season full MLB season without a home run in his career and his worst season since 2008, when he injured a ligament in his left knee and hit only .214 with two home runs and 14 RBIs in only 43 games. "I've never entered an offseason so desperate to get better, so I'm really excited about this year coming up," Diaz said. "I pretty much got after it right when I returned home. I wanted to be working for something rather than be thinking about (the Braves' September collapse) for a couple of weeks." Diaz was one of the Braves' top right-handed bats off the bench from 2006-10, but signed a two-year, 4.25 million deal with the Pirates before the 2011 season. Pittsburgh traded Diaz to the Braves on Aug. 31, and he hit .286 in 16 games with Atlanta. Braves to play prospects If you want to check out the Braves before the regular season starts without going to Florida, they're going to play their prospects in what is being called the Braves All-Stars vs. Future Stars game at Coolray Field at 7:05 p.m. April 3. Former Braves manager Bobby Cox will manage the Future Stars in the game at the Triple-A ballpark in Lawrenceville, Ga. This game is replacing the two games against American League opponents at Turner Field that used to mark the end of spring training. The Braves open the regular season at the New York Mets on April 5. Their home opener is against Milwaukee on April 13. Concession prices cut for some Anybody who buys a season-ticket plan of 20 games or more will receive a 33-percent discount on food and beverages -- excluding alcohol -- at Turner Field this season. The plan will be good at all fixed concession stands or through the in-seat service, but will not be valid at the 755 Club, Chop House, Georgia's Own Credit Union Club or vendors in the stands. The season tickets will be imprinted with a bar code that will need to be scanned for the ticket holder to receive the discount.
Original Story:
http://www.foxsportssouth.com/02/04/1...
THE BACKYARD
BEST OF MAXIM
RELATED ARTICLES
5. Sean GilmartinI criticized the Gilmartin draft pick immediately when it happened because I saw no reason for a team with a glut of near major league ready pitching prospects to take a college arm that would zip through the system. Well, his performance hasn't warranted me to be irritated at him, but the point still remains: he's going to go through the system ridiculously...
Jose Constanza is a very polarizing figure among Braves fans. Some erroneously believe that he should have gotten more playing time down the stretch. Some correctly believe that all he can be is an extra outfielder due to his good speed and little else in his game. Constanza will go into camp competing for the fifth outfielder slot (yes, fifth outfielder....remember, Matt Diaz and...
Michael Bourn is a shining example of what I like most in a player in fantasy sports: consistency. His situation was greatly upgraded last season when he was traded from the lowly Astros to the Atlanta Braves at the trade deadline. However, Bourn's production (runs, average, stolen bases) remained the same after the trade. In a time where just changing teams makes players forget...
Key Stats: Craig Kimbrel had one of the most impressive rookie seasons in history. He led the NL with 46 saves, posted the 6th highest mark for K/9 in the history of baseball (with at least 25 IP) at 14.84 and won the NL Rookie of the Year Award. He did it with a fastball that averaged 96.2 mph and a slider, excuse me power curve the leaves batters looking stupid. Skeptics Say...
According to Mark Bowman of MLB.com, Tommy Hanson will be ready for spring training. Hanson was on his way to another strong season when a small tear in his rotator cuff was discovered in August. The tear did not require surgery, and the team shut down Hanson for the remainder of the season. Had the Atlanta Braves made the playoffs last season, there was some speculation that Hanson...
Here's a look at a few pics posted to Twitter by Braves players' themselves over the winter: Bullpen Coach, Eddie Perez, and RHP Kris Medlen.   Right Fielder, Jason Heyward, chillin' at home   Braves right-handed pitchers, Peter Moylan and Kris Medlen   RHP Peter Moylan getting inked   1B Freddie Freeman   A tribute to Braves closer, Craig Kimbrel Before you go, check...
In 2010, Jason Heyward turned heads with a very solid season as a 20-year-old rookie. His PSR was even in the top 100, so many thought we were looking at the next big thing in fantasy baseball. Well, a combination of injuries and regression hurt his 2011 value, and he ended up ranking a very poor 376th. The good news is that Heyward is still only 21 years old and has plenty of time...
MLB News

Delivered to your inbox

You'll also receive Yardbarker's daily Top 10, featuring the best sports stories from around the web. Customize your newsletter to get articles on your favorite sports and teams. And the best part? It's free!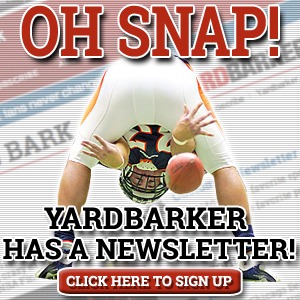 Latest Rumors
The Backyard

Today's Best Stuff

For Bloggers

Join the Yardbarker Network for more promotion, traffic, and money.

Company Info

Help

What is Yardbarker?

Yardbarker is the largest network of sports blogs and pro athlete blogs on the web. This site is the hub of the Yardbarker Network, where our editors and algorithms curate the best sports content from our network and beyond.