Found August 29, 2012 on Fox Sports South:
Craig Kimbrel pitched Tuesday night, which normally wouldnt seem like a big deal, but considering how quiet his month has been, its news. Kimbrel closed Kris Medlens latest win a 2-0 victory over San Diego in typical spectacular fashion, striking out the side in the ninth to render a leadoff single useless to the Padres cause. There was nothing unusual about Kimbrels appearance except for one thing: He actually pitched. Dont worry about overuse this year. There have been times this month when Ive wondered if Kimbrel was still on the team. I hope somebody didnt need to stir him to action last night. Hey! Wake up! The season isnt over yet. We need you. Right now! Thats how seldom hes been used in August, and the bullpen can be a quiet place for a nap. Nobody can criticize Braves manager Fredi Gonzalez for squeezing that last bit of effectiveness out of Kimbrel this year. The young closer has pitched in eight games this month and if you face challenges counting to 31 the calendar is about to flip from August to September. Eight appearances? For one of the best closers in baseball? In the heat of a pennant race? Yes. Yes. And yes. Its just worked out that way this month. Tuesday was Kimbrels second save opportunity since Aug. 3, with all of his work coming in games won by the Braves. He has pitched in one tied game, but the bulk of his work has been in situations where the Braves lead has been too great to qualify him for a save. Its been a bizarro workload for Kimbrel, a guy intimately familiar with pitching in the tightest of situations. Hes used to working every night, facing crushing pressure, toeing the tightrope of tension, when mistakes cost more than wins; they cause teams to miss the playoffs. This time last year, Kimbrel had pitched in 63.2 innings in 65 games. By the start of September, he was up to 65.2 innings in 67 games, a pace that led to his worst month in the majors, one that every single Brave wants purged from their mental hard drive. He had little left for that crucial month and allowed six runs, nine hits and seven walks in 11.1 innings in the final month, resulting in a 4.76 ERA and three blown saves. The last one occurred on the seasons final day, all but sealing the Braves fifth straight loss as they whiffed at what had once seemed like a certain playoff spot. It doesnt bother me at all, Kimbrel said earlier this year. I really dont even think about it. Of course, I dont want it to end like that this year. I want to be put in the same exact situation, because that means were playing winning baseball and were in the situation we want to be in. I want another shot to go at it. I dont let it get me down or anything. It just pushes me to want to get back to that situation again. Its obvious Kimbrel is much more rested, but not rusty, this year. There was so little left of him and bullpen buddies Eric OFlaherty and Jonny Venters by the time September rolled around last year, its easy to see why the Braves slumped at the wrong time. And while OFlaherty and Venters havent been as effective this season as last, they will continue to be the bridge from starter to Kimbrel should the Braves encounter close games next month. The decreased workload has only increased Kimbrels ability to vex hitters with his radar-gun busting fastball and knee-bending curve. He went from May 15 to Aug. 2 without walking anyone, he gave up one run in June and another in July, but none in August. Hes allowed 11 runners in his past 34 innings and his 1.13 ERA is the lowest its been since April 25. Kimbrel wont approach last years strikeout totals 127 in 77 innings but his 86 in 48 innings show why hes third in the NL with 32 saves. His innings likely will cap around 60 this year, a significant, and needed, decrease from 2011. And that means Kimbrels lessened load will matter most when it matters most. Next month.
Original Story:
http://www.foxsportssouth.com/08/29/1...
THE BACKYARD
BEST OF MAXIM
RELATED ARTICLES
While Craig Kimbrel has been absolutely lights out all season, it is possible that the most important member of the Braves' pitching staff all season has been Kris Medlen. Between 38 appearances as a reliever and six starts, Medlen has thrown 95 innings and recorded an incredible 1.71 ERA. Medlen was very impressive as a reliever, but his numbers as a starter are pure insanity...
Tuesday night, Braves starter Kris Medlen put together another fantastic performance, shutting out the Padres over eight innings, striking out nine without a walk. In six starts this year, Medlen has a 0.66 ERA in 40 2/3 innings, striking out 38 and walking just five. Medlen is performing for the Braves like they thought Tommy Hanson, who was called up at nearly the same...
The grand experiment lasted only one time through the rotation. Manager Fredi Gonzalez wanted to use six starters for the final two weeks of August to help the Braves survive a stretch of 20 games in 20 days and also to audition the starters for Septembers five-man staff. The plan had to be scrapped after the first time through the rotation because Ben Sheets developed a sore shoulder...
With Dan Uggla continuing to struggle mightily over the last few months, Atlanta Braves manager Fredi Gonzalez may opt to sit Uggla from time to time. The ever-patient Gonzalez usually would keep sticking Uggla in the lineup until he snapped out of his funk. However, on the heels of last season's epic collapse, Gonzalez might not be willing to be as patient this time. He chose...
Who is the top reliever in the game?  If your answer was either Craig Kimbrel or Aroldis Chapman, it would be difficult to call you incorrect.  Kimbrel is helping the Braves to the playoffs as a Wild Card and Champman is shutting the door on wins for the NL Central leading Reds.  Each are having phenomenal seasons.  Who is the best?  Lets take a look at the numbers...Games:Kimbrel...
SAN DIEGO (AP) -- Kris Medlen extended his scoreless streak to 28 1-3 innings by holding San Diego to five singles over eight innings and leading the Atlanta Braves to a 2-0 victory Tuesday night. Medlen allowed only five baserunners and erased two of them on pickoffs at first base. He struck out nine to tie his career high and walked none. Atlanta, the NL wild-card leader, ended...
The Atlanta Braves' offense is struggling. That hasn't been the case against Roy Halladay this season, but facing the Philadelphia Phillies right-hander now certainly doesn't guarantee Atlanta will start scoring more runs. The Braves hope their first day off in three weeks and a return home can help wake up their slumping bats as they meet Halladay and the Phillies...
Last night 'Catalina' -- the San Diego Padres right field ballgirl, saved the Atlanta Braves bullpen with this grab. Your browser does not support iframes. Why not click the Google +1 & the retweet... Full story at Bob's Blitz ~ http://www.bobsblitz.com
A couple of months ago, I was really bored and went through pictures from the entire 2012 season and put up a post about how likely we are to win when wearing the grey or navy jerseys. I've been keeping up with the spreadsheet since then and thought y'all might like an update. Here is the original post, which was written on the Sunday of the Boston series in June.   Current...
I mentioned it before and I'm going to say to it again...when I heard that Chipper Jones was retiring, I was worried that he'd be subjected to the hackneyed "farewell tour" gifts every time he came to town.And, well, thanks to the San Diego Padres...I was justified.Earlier this week, former Padres great, closer Trevor Hoffman, presented Jones with his very own,...
Braves News

Delivered to your inbox

You'll also receive Yardbarker's daily Top 10, featuring the best sports stories from around the web. Customize your newsletter to get articles on your favorite sports and teams. And the best part? It's free!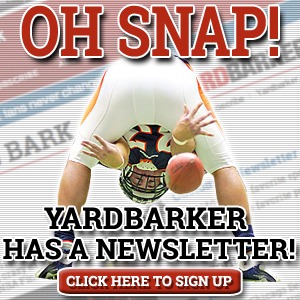 Latest Rumors
The Backyard

Today's Best Stuff

For Bloggers

Join the Yardbarker Network for more promotion, traffic, and money.

Company Info

Help

What is Yardbarker?

Yardbarker is the largest network of sports blogs and pro athlete blogs on the web. This site is the hub of the Yardbarker Network, where our editors and algorithms curate the best sports content from our network and beyond.