Posted April 07, 2013 on AP on Fox
PLAYERS:
Jeffrey Loria
,
Kevin Slowey
,
Paul Maholm
,
Steve Cishek
,
Kyle Lohse
,
Andrelton Simmons
,
Ramiro Pena
,
Fredi Gonzalez
,
Chris Johnson
TEAMS:
Miami Marlins
,
Atlanta Braves
,
Milwaukee Brewers
,
St. Louis Cardinals
The Miami Marlins generated baseball's biggest buzz as they prepared for their home opener a year ago, anticipating a playoff bid and nearly nightly sellout crowds in a futuristic new home that was supposed to transform a franchise long accustomed to attracting little attention. As the Marlins begin year two in their ballpark, they're back to operating in obscurity. Given the dismal outlook this season, that may be just as well. Thousands of empty seats are likely for the home opener against the Atlanta Braves on Monday night, with a succession of small crowds to follow. Many potential ticket buyers are disenchanted because owner Jeffrey Loria reverted to his frugal payrolls of the past, and the team is widely projected to finish last in NL East for the third year in a row. Kevin Slowey (0-1, 1.69 ERA) is scheduled to start the first home game for Miami against Paul Maholm (1-0, 0.00). If fans are on the edge of their seats, it may be only because they're awaiting a chance to boo Loria, who ordered a roster dismantling when last season went sour. ''I appreciate and am sorry it has been such a tough offseason,'' team president David Samson said Sunday before the Marlins' game against the Mets in New York. ''The people who are coming to the game (Monday) hopefully are there to cheer on the players who deserve to get cheered.'' Loria decided the Marlins needed to reboot after losing 93 games last year, and slugger Giancarlo Stanton will be the lone holdover in the lineup from the home opener in 2012. That night, Miami christened its long-sought ballpark in the major-league opener on national TV against the defending World Series champion St. Louis Cardinals. Starters were introduced accompanied by women dressed as Latin showgirls, and Muhammad Ali delivered the first pitch. ''It was awesome,'' reliever Steve Cishek recalled. ''Seeing Muhammad Ali out there, it was crazy.'' Then Kyle Lohse held Miami hitless until the seventh inning, the Marlins lost, and little went right the rest of the year. ''Last season ... there's not much more negative we can get than that,'' Stanton said. But negativity lingers, and many former Marlins supporters pledge to stay away. The team was disappointed to sell only 12,000 season tickets a year ago, and this year sales have declined to about 5,000. Interest in the home opener was so tepid that a discount coupon company offered reduced-price tickets. The club's slow start this week on the road didn't help - Miami (1-5) totaled one run in the first three games and was the last major-league team to win a game. Samson said well over 30,000 are expected for the opener. But a sellout is unlikely, and while Samson expects season attendance to surpass the modest goal of 1 million, he conceded it will likely be lower than in 2012. ''We didn't start from such a high number to start with last year,'' he said, ''but I think it'll go down.'' While the Marlins might finish last in the NL in attendance for the eighth time in nine years, Stanton said the team can't do anything about discontented fans. ''They're not angry with the players,'' he said. ''We didn't lose them, we can't gain them back from one thing. ... We've just got to play good.'' They'll try to start doing so against the Braves (5-1), who have scored 31 runs in their wins and went 7-2 at Marlins Park last year and 14-4 in the season series. The Braves completed a three-game sweep of Chicago on Sunday with a 5-1 victory, winning despite striking out 16 times. Atlanta, missing injured starters Freddie Freeman and Andrelton Simmons, got a two-run single from backup infielder Ramiro Pena. ''Our bench is so deep that you can run Pena in there and not lose a beat,'' manager Fredi Gonzalez said. ''And put Chris Johnson at first base and still put a pretty good team on the field. That's a sign of a good baseball team. Well-rounded.'' Maholm was solid in his season debut Wednesday, pitching 5 2-3 scoreless innings in a 9-2 victory over Philadelphia. He went 2-0 with a 1.27 ERA in three starts versus Miami last year. Slowey pitched well in his long-awaited return after a year off due to injuries, going 5 1-3 innings and allowing one run in a 3-0 loss to Washington on Wednesday. He's still seeking his first win since Sept. 18, 2010. Stanton has a six-game hitting streak versus Atlanta, going 7 for 21 with two home runs, three doubles and three RBIs. The Braves placed Freeman on the disabled list with a strained right oblique.
Original Story:
http://msn.foxsports.com/mlb/story/Br...
THE BACKYARD
BEST OF MAXIM
RELATED ARTICLES
Some things, you just can't make up. The Miami Marlins home opener is tonight, and in Clark Spencer's notebook for the Miami Herald heading into year two of Marlins Park, he reveals that the team hasn't hired an organist yet this season. Seriously. • There will be no organist, at least initially. The Marlins held tryouts for an organist but couldn't find one to...
The Major League debut of Jose Fernandez went about as well as the Miami Marlins could have hoped until he left the game.   The phenom set a Marlins record by striking out eight batters in his debut.  Unfortunately with a pitch limit in place, Fernandez was lifted after five innings and it all went downhill from there.  At the end of the day, the New York Mets came away 4-3 winners...
MIAMI Opening night 2013 at Marlins Park began with a festive nod to the franchises first 20 years. The Miami Marlins ended the evening by creating more excitement, only to fall short. In the second home opener at their domed home, the Marlins lost to the Atlanta Braves 2-0 on Monday night. The game took only 2:33, largely because both starting pitchers Miamis Kevin Slowey and...
As the Miami Marlins begin year two in their ballpark Monday, they're back to operating in obscurity. Given the dismal outlook this season, that may be just as well. Thousands of empty seats are likely for the home opener against the Atlanta Braves, with a succession of small crowds to follow. Many potential ticket buyers are disenchanted because owner Jeffrey Loria has reverted...
The Miami Marlins are dealing with a brash of injuries. Most of which are to players that can play first base.In the past month, the Marlins have had to place both Joe Mahoney and Casey Kotchman on the 15-day DL, so on Friday the Marlins found themselves short on first basemen. So in response, they held open tryouts before the team took batting practice in an attempt to find a warm...
Welcome back for another exciting year of fantasy baseball action.  The season is only a week old but we have already had one of the top prospects in the game, Jose Fernandez, make his unexpected debut & boy did he not disappoint! In the 2013 debut edition of Welcome to the bigs, kid we will be profiling and discussing him and his debut outing. Also as always we will be...
Does anything exemplify the mess that is the Miami Marlins better than this graphic? The New York Mets played a three-game series with the Marlins over the weekend, winning two of the games. Their TV broadcaster, SNY, shared the amazing graphic seen above. SNY says the Marlins' home run sculpture cost more money to build than nearly everyone on the team's roster is being paid...
Terry Collins put together an interesting lineup for this afternoon's game against Miami Marlins starter Ricky Nolasco. Collins promised to get starts for outfielders Mike Baxter and Kirk Nieuwenhuis and both are starting today, with Marlon Byrd and Collin Cowgill sitting. It the second straight game in which Cowgill is on the bench. Somewhat surprising is John Buck  again behind...
For as much as John Buck was a huge factor in Saturday's 7-3 victory over the Marlins, so was Juan Pierre. And their paths collided on multiple occasions during the game ... between Pierre bobbling Buck's two run double, and Pierre's baffling interference call when he collided with Buck well into foul territory after scoring a run, this was the kind of game that makes...
Common sense would predict that not all of the 34,439 fans who went to the two-year-old ballpark in Miami on Monday night were happy people. Marlins owner Jeffrey Loria embarrassed himself and the team's fan base with one of the worst salary dumps in the history of Major League Baseball just months after opening a new stadium and acquiring half a dozen big-name free agents last...
After the great purge of 2012, the Miami Marlins are sitting in the basemen in the NL East, with a brutal record of 1-6, tied for dead last in all of baseball with the Houston Astros, which is pretty pathetic considering the joke the Astros have become. Owner Jeffrey Loria is public enemy No.1 in Miami, and outside of Giancarlo Stanton, the team has no star power to speak of. Basically...
MLB News

Delivered to your inbox

You'll also receive Yardbarker's daily Top 10, featuring the best sports stories from around the web. Customize your newsletter to get articles on your favorite sports and teams. And the best part? It's free!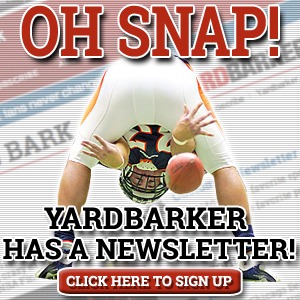 Latest Rumors
The Backyard

Today's Best Stuff

For Bloggers

Join the Yardbarker Network for more promotion, traffic, and money.

Company Info

Help

What is Yardbarker?

Yardbarker is the largest network of sports blogs and pro athlete blogs on the web. This site is the hub of the Yardbarker Network, where our editors and algorithms curate the best sports content from our network and beyond.