Found February 07, 2013 on Fox Sports South:
ATLANTA -- As a fully formed adult (6-foot-4, 205 pounds), Braves pitcher Mike Minor bears a closer resemblance to Hall of Fame-bound pitcher Randy Johnson than Hall of Fame-boundace Tom Glavine. And yet, during Minor's formative years in Chapel Hill, Tenn., a town of 1,500 people nestled between Nashville and Chattanooga, he opted to emulate the style of Glavine -- in terms of changing speeds, mixing up pitches and nibbling corners. "My dad always told me to pitch like Tom Glavine; he was a finesse-type pitcher who didn't really throw hard,"recalls Minor, a southpaw. "Randy Johnson, that guy's a freak ... being 6-foot-10 and throwing something like 98" (mph). It's funny how Minor uses the "freak" description when reminiscing about Johnson, for his numbers from the final five starts of last season (4-0, 0.87 ERA, 0.71 WHIP, 289 K-BB) were eerily similar to The Big Unit, in his heyday. Freakish, if you will. Having trouble remembering Minor's excellencefrom September? That's because Braves Nation had already been swept up in Medlenmania, the result of pitcher Kris Medlen posting absurd numbers from July 31-Sept. 30: Over 12 starts and 83.2 innnings, a 9-0 record, 0.97 ERA, 0.80 WHIP and 8410 K-BB ratio. For 2012, essentially his third season in the big leagues, Minor posted rock-solid, yet rocky-at-times numbers (11-10, 4.12 ERA, 1.15 WHIP, 14556 K-BB) for the 94-win Braves. For the first three months, Minor walked 38 total batters and allowed 13 homers -- contributing to a mushrooming ERA that hovered in the 6-plus range for all of June. Then on July 5, his last outing before the All-Star break, Minor began to sow the seeds of trust with coaches and execs, surrendering just two earned runs and striking out six batters in the Braves' victory over the Cubs. From that point forward, Minor would allow three or less runs in 13 of his next 14 starts. In turn, the walks (only 18 from July-October) and home runs allowed soon dissipated, as well. "We felt, when we left spring training last year, that Mike had turned the corner in maturity," said Braves general manager Frank Wren. "He got off to a great start in first month and then had two months of growing pains, before finally figuring it out the rest of the year. We look for Mike to build off what he learned from last year." For July-October, Minor's scintillating marks (7318 K-BB ratio, two months of a sub-2.00 ERA, two months of a sub-0.74 WHIP) rivaled that of Medlen; and yet, Minor has essentially been consigned to the No. 3 pitching slot heading into the season (behind Medlen and Tim Hudson). It's a prominent spot, minus the burden of carrying a viable title contender out of the chute. "I think every season's a new season," said Minor, who pitched alongside American League Cy Young David Price in college (Vanderbilt). "It happens every year: A player who batted .320 or a pitcher who won 15 games thinks they're going to do it every year. But they're not. Sometimes, the game's mean to you." He added, "I tell myself, 'I've got to prove it again.'" Minor's resurgence in the latter months wasn't some random occurrence. To combat the early-season struggles, he began a comprehensive ritual of working with catchers and pitching coach Roger McDowell on side throwing sessions, consulting with Braves hitters about his own tendencies (self-scouting) and talking to video guys. The one-on-one sessions with McDowell were especially fruitful. They worked on "mostly attacking hitters more, not being scared to throw strikes when I'm down in the count," said Minor. "At times, when the count was 3-0 or 2-1, I still didn't want to throw a fastball. I've always wanted to throw a changeup, or something off-speed, because (the hitters) knew a fastball was coming." A Tennessee resident during the offseason, Minor likes to resume throwing in early December, allowing time to ease into the process of prepping for spring training -- just in case the unpredictable winter weather wreaks havoc with his schedule. The extra physical time, however, doesn't lead toextraneous thoughts -- or overthinking -- the mental side of pitching in the majors. "I just focus on quality starts" (surrendering three or less runs in six-plus innings) "and everything will take care of itself," says Minor. In that vain, Minor may encounter a reduction in bloop singles this season, now that Atlanta boasts a star-laden outfield of Jason Heyward, B.J. Upton and Justin Upton. From an offensive standpoint, each of the aforementioned talents have posted at least one 2020 season in the last two years. From a defensive perspective, Heyward and the Uptons have the range, instincts and premium speed to effectively improve the ERA and WHIP tallies of any Braves hurler. Likely fewer doubles in the power alleys. "With pitching, you still have to attack the hitters the same. (Upton, Upton, Heyward) is just a nice thing to have," said Minor, who struck out 12 batters in only his fourth MLB start (August 2010). "You have three really, really good outfielders out there. They're all fast, they hit for power, hit for average. It's great to have them in the lineup. It's great to have them in the outfield." That peace of mind on the mound could lead to more hits when Minor takes his cutsfrom the 9-hole. Last year, in late August and early September, he had a season-high hitting streak of three games. "It's kind of (an inside) joke. When I got my first hit (of that streak), I started working with the hitting coach (Greg Walker), saying, 'I need some tips. I need some pointers to help myself out (when pitching),'" recalls Minor, who scored three of his five seasonal runs during The Streak. Minor's offensive prowess should serve him well throughout his career. After all, he's no freak. He only throws in the low- to mid-90s.
Original Story:
http://www.foxsportssouth.com/02/07/1...
THE BACKYARD
BEST OF MAXIM
RELATED ARTICLES
The Atlanta Braves won't have C Brian McCann won't be in the lineup when the season starts in 2013. McCann is recovering from a surgically repaired right should and will not be ready when the regular season begins. His surgery was undertaken in October and McCann told reporters that he has just recently started hitting off a tee again. "Just started hitting off a tee. I started...
Evan Gattis has tremendous power A few weeks ago, Braves farm hand Evan Gattis was all the rage in the media.  His colorful personal journey was told, and re-told, and his daily exploits in the Venezuelan league were tracked like the Dow Jones. We learned that the 6'3″ 235 pound Gattis was nicknamed El Oso Blanco "The White Bear" by the Venezuelans, and that he was a serious...
Atlanta Braves catcher Brian McCann said his shoulder is feeling good, but doctors won't clear him for "full-on playing in games" until April 15, reports David O'Brien of The Atlanta Journal-Constitution. McCann underwent shoulder surgery in October which carries with it a six-month recovery period. He's approaching the four-month point, and the middle of April...
B.J. Upton's big contract means big expectations There is no question that the addition of the Upton brothers, to the Braves, was done to increase power in the lineup from the right side of the plate.  At first glance, it looks like this deal is going to do just that, but after looking at the numbers, maybe not. Let's first talk about B.J. Upton.  Last year he hit .246, with...
With the Super Bowl in the history books, it's time to reacquaint ourselves with baseball specifically the nuances and quirks of the Atlanta Braves' 162-game schedule. Here are 20 notable twists fromthe 2013 slate: 1. Citing last year's standings as a reference, the Braves' easiest months for 2013 theoretically shouldcome in September and April, when they play...
Kris Medlen has opening day talent Be interesting to see how Braves manager Fredi Gonzalez sets up his starting rotation this season.  He's got three starters, arguably four, that could potentially start Opening Day. My guess is that either Hudson, or Medlen, will be the Opening Day starter.  Probably Hudson, for the simple reason that Braves managers generally give the nod to...
As the possibility of Michael Bourn landing in Queens seems more and more like a reality, there are a faction of fans who feel Bourn wouldn't be such a necessity, had the Mets simply resigned Jose Reyes.  On the surface, they're correct, however as is the case with everything New York Mets, there is always more to it.  Its easy to compare the two players.  Both center their...
According to Andy Martino of the Daily News, while the Mets remain very motivated to sign free-agent center fielder Michael Bourn, they won't make a deal if it will cost them their first round draft pick. It turns out that the decision about the draft pick would be in hands of an independent arbitrator, not the commissioner's office. Here is how the process could work: The...
Not to be a party pooper, because I know how some people love drama ... and perhaps some of you who read this nonsense like drama ... but can we figure out if the 11th pick is going to be protected or not already? We're starting to get to that area of this story where I just don't care anymore. It's kinda like that area of time right after the Manti Te'o story was...
If you're unfamiliar, I answer Bowman's inbox Q&As as if anyone cares about my opinion. Here's a link to his most recent inbox, with the questions and my answers below...   How do you compare last year's starting lineup to this year's, which will be without Martin Prado, Michael Bourn and Chipper Jones? -- Jerry A., Gainesville, Ga. Objectively speaking...
Here are two significant updates from Jim Bowden of ESPN XM Radio: "With Victorino getting an average annual salary of $13 million," Bowden says. "And with Bourn turning down a qualifying offer of $13 million, it only makes sense that he would get north of that." A team source (presumably the Mets) also told Bowden that if the Mets were able to sign Michael Bourn, negotiations...
Braves News

Delivered to your inbox

You'll also receive Yardbarker's daily Top 10, featuring the best sports stories from around the web. Customize your newsletter to get articles on your favorite sports and teams. And the best part? It's free!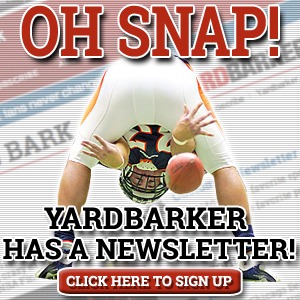 Latest Rumors
The Backyard

Today's Best Stuff

For Bloggers

Join the Yardbarker Network for more promotion, traffic, and money.

Company Info

Help

What is Yardbarker?

Yardbarker is the largest network of sports blogs and pro athlete blogs on the web. This site is the hub of the Yardbarker Network, where our editors and algorithms curate the best sports content from our network and beyond.