Found January 26, 2013 on Fox Sports South:
PLAYERS:
Craig Kimbrel
,
Kris Medlen
,
Joe Torre
,
Greg Maddux
,
Fredi Gonzalez
,
Martin Prado
,
Justin Upton
,
BJ Upton
,
Chris Johnson
,
Jason Heyward
TEAMS:
Atlanta Braves
,
Arizona Diamondbacks
Team USA planned on featuring more Atlanta flavor on its roster in the upcoming World Baseball Classic, but the list has been whittled down to one: Craig Kimbrel. After initially accepting an invite to the club, starter Kris Medlen, whose historic run last season catapulted him into the upper echelon of National League pitchers, informed Team USA manager Joe Torre that he will not attend the tournament due to the impending birth of his son. His wife, Nicki, is due on Feb. 5, which would interfere with the WBC's schedule. The closer the Braves father-to-be came to the report date, the more he knew competing would be an issue. For his part, Torre, a former Braves player and manager himself, told Medlen that he had his priorities well in order. As an organization, though, Atlanta will certainly not lose any sleep over the decision. With the increased workload early on Team USA planned to use its starting pitchers in three-inning intervals starting pitchers are at the greatest health risk during preseason tournaments, instead of working their way into Spring Training at a club-specified pace. For a general manager like Frank Wren, Medlen's backing out is surely much more preferable than Kimbrel deciding to stay home. "I'm more at ease with a reliever than a starter, because their usage is way down," Wren said earlier this week before Medlen's decision came down. If there is a downside for Atlanta and Medlen, though, it's that four-time Cy Young winner and former Braves pitcher Greg Maddux is the national team's pitching coach. Medlen working day-to-day with Maddux was previously considered to be nothing short of beneficial for all parties involved. "From the very beginning, I looked at it as a big advantage for Medlen to be with Maddux because from our standpoint everybody talks about it, we all talk about it they're so similar," Wren said on Tuesday. Now, only Kimbrel will soak in that knowledge, an experience he's looking forward to. The only true interaction between the future Hall of Fame starter and the explosive closer is a jersey hanging somewhere in the Kimbrel household. Maddux's signature adorns the stitching. Kimbrel grew up a fan, and though their styles on the mound are polar opposites, the 24-year-old still sees the upside. "Pitching is pitching." Gonzalez 'excited' about roster Fredi Gonzalez walked into the Dekalb PATH Academy with a smile on his face Friday, certain relatives on his mind. The Braves manager, although not ecstatic about losing a strong clubhouse guy like do-everything Martin Prado, thoroughly supported the seven-player deal Wren struck on Thursday to obtain two-time All-Star outfielder Justin Upton the younger brother of Braves center fielder B.J. Upton and third baseman Chris Johnson. "Frank did a nice job getting Upton, Justin Upton. This is the stuff that just kind of materialized the last two weeks, three weeks," Gonzalez said. "You felt good that if the season started last week and the last time we spoke, we felt good about the club. Now you've gotta feel real, real good about the club with the addition of Justin." For one, Gonzalez's lineup flexibility should be a key as team has the ability, if it so chooses, to alternate right- and left-handed batters all the way down the lineup card. Power and speed are obvious additions, too. As versatile as Prado was for the Braves playing nearly every position outside of batboy over the past seven seasons he never provided the type of home run potential and base-running threat the team will feature in the Upton tandem. From the organization's perspective, that's a big win. "Trying to have as many five-tool players and guys that have dynamic ability, with any general manager as your trying to build a club and an organization. And the three guys we have in the outfield really are an impressive group," Wren said on the post-trade conference call. "It is a continuation of what we've been trying to achieve for a while, and we're excited about it. We have a lot of good, young, dynamic players and we've gotten younger through this process over the last couple of years. And we'll probably have one of the youngest teams in the National League." Gonzalez went a step further, adding: "You know, you gotta replace No. 10, Chipper (Jones). And I think we did that with Justin Upton." Before addressing an assembly for an anti-bullying campaign, Gonzalez ended his time with the media joking about how young first baseman Freddie Freeman, who was also in attendance, will probably be batting in the No. 8 slot. Don't expect that anytime soon, but the message served its purpose. Atlanta's lineup is deep although maybe not that deep and talented across the board. Heyward focused on upcoming season The most-tenured piece of the Braves' outfield triumvirate, right fielder Jason Heyward, might just be the most important next season. And he's preparing like it. Although the 23-year-old star was issued an invite to join Team USA in the World Baseball Classic, he declined. He wanted to work on his game at home and complete the first truly healthy offseason in his major league career. "For myself, I'd like to take care what I have here, do what I need to do here," Heyward said of his decision. "I'd rather go get ready for my season. I've got four years in the game but I'm still not established." The numbers would argue with that final statement with an impressive wins above replacement (WAR) score of 6.6, Heyward ranked as the 9th-most valuable outfielder in all of baseball last season but it's clear he's not satisfied. Even for a guy who hit 27 home runs, drove in 82 runs and stole 21 bases, there's plenty to improve upon. His ceiling is that high. The organization believes so, too, which is why his thanks-but-no-thanks response to the WBC invite was greeted with open arms. "Players have their own reasons. Obviously, we appreciate it when guys decide to stay with our club and get prepared for the season. I'm not saying other guys don't have their priorities right, but it's a personal preference," Wren said. "It makes it better for us, the more of our guys we have. I think he sees the long range as being in our camp and working consistently and working consistently with the same guys is gonna help him in the season." MLB clubs are not authorized to prevent their players from playing for their country unless there is a chronic condition or a health issue, however much they may like to. Wren said the majority of teams do not discourage players to participate for lack of a good medical reason. There is no such reasoning for Heyward. He's in the best shape of his young career and could be poised for a breakthrough campaign. He'll just be staying home to get ready for it.
Original Story:
http://www.foxsportssouth.com/01/26/1...
THE BACKYARD
BEST OF MAXIM
RELATED ARTICLES
Yes, I know Justin Upton will be playing left field for us, so I'm very interested to see this MLBN special. Here are the details from MLB PR: I thought you might be interested to know that Jason Heyward and the newly-acquired Justin Upton will both be featured in MLB Network's "Top 10 Right Now: Right Fielders" tonight at 10pm ET. MLB Network determined its rankings...
Michael Bourn remains unsigned as the start of spring training gets closer and closer. He is the top position player that has not found a home. As the list of possible teams that will make a run for him gets smaller I will try and tell you who will finally give this speedy centerfielder the … Continue reading »
ATLANTA The belt hangs in Tim Hudsons locker in the Braves clubhouse, black leather with silver adornments, a WWE-style trophy proclaiming its owner the A.B.F.L. (Atlanta Braves Football League) Heavyweight Champion. Its a title Hudson has held onto the last two years as the winner of teams fantasy football league, but his streak and his season ended with a loss to closer Craig...
The Braves went the extra mile and didn't stop with one, but both Justin and BJ Upton. Here's why this is the mile marker move the Braves have been due for.The post Atlanta's Bash Brothers: Justin and B.J. Upton appeared first on The Sports Fan Journal.
dancing in BP, generally being awesome It's comforting to know Prado's former teammates love him as much as the fans do. Sad to see everyone's fav teammate go, but all smiles as a pitcher looking over my shoulder! Can't wait. #Braves — Brandon Beachy (@Brandon_Beachy) January 24, 2013 .@jasonheyward on Martin Prado: "He's a great teammate, great person on-...
Justin Upton is now an Atlanta Brave yet Arizona Diamondbacks staffer and former player Luis Gonzalez can't stop talking about him after the blockbuster trade.   Please Click Here To Read This Story The post Justin Upton criticized by Diamondbacks staffer appeared first on Players View Dot Net
The debate rages on whether or not the Mets should forfeit their first-round pick, the #11 selection overall, in order to sign free agent Michael Bourn. Those in favor of the move point out that Bourn would address a major need for the Mets while those opposed think the club is unlikely to contend while Bourn would be good and that the club would be better off continuing its youth...
The last remaining right handed outfielder has signed with the Rangers, it's been reported that Jeff Baker has agreed to a minor league deal with Texas.  Now I'm not saying Baker would be an improvement over who the Mets have but like I've been saying all along if you can't make a significant upgrade then bring in multiple candidates to compete for the positions...
Tweet   The Arizona Diamondbacks had seemingly pondered the idea of trading young, talented outfielder Justin Upton forever. Last week it finally happened. Arizona shipped Upton to the Atlanta Braves in a trade that included the super versatile Martin Prado heading the opposite direction. The Braves now boast one of MLB's best outfields with Jason [...]
The Mets may or may not be interested in free agent OF Michael Bourn. It is safe to say the amount of interest has to do with how much of a chance the Mets have of having their first round draft pick in this year's draft (11th overall). While Bourn would give the Mets a major league outfielder they do not have, there may be some questions about how a player who relies solely on...
MLB News

Delivered to your inbox

You'll also receive Yardbarker's daily Top 10, featuring the best sports stories from around the web. Customize your newsletter to get articles on your favorite sports and teams. And the best part? It's free!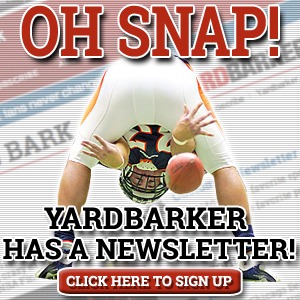 Latest Rumors
The Backyard

Today's Best Stuff

For Bloggers

Join the Yardbarker Network for more promotion, traffic, and money.

Company Info

Help

What is Yardbarker?

Yardbarker is the largest network of sports blogs and pro athlete blogs on the web. This site is the hub of the Yardbarker Network, where our editors and algorithms curate the best sports content from our network and beyond.