Found February 16, 2013 on Fox Sports South:
LAKE BUENA VISTA, Fla. To ring in FOXSportsSouth.com's first day of embedded Braves coverage at the Walt Disney World sports complex, here's an all-encompassing postcard from Day 2 of full-squad workouts: Four Workout Observations 1. The infield practice portion was an exercise in casual precision. At some point during drill work, the shortstops fielded five consecutive hard-ball grounders from first-base coach Terry Pendleton on the ever-tricky short hop. 2. The JUGS machine that generates fly balls to the outfielders apparently has a "lost in the clouds" setting. I counted at least three balls that momentarily got lost in the blue-gray skies that hovered above Champion Stadium. 3. Catching prospect Christian Bethancourt crushed the first homer during batting practice, launching a ball over the center field wall (immediately to the right of the "400" sign). The slick-fielding Bethancourt has made improvements in recent years, cutting down the high strikeout rates from 2010 and 2011 and boosting his rep as a decent threat for double-digit steals. But the 21-year-old catcher still needs to develop more consistency with plate discipline and power numbers while garnering more experience calling games from behind the plate the same for any young backstop. These progressions will likely occur at Double-A Mississippi or Triple-A Gwinnett from April to August. Baseball America currently has Bethancourt tabbed as the Braves' No. 3 prospect. 4. B.J. Upton smashed one batting practice ball to the very top of the big hill beyond the left-field wall. On the very next pitch, he laced a ball off the wall in right field. Oh, Brother Within seconds of entering the main corridor of the Braves' clubhouse, you notice that B.J. and Justin Upton conveniently share the same space, in the form of adjacent lockers (Down the right-hand side, the lockers for Freddie Freeman, Dan Uggla, Gerald Laird and Andrelton Simmons can also be found). There are stark physical differences between the Uptons: At 6-foot-3, B.J. has the athletic frame of a center fielder, of course. But he also could pass for a point guard in the NBA or soccer dynamo on some European futbol club. On the other hand, Justin, with his broad shoulders and filled-out frame, actually looks like the older sibling even though B.J. carries that honor by three years and four days. Nevertheless, it's easy to see how Justin has the physical tools to belt 40 homers and 40 doubles in the same season if not this year. Which leads us to this ... Fantasy Tip With the Diamondbacks in 2009 and '11, Justin Upton accounted for an average of 29.5 homers, 87 RBI, 95 runs, 20.5 steals and a stellar .294 batting average. Throw in strong marks with on-base percentage (.367) and slugging (.530) for those odd-numbered campaigns, and Upton could be primed for a bounce-back breakout in 2013. As such, he'll likely be a Round 3 or 4 pick in 12-team roto drafts next month down from last year's Round 1 or 2 price tag,making him an excellent value. Fishbowl Experience For NFL training camps, the majority of interviews take place outside, just a few feet from the practice field and just seconds after the morning session. On one hand, the players are exhausted from the workout. On the other, by complying to media obligations outdoors, they won't be subjected to the act of getting dressed in a sweat-filled room with credentialed, but essentially random people milling around the confined area. Basically, it's a win-win for all parties. For baseball though, especially in non-MLB facilities, players sometimes have to talk over or through a horde of reporters and cameras to spark conversations with fellow teammates. It can be awkward sometimes. Not for catcher Brian McCann, though. As the Braves' elder statesman among hitters (ninth year with the club), he happily ignited across-the-room convos with teammates, playfully teasing shortstop Andrelton Simmons for not smiling and then asking B.J. Upton if he got in a good stretch prior to the team workout. With a big smile, Upton boomed "GREAT stretch" across the room. A Simple Plan The bespectacled Freeman may be trending toward 30 homers, 105 RBI and 100 runs someday; but for now, his personal goals go no further than Opening Day. "Being healthy on April 1 (opening day vs. the Phillies), that's the goal for me and everyone else," said Freeman, who racked up 23 homers and 94 RBI last season despite being hindered by eye and hand ailments. Alumni Day Former Braves outfielder Ron Gant stood among the media horde in the clubhouse, dressed to a T and holding a microphone while making the rounds with players. It was a weird sight, considering Gant is now one of the most prominent news anchors in Atlanta, hosting Good Day Live on FOX 5 every weekday from 4:30 to 10:30 a.m. In the coming weeks, I'll have a full-length feature on Gant's triumphant career transformation from big-league star (he's one of 38 members of Major League Baseball's 3030 Club) to TV sports analyst formerly with FOX Sports South to linchpin of a successful news show. In the meantime, it was cool to see Gant (321 homers, 1,008 RBI in 16 MLB seasons) passionately melding the two worlds of "sports" and "news." And one has to admire Gant's penchant for working early weekday mornings in Atlanta ... and long weekend afternoons in Florida. Big League Shoe Taking general stock of the lockers, each player seemingly had at least two pairs of clean sandals, which quickly evokes thoughts of the memorable scene in Bull Durham, when Kevin Costner's character (Crash Davis) excoriates Tim Robbins (Nuke LaLoosh) for not having the proper footwear to play in the major leagues ... in the form of clean sandals for the shower, protecting against athlete's foot or whatever kind of algae invades poorly-protected shower shoes. Costner's famous rant: "Your shower shoes have fungus on them. You'll never make it to the bigs with fungus on your shower shoes. Think classy, be classy. If you win 20 in The Show, you can let the fungus grow back on your shower shoes and the press will think you're colorful! Until you win 20 in The Show, however, it means you're a slob." That's Odd A clunky-wheeled shopping cart holding an array of clean batting gloves, socks and jockstraps strangely rested in the middle of the clubhouse. Size-wise, it was a far cry from the big, mobile laundry carts that housed the players' worn uniforms, under-shirts, socks, stirrups, etc. Obviously, it makes sense for the shopping carts to bear a different look than the laundry crates so players don't mix "clean" stuff with "dirty" stuff. But one cannot help but wonder, Where did the Braves, or Walt Disney World personnel, get the shopping cart? Did they buy one from the local Publix down the street or custom-order one from a company that mass-produces carts for supermarket chains everywhere? Speaking of which, if you're in the market for a custom-order shopping cart, feel free to consult the Web sitesfor National Cart Co. or Unarco Industries or SuperBasket. And, so goes my first and last free plugs for the shopping cart manufacturers' industry.
Original Story:
http://www.foxsportssouth.com/02/16/1...
THE BACKYARD
BEST OF MAXIM
RELATED ARTICLES
As the Atlanta Braves open their spring training for the 2013 season in Florida, the hopeful team is happy to finally have a fully healthy first baseman back this year. Freddie Freeman suffered a serious bruise to his left index finger in the middle of last season after being struck by a Jose Reyes throw while he was sliding. He battled with the injury for the remainder of the season...
Just stumbled upon this gem on YouTube. Can't wait for the season to start!!
Chipper Jones was a fixture at the past 19 Braves spring trainings Chipper Jones has arrived at the Braves complex in Lake Buena Vista, Florida, and will participate in tomorrow's afternoon workout session.  Jones has been a fixture at the Braves last 19 spring camps, so having him around the practices will add a sense of normalcy. Jones isn't the first former player to visit...
Has Fredi Gonzalez changed his approach this season? Atlanta Braves manager, Fredi Gonzalez, sent out a message to a couple players this week.  Gonzalez was miffed that utility infielder Tyler Pastornicky, and outfielder Jordan Schafer, were not at spring camp early. Both Pastornicky, and Schafer, live in Florida, so Gonzalez couldn't understand why they hadn't arrived in camp...
I took a look yesterday at qualifying starting pitchers using PitchF/X pitch values to find the top ten and bottom ten values using repertoire as criteria. In other words, if you put together the value of all their pitches, which pitcher had the deadliest set of pitches. Kershaw came out on top with Verlander a close second. Nova came in dead last among the 85 qualifiers with Ricky...
MCann enters 2013 in the last year of his contract Braves catcher Brian McCann will face major challenges this season, and he will be facing them with a surgically repaired right shoulder that most likely won't be 100% until the 2013 season is well underway. McCann didn't have a "Brian McCann" type season at the plate in 2012, when he hit only .230, with 20 homers, 67 runs...
Sorry I've been so slow to put this up; Suzanna's story below of her trip to the Rock Hill, SC caravan stop is a fun one. Thanks for sharing! ~ * ~ * ~ * ~ * ~ * ~ * ~ * ~ * ~ * ~ * ~ * ~ * ~ Hey, Lauren!  Here's my experience from the Braves Caravan in Rock Hill on Wednesday.  I was only able to get a few pics, but I have where they're supposed to go marked by the...
LAKE BUENA VISTA, Fla. -- Here's a postcard to commemorate Day 3 of FOXSportsSouth.com's embedded coverage from Braves camp, easily the weekend's coldest day (temps in the upper 40slow 50s): Seven Workout Observations 1. On a separate field outside Champion Stadium, with a stiff crosswind heading out to right-center field, Jason Heyward quickly found his groove, spraying...
Braves News

Delivered to your inbox

You'll also receive Yardbarker's daily Top 10, featuring the best sports stories from around the web. Customize your newsletter to get articles on your favorite sports and teams. And the best part? It's free!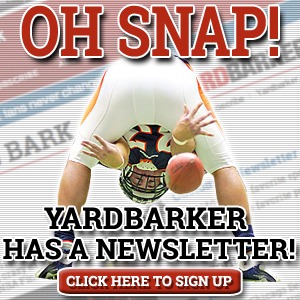 Latest Rumors
The Backyard

Today's Best Stuff

For Bloggers

Join the Yardbarker Network for more promotion, traffic, and money.

Company Info

Help

What is Yardbarker?

Yardbarker is the largest network of sports blogs and pro athlete blogs on the web. This site is the hub of the Yardbarker Network, where our editors and algorithms curate the best sports content from our network and beyond.