Posted October 06, 2012 on AP on Fox
PLAYERS:
Chipper Jones
,
Michael Bourn
,
Fredi Gonzalez
,
Scott Boras
,
Martin Prado
,
Juan Francisco
,
Brian McCann
,
Tim Hudson
,
Jason Heyward
,
Andrelton Simmons
,
Mike Minor
,
Kris Medlen
,
Craig Kimbrel
TEAMS:
Atlanta Braves
,
St. Louis Cardinals
Item by item, Chipper Jones' shirts and pants were folded and stacked neatly for the final time in his Braves travel bag. His teammates also went through the familiar routine of cleaning out lockers Saturday. Jones is taking more than his clothes: The team gave the third baseman the entire locker as a retirement gift. A likely future Hall of Famer, Jones will be difficult to replace. The Braves also could lose centerfielder and leadoff hitter Michael Bourn, who can become a free agent. ''This is a lot easier than I thought it was going to be when I thought about it five years ago,'' the 40-year-old Jones said. ''That lets me know I'm ready.'' General manager Frank Wren said with other parts of the team in place, he'll be able to focus on third base and center. ''I'm looking forward to it, because I think there's a narrower focus of what we need,'' Wren said Saturday. ''We've got a lot of good young players in place and we've got to determine what we do in centerfield, and that kind of couples with leadoff, and we've got to determine how we replace Chipper. Beyond that, our club is pretty solid. So it's a pretty narrow focus.'' Atlanta's season ended with Friday's 6-3 wild-card loss to the St. Louis Cardinals. Wren, manager Fredi Gonzalez and the players all talked Saturday about the disputed infield fly call in the eighth inning. There also was much regret about the Braves' three errors, one by Jones. ''The way we lost yesterday was never in my mind, and I'm not even talking about the ruling,'' Gonzalez said. ''I'm just talking about the way we handled the baseball. We've been so good for two years playing defense.'' Jones was 1-for-5 with a throwing error. ''Had I had a better game, I probably would have accepted it a little bit better,'' Jones said. ''I'm a little disappointed in myself for the game that I played.'' Jones plans to visit the Braves in spring training, but not to coach. ''I'm not going to be a mainstay down there,'' he said. ''I don't want to step on anybody's toes.'' Jones' retirement clears $13 million from the Braves' payroll. If the team can't re-sign Bourn, Wren will have about $20 million to spend elsewhere. ''I think the Braves need some pieces, but I think Frank will have fun playing with all the money,'' Jones said with a smile. Re-signing Bourn will not be easy. Wren said he was unsuccessful in his attempts to open negotiations in spring training with Bourn's agent, Scott Boras. ''They said they would prefer to wait until after the season,'' Wren said. ''So we made it clear to Michael that we want him back, that we'd love to have him back. But we also know there's a process in place.'' Bourn, who hit .274 with 42 stolen bases, had an $6,845,000 base salary this season and earned a $50,000 bonus for making the NL All-Star team. Wren said he'll be a serious offseason shopper. ''We're going to be looking for premium players, I think there's no doubt about that,'' he said. ''We're losing one Hall of Fame player and the salary that goes with that Hall of Fame player, and we're going to be looking to replace him. And as we do that, it gives us the opportunity to add another big player.'' Atlanta's moves could come in in trades. ''There are not a lot of pieces out there in the free-agent market this year that are all that appealing,'' Wren said. ''We may have to look other places.'' Left fielder Martin Prado and Juan Francisco are possible replacements for Jones. Prado, a former All-Star second baseman, backed up Jones at third base and even filled in at shortstop this season. Francisco hit .234 with nine homers in 192 at-bats. He could provide more power than Prado, a stronger defensive player who hit .301 with 10 homers, 70 RBIs and 17 steals. Wren said the ''ideal position'' for Prado would be in the infield, but he noted that would leave an opening in left. ''You don't necessarily get to go out on the market and get the perfect guy for your team,'' he said. ''We'll have to see how that goes.'' Atlanta is expected to exercise their 2013 club options on catcher Brian McCann ($12 million) and right-hander Tim Hudson ($9 million). Wren said the Braves have a ''dynamic young core'' of players, including right fielder Jason Heyward, first baseman Freddie Freeman and shortstop Andrelton Simmons. Their rotation was bolstered by left-hander Mike Minor's strong second half and the emergence of Kris Medlen. Closer Craig Kimbrel heads a strong bullpen. ''Our bullpen is intact,'' Wren said. ''Our starting rotation is intact. There are a lot of things that are real positive going into next year, and I think guys are going to get better. I'm very, very optimistic about where we sit as a franchise with the thought of adding a couple of key pieces.''
Original Story:
http://msn.foxsports.com/mlb/story/Br...
THE BACKYARD
BEST OF MAXIM
RELATED ARTICLES
Chipper Jones is not just a baseball player, but a psychic as well. On Sept. 21, Jones told the Atlanta Journal-Consititution his feelings on potentially playing in a one-game playoff to determine who plays in the Division Series and who goes home. "I think it's more fair from a standpoint that anything can happen in one game -- a blown call by an umpire, a bad day at the...
All the goodwill Chipper Jones built through his 19 years in the game went to crap with one single action. The former AL MVP and future Hall of Famer was seen wearing an Affliction shirt after the Braves were eliminated from the playoffs by the Cardinals on Friday.In case you're unfamiliar with the stigma of Affliction clothing, let me turn this one over to the always reliable...
Chipper Jones says he isn't nervous at all for what might be his final game. The Atlanta Braves third baseman rode to Turner Field on Friday with his mother, father and two of his sons. Along the way, he turned to his parents and said, ''I'm ready to go. I'm not even nervous.'' Jones took that as a sign that his decision to retire was the right one, though...
In a game that will be remembered for a very long time, a terrible call by an umpire and the fans' unruly reaction will overshadow Chipper Jones' last game and of the awful Braves' defense that threw the game away. Jones, who will end up in Cooperstown in a half a dozen years, was part of his team's problem in this Wild Card game with the Cardinals.The Braves, perhaps...
Lost in the shock of the Atlanta Braves' season ending on the wrong end of the infield fly rule and a barrage of garbage on the field in the wild-card game against the Cardinals was the fact that they left 12 runners on base. That was not unusual this season. The Atlanta offense didn't put up big numbers for the third straight year, but it did improve over 2011, with the...
Chipper Jones' Hall of Fame-caliber career came to an unsatisfying end Friday night, thanks in part to a controversial call in the Braves' 6-3 loss to the Cardinals. And guess what? Jones foresaw the whole fiasco. On Sept. 21, Jones told the Atlanta Journal-Constitution his feelings on potentially playing in a one-game wild-card playoff to determine who plays in the NL...
MLB commissioner Bud Selig was on his couch Friday night, his popcorn bowl tucked firmly beside him, turning up the volume as his latest brain child -- two wild card playoff games that would add immeasurable intrigue to baseball's postseason -- played on the television set before him. Within hours, though, Selig (who was not contacted for confirmation of his whereabouts Friday...
The Slate Is Now Clean, Cardinals Fans  In case you somehow missed this, the Cardinals survived their wild-card playoff against the Braves after taking advantage of a blown infield fly rule call. Atlanta then played the rest of the game under (loud, littering) protest, which was denied almost immediately by MLB. Why did they act so quickly? As always, FTT has the Inside Story...
According to the MLB rule book: An INFIELD FLY is a fair fly ball (not including a line drive nor an attempted bunt) which can be caught by an infielder with ordinary effort, when first and second, or first, second and third bases are occupied, before two are out. The pitcher, catcher and any outfielder who stations himself in the infield on the play shall be considered infielders...
ATLANTA (AP) -- David Freese and the St. Louis Cardinals rediscovered their postseason touch. Chipper Jones and the Braves kept throwing the ball away. And the Atlanta fans turned Turner Field into a trash heap. They said anything could happen in baseball's first wild-card playoff. Boy, did it ever. In a game protested by the Braves, Matt Holliday homered and the defending...
David Freese and the St. Louis Cardinals rediscovered their postseason touch. Chipper Jones and the Braves kept throwing the ball away. And the Atlanta fans turned Turner Field into a trash heap. They said anything could happen in baseball's first wild-card playoff. Boy, did it ever. In a game protested by the Braves, Matt Holliday homered and the defending World Series champion...
A sellout crowd of 52,631 packed Turner Field to watch the Atlanta Braves and St. Louis Cardinals in Major League Baseball's first wild-card playoff game. It was the Braves' biggest crowd of the season. Fans included former Braves owner Ted Turner, who set across an aisle from former President Jimmy Carter and his wife, Rosalynn. Former Braves manager Bobby Cox also attended...
MLB News

Delivered to your inbox

You'll also receive Yardbarker's daily Top 10, featuring the best sports stories from around the web. Customize your newsletter to get articles on your favorite sports and teams. And the best part? It's free!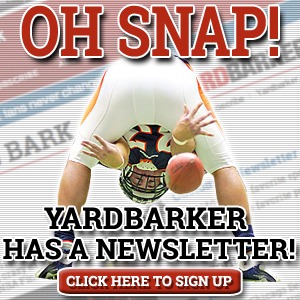 Latest Rumors
The Backyard

Today's Best Stuff

For Bloggers

Join the Yardbarker Network for more promotion, traffic, and money.

Company Info

Help

What is Yardbarker?

Yardbarker is the largest network of sports blogs and pro athlete blogs on the web. This site is the hub of the Yardbarker Network, where our editors and algorithms curate the best sports content from our network and beyond.