Found February 28, 2012 on Fox Sports Houston:
Usually it's a contending team, lacking other options, that considers transforming a starter to a closer. Other times, a team will overspend on the free-agent market for a reliable closer, hoping he's the difference between staying home and making the playoffs. The idea is that, in a division race, every lead is precious. Stability at the back of the bullpen is huge for a team on the cusp. Bad teams worry about their closer lastly. Except, that is, for the Houston Astros, who this week announced that veteran starter Brett Myers is now the club's closer. Citing an abundance of starters and a lack of reliable relievers on the roster, the Astros decided they need Myers to move to the bullpen. Why is a team that could very well lose 100 games or more worried about a closer? More important, why are the Astros taking a guy who has chewed up well over 200 innings in each of the past two seasons and hiding him in the bullpen? How many significant leads do the Astros expect to have? Oh, and there's the fact that Myers is due about 11 million this year. Aren't those dollars better spent on a guy that can give you six or seven innings per outing? Legitimate questions all. But the men who made the decision general manager Jeff Luhnow and manager Brad Mills, did the right thing. Luhnow pointed out that when one takes the drop-off from Myers' starts to whoever replaces him in the rotation and compares that to the upgrade at closer, the decision makes sense. Good point. But there's more to it than that. This season is essentially a 162-game tryout camp for the club's young players, including pitchers. So while Myers' old spot in the rotation might initially go to a veteran like Livan Hernandez or Zach Duke, eventually a prospect could occupy that role this season. And, even in a rebuilding situation, there's something to be said for not blowing late-inning leads. The Astros had a 20-28 record in games decided by one run last season. So late-inning stability can only help. The move also could prove to be a win-win for Myers and the club beyond end-of-game results. Myers is entering the final year of his contract, and a successful season as a closer would only raise his value as a free agent, and perhaps, prolong his career. (It should be noted that Myers has a club option for 2013, which now could vest based on his performance as a reliever.) From the Astros' point of view, if Myers is a reliable closer in the first half of the season, he has value on the trade market. He could very well become a coveted piece by the trade deadline. Give Luhnow and Mills aren't exactly thinking outside the box, because Myers has been a closer before, having saved 21 games for the Phillies in 2007. But it was a well-thought-out idea that upgrades one area of the team significantly with little risk. Actually, virtually no risk. After all, what's the downside? It's not as if the Astros' pennant chances could go up in flames because of this decision.
Original Story:
http://www.foxsportshouston.com/02/28...
THE BACKYARD
BEST OF MAXIM
RELATED ARTICLES
KISSIMMEE, Fla. - Astros manager Brad Mills announced on Tuesday he has named Brett Myers as the the team's closer. Mills says the plan to move Myers to that role has been a topic of discussion since before spring training. Mills said general manager Jeff Luhnow initially brought up Myers closing and it took him some time to think about the move but believes it will be good...
Brett Myers, Houston's starting pitcher on opening day last season, will be the Astros closer this year. Manager Brad Mills announced the move Tuesday. The 31-year-old right-hander started 34 games last season, including the season-opener at Philadelphia, and went 7-14 with a 4.46 ERA. Mark Melancon, who replaced the injured Brandon Lyon as the Astros' closer last year...
Brett Myers is headed back to the closer's role in Houston. He should be a decent closer. But why, from a team standpoint, would the building Astros shift a capable 200-inning resource into a 70-inning role? He should excel in the role. The last time he closed, in 2007, he had a double-digit strikeout rate, an xFIP close to three and was worth 1.3 wins — just a hiccup short of...
The Houston Astros eliminated one question mark on their roster by moving starting pitcher Brett Myers to the closer role for the 2012 season. It is not a new role for Myers, but one that he has not filled since 2007 when he saved 21 games for the Philadelphia Phillies, which are the only 21 saves of his career. The decision pushes Brandon Lyon to a setup role and removes the sleeper...
How Brett Myers will do as a closer and how valuable he is to the Astros in that role is not the question for this space. Just the fastballs.Let's take a look at some quick-and-dirty numbers (four- and two-seam fastballs all together; age determined by season year minus birth year—neither precise nor seasonal). If you go by the fastballs Myers threw as a closer in 2007, it...
The Astros are moving Brett Myers to the bullpen and penciling him in as the team's closer, manager Brad Mills said Tuesday.
Houston Astros manager Brad Mills told reporters Tuesday that Brett Myers will be making the switch from starting pitcher to closer.
Maybe we should add QR Codes to our articles.  Then, when information changes and what we've already written is no longer accurate, fans could scan the QR Code and get the latest information! REDNECK: Brett Myers, Astros closer On Tuesday, the Houston Astros announced that their closer will not be $5.5 million man Brandon Lyon, but veteran starter Brett Myers.  Myers is no stranger...
Hey there, hardball fans. Welcome to another edition of the Roster Report. With most of the off-season roster movement finished, it's time to take a long look at a few recent decisions (and an injury) that will affect roster composition for a few squads. If you're the fan of the Athletics, the Astros, or the Yankees, you may want to keep reading. The Houston Astros name SP/RP...
Click on photo to read more about Jason Varitek's retirement Two of the better catchers of our generation retired this offseason. First, Jorge Posada then Jason Varitek – Two guys that meant the world to their organizations success the past twenty years. Quite an achievement to be a catcher for the Red Sox or Yankees for more than a decade. The Press Arsenal – 4 (Realistic...
Astros News

Delivered to your inbox

You'll also receive Yardbarker's daily Top 10, featuring the best sports stories from around the web. Customize your newsletter to get articles on your favorite sports and teams. And the best part? It's free!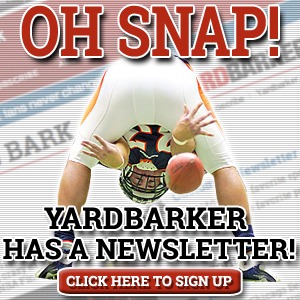 Latest Rumors
The Backyard

Today's Best Stuff

For Bloggers

Join the Yardbarker Network for more promotion, traffic, and money.

Company Info

Help

What is Yardbarker?

Yardbarker is the largest network of sports blogs and pro athlete blogs on the web. This site is the hub of the Yardbarker Network, where our editors and algorithms curate the best sports content from our network and beyond.