Found May 11, 2012 on Fox Sports Wisconsin:
MILWAUKEE Taylor Green knows he doesn't have the natural tools that some star baseball players have. Drafted by the Milwaukee Brewers in the 25th round of the 2005 MLB Draft, Green didn't start in pro baseball as a highly touted prospect, either. But since he started in the Brewers organization in 2006, they've seen something else in Green that higher draft picks or five-tool players don't always show in the early years of their baseball career. "There's a lot of good Triple-A hitters that, when they come up here, the thinking part, they can't figure it out," Brewers manager Ron Roenicke said on Tuesday. "Whenever we look at somebody, I always ask, What's upstairs? Does he have good instincts? Can he figure things out when things are going wrong?' Because things are going to go wrong here, and if you can't figure things out you better be loaded with talent. Some guys are loaded with enough talent that they can do well here, but most guys aren't." It's instincts like Roenicke is talking about that carried Green to the majors in 2011 as a second and third baseman and pinch hitter. And with a season-ending injury to everyday first baseman Mat Gamel on the team's last road trip, it's his instincts that have given him another opportunity at being an everyday player in the major leagues. But that's nothing new for Green. He takes pride in being known for extraordinary instincts. "Ever since I was younger," Green said on Wednesday, "I tried to make the most of everything, and so far it's working out well." Since starting in Class-A ball as a 20-year-old, Green has produced at the plate at nearly every level, keeping his batting average near .300 for five consecutive seasons. That's unusual for most minor-league players, who usually experience some kind of letdown when jumping up a class. Green, however, has been a picture of consistency throughout, and last year, the Brewers really started to take notice. In 120 games at Nashville last season, Green averaged a staggering .336 with 22 home runs and 88 RBI the latter two numbers were good for top ten in the Pacific Coast League. That kind of production led the Brewers to call Green up to the majors in 2011, in the middle of their hunt for an NL Central title. "He was swinging the bat great last year when we brought him up," Roenicke said. "He had a fantastic year in Triple-A swung that bat really well for the first three, four weeks with us. Now, when the timing is right, we want him to swing the bat." Green actually registered a hit in seven of his first eight Brewers games after being called up. He legitimized his reputation as a consistent hitter, and despite some struggles as the season winded down last year, the team knew what they could expect out of Green. He didn't make the playoff roster, but it was clear he'd get another chance. So when a bevy of injuries began piling up in the past few weeks, the Brewers called upon Green, who had been batting .287 through 27 games in Nashville. But there was one problem this time around. They didn't have room at third base. Or second. New signee Aramis Ramirez and long-time second baseman Rickie Weeks didn't leave many openings for Green or others to jump in. But at first base, Roenicke didn't have many options. Backup Travis Ishikawa was a capable replacement, and so was former Braves utility man Brooks Conrad. But Roenicke called up Green and asked him to start practicing at first. He got just two games in Nashville at first base. He took a few grounders at the position. And suddenly, last Sunday, Green was a full-fledged major league first baseman. He hit a double that night and handled his duties at first base admirably. Of course, he confessed that less balls were hit his way than usual. "There were a lot of lefties in the lineup," Green said with a smile. Green had switched positions before he was a shortstop through college and was asked to switch to third base early on in the minors so this was nothing new. Still, he admitted he'd need some time to get used to the nuances of the position. And that's where the instincts Roenicke had spoken so highly about come in. That's why he's confident Green will be able to produce wherever he puts him. "He plays all the positions," Roenicke said. "I think he'll do an adequate job anywhere we put him. We're going to match him up along with (Ishikawa), and if he gets hot swinging the bat, he's going to play there a lot." On a team that hasn't seen much consistency at the plate, Green's path is there to possibly make an impact in 2012. And for a guy who never had five tools or a spot in the majors waiting for him, that's a testament to the work he's done to get to Milwaukee. "He's hit at every level," Roenicke said. "The guy's a good hitter, and he figures things out. He'll go through some growing pains here. They're going to scout him, they're going to figure out how to get him out, and he'll make adjustments." Because, well, that's just what Taylor Green does. Follow Ryan Kartje on Twitter.
Original Story:
http://www.foxsportswisconsin.com/05/...
THE BACKYARD
BEST OF MAXIM
RELATED ARTICLES
This represents me touching on the Front Row Amy phenomenon. I guess? Wednesdays game wasn't your usual Milwaukee Brewers contest. No, no... they still lost. And, obviously, Travis Ishikawa managed to replicate the results of a slumping Ichiro Jones. The most sizable difference (well, two most sizable differences) between this Brewers/Reds rubber match and most other Miller Park...
MILWAUKEE In a season that has been anything but consistent for major league baseball's closers, Brewers closer John Axford had been a perfect picture of consistency. But with 49 consecutive saves converted a streak good enough for fourth all-time Axford's streak came to an end on Friday night against the Cubs. After Ian Stewart reached first base on a close throwing...
MILWAUKEE Despite the team's well-noted struggles at the plate this season, Milwaukee Brewers manager Ron Roenicke said before Wednesday's game against the Reds that if the team's pitching staff had been throwing the past month like it had last season, then the team could've easily overcome its woeful hitting in the season's first month. There's reason to...
Milwaukee Brewers closer John Axford, who had his streak of 49 consecutive saves snapped Friday night, left a pretty cool note for the media, foregoing post-game interviews. His wife was having contractions, so naturally he jetted to the hospital instead of hanging around to answer questions:
All we heard for like 18 hours from Milwaukee Brewers fan was that our Front Row Ashley marketing campaign was "lame" and a "complete failure" wouldn't be on TV in Wisconsin. Blah, blah, blah. And then we went out and put Ashley in the infamous seat usually occupied by Front Row Amy. The fans in attendance loved it. The beer vendors loved Ashley and Milwaukee's 1250...
MILWAUKEE Johnny Narron didn't have to do much talking on the other end of the phone Wednesday morning; after all, the caller Rangers outfielder Josh Hamilton had plenty to talk about. The night before, Hamilton had completed one of the best single-game efforts in baseball history, tallying four home runs, eight RBI, and an American League-record 18 total bases. And it was...
Corey Hart hit an RBI single in the 13th inning to give the Milwaukee Brewers an 8-7 victory over the Chicago Cubs on Friday night. With the bases loaded and no outs, Hart sent Lendy Castillo's first pitch back up the middle to end the game after five hours, four minutes. Castillo (0-1) plunked Rickie Weeks on the left hand and Ryan Braun in the back before Aramis Ramirez hit...
I liked the Brewers chances of winning the NL Central this year, even without Fielder, given the loss of Pujols and Carpenters injuries and my general distrust of the Reds pitching staff. They've had some awful luck so far though, and it looks like it's not going to happen. They've lost three of their key [...]
Cubs go with the right-heavy lineup against struggling southpaw Randy Wolf. Brewers Cubs *Morgan, CF Johnson, CF Weeks, 2B Baker, RF Braun, LF Castro, SS Ramirez, 3B *LaHair, 1B Hart, RF Soriano, LF *Kottaras, C Mather, 3B *Green, 1B Castillo, C #Izturis, SS Barney, 2B *Wolf, P Garza, P Which will happen first? Dempster wins a game Soriano hits...
I can't believe we're saying this, but this weekend's three game series with the Cubs is a battle to avoid the cellar in the NL Central as the Brewers and Cubs share equal 13-18 records and are 7 games back of the St. Louis Cardinals in the Central division race.  So let's take a look at this series and how I see it shaking down.Pitching Matchups: Friday: Brewers...
Dale Sveum watched from the home dugout as the Milwaukee Brewers won eight straight games over the Chicago Cubs at Miller Park last season. Now managing Chicago, Sveum hopes to see that streak end as a visitor. The Brewers look to spoil Sveum's return to Milwaukee when the NL Central rivals - both stuck at the bottom of the division - begin a three-game set Friday night. Sveum...
Brewers News

Delivered to your inbox

You'll also receive Yardbarker's daily Top 10, featuring the best sports stories from around the web. Customize your newsletter to get articles on your favorite sports and teams. And the best part? It's free!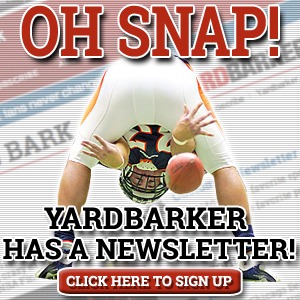 Latest Rumors
The Backyard

Today's Best Stuff

For Bloggers

Join the Yardbarker Network for more promotion, traffic, and money.

Company Info

Help

What is Yardbarker?

Yardbarker is the largest network of sports blogs and pro athlete blogs on the web. This site is the hub of the Yardbarker Network, where our editors and algorithms curate the best sports content from our network and beyond.