Found September 16, 2012 on Fox Sports Wisconsin:
MILWAUKEE With a Tuesday return date in mind, Milwaukee Brewers first baseman Corey Hart tested his injured foot by running the bases on Sunday morning, and the result wasn't what he had hoped for. Affecting the arch of his left foot, Hart's plantar fascia injury limits his ability to make turns around the basepaths without serious discomfort. He said on Sunday that he would be OK when it came to running in straight lines, but he wasn't sure he wouldn't hamper the Brewers lineup more than help if he returned. "I've played through a lot of injuries and stuff, but it's one of those things where, if I'm on first, I'm not going to be able to score on a double," Hart said. "If I'm on second, it's iffy. Is it worth it to these guys? I feel like I wouldn't be able to do everything I needed to do." Still, Hart is hoping for the best, which at this point would be a return to the lineup on Tuesday against the Pirates. "I'm aiming for Tuesday, but I just wish it felt better today than it did," Hart said. "It's frustrating. Today is the first day I've tried to run the bases and it didn't go as planned." Brewers manager Ron Roenicke is hoping for the same, but he's realistic about the possibilities of Hart playing that soon. Considering how nagging a plantar fascia injury is, the reality is that Hart's status could be decided next week or drag out for the remainder of the season. "We're still going to shoot for Tuesday, but I don't know that that's probably a possibility," Roenicke said. "I don't know. In two days, I don't know." Lucky for the Brewers, replacement first baseman Travis Ishikawa has been a very capable fill-in during Hart's absence, batting .375 since Hart's injury. He's also been impressive in the clutch, knocking in five RBI in a span of just 16 at-bats in that period. But even with Ishikawa playing at a high level, Roenicke knows how important Hart's bat is to the lineup. With the most important road trip of the season coming up, the thought of missing a 27-home run, 77-RBI bat in the lineup is a daunting one. "We have (gotten production)," Roenicke said. "The thing is ... it's having Corey hitting behind Aramis (Ramirez). When you have those first five guys in the lineup it's huge because then it pushes (Jonathan Lucroy) to sixth or (Martin Maldonado) to sixth, but when you don't have them there, you have Ishikawa fifth, Maldy sixth -- it changes the look of the bottom part of that lineup. Even as well as Ishikawa has done, it still changes." Hart mentioned the possibility of getting an anti-inflammatory shot to help with the pain, but even that carries some risk of worsening the injury. Anxious to get back in the lineup, Hart didn't seem worried about the risks, which the Brewers staff is mulling over as a potential option. "We have the offseason coming," Hart said. "I'd rather force it and not be able to move really good for the first month of the offseason than right now." For now though, the Brewers will deal with Sunday's setback. But could it mean that Hart's injury is worse than expected? Roenicke wouldn't rule out the possibility that Hart's injury could potentially end his season. "I think that's always a possibility," Roenicke said. "I know he sure wants to get out there and we'll see. I think we'll know a lot more on Tuesday, Wednesday, somewhere in there, how long it's going to be. Who knows, maybe ... he'll be okay." Follow Ryan Kartje on Twitter.
Original Story:
http://www.foxsportswisconsin.com/09/...
THE BACKYARD
BEST OF MAXIM
RELATED ARTICLES
MILWAUKEE John Axford was tired and frustrated, but he knew what came next. He had always been transparent with the media, welcoming interviews that came to his locker near the front of the Brewers clubhouse. But lately, the questions had grown tiresome. He knew he had to face up to the struggles he and the rest of his bullpen had dealt with, something hed already had to own up...
MILWAUKEE It's no secret that Brewers pitcher Shaun Marcum hasn't been the same since returning from elbow tightness that kept him out for the better part of two months this season. In the five starts since his return, Marcum has averaged less than five innings per start and given up four runs in all but one appearance. That's mostly because of his lack of command,...
MILWAUKEE A command pitcher without grips on his command is often not a recipe for a good outing on the mound, and on Saturday night, that seemed to be the case for Brewers pitcher Shaun Marcum. Since coming back from shoulder tightness that kept him out of the rotation for around two months, Marcum has struggled mightily with his commandthe calling card that made him a top-of...
MILWAUKEE Corey Hart is clearly eager to get back in the Milwaukee Brewers lineup sooner rather than later, given the team's newfound wild-card contention. And with a rupture in his plantar fascia in the arch of his left foot, Hart said he saw "a big improvement" since Wednesday. On Friday afternoon, the Brewers first baseman took early batting practice and ran on...
LET'S EAT
As Chipper Jones continues his farewell tour across Major League Baseball, the Brewers may have given him the most unique gift he will receive.
I haven't paid much attention to baseball in the last month or so, because that's what happens when you're a Cubs fan. However, I have watched enough games this season to realize the Milwaukee Brewers ascension up the standings came out of nowhere. Suddenly a team that was just a notch better than the Astros and Cubs in July is in the midst of the wild-card race. Considering...
MIAMI Yes, Giancarlo Stanton wants to one day win a home-run title. You play this game to win championships and be the best we can. So thats part of it, yep, Stanton said. But if you believe the Marlins outfielder is thinking of winning his first home-run crown this season, youd be wrong. With 34, Stanton entered Saturday four home runs behind Milwaukee outfielder Ryan Braun...
Ryan Braun hit two home runs and rookie pitcher Wily Peralta gave up two singles in eight innings, and the Milwaukee Brewers beat the New York Mets 3-0 Sunday. The reigning most valuable player now has 201 home runs in his career, as Milwaukee won for the 20th time in its last 26 games to remain 2 1/2 games out of the second wild-card spot. The left fielder leads the league with...
Ryan Braun hit his 40th home run in the 6th inning, as he still leads all National League sluggers   The Milwaukee Brewers sent the Mets packing from The Brew City as the New York Mets fell by a score of 3-0 on Sunday afternoon. The pitching matchup featured Chris Young for the Mets and Wily Peralta for the Brewers. Both starters pitched well into the fourth inning until the Brewers...
Talk about a flight delay.  A game between the Mets and Brewers was delayed when a paper airplane flew on to the field.The hitter, Aramis Ramirez, stepped out of the box to allow the airplane to be taken off of the field.It's a pretty big one.  I'm glad it didn't hit anyone in the eye.Watch the clip right here:Your browser does not support iframes.
The Mets and Brewers play the rubber game of the series this afternoon as Chris Young makes the start against Wily Peralta. Young is 4-7 on the season over 17 starts over 96.1 innings with a 4.39 ERA. In his last two starts he has pitched 11.0 innings and has allowed only 3 ER while striking out 10 batters. The last time he faced the Brewers was in 2008 and he pitched a complete...
Brewers News

Delivered to your inbox

You'll also receive Yardbarker's daily Top 10, featuring the best sports stories from around the web. Customize your newsletter to get articles on your favorite sports and teams. And the best part? It's free!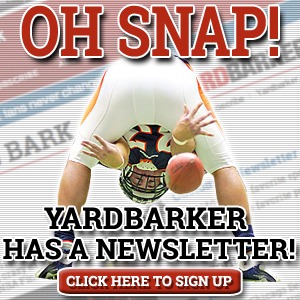 Latest Rumors
The Backyard

Today's Best Stuff

For Bloggers

Join the Yardbarker Network for more promotion, traffic, and money.

Company Info

Help

What is Yardbarker?

Yardbarker is the largest network of sports blogs and pro athlete blogs on the web. This site is the hub of the Yardbarker Network, where our editors and algorithms curate the best sports content from our network and beyond.