Found March 10, 2012 on Fox Sports Wisconsin:
PLAYERS:
Francisco Rodriguez
,
John Axford
,
LaTroy Hawkins
,
Takashi Saito
,
Kameron Loe
,
Jose Veras
,
Casey McGehee
,
Marco Estrada
,
Zack Greinke
,
Zach Braddock
,
Manny Parra
,
Chris Narveson
,
Ryan Braun
TEAMS:
Milwaukee Brewers
,
Los Angeles Angels
,
Arizona Diamondbacks
,
Pittsburgh Pirates
PHOENIX Talk about the Milwaukee Brewers' bullpen and the conversation will undoubtedly focus on right-handers Francisco Rodriguez and John Axford. Last season, after Rodriguez was acquired the night of the All-Star game to set up for Axford, the back end of Milwaukee's bullpen was perhaps the best eighth and ninth inning combination in all of baseball. With a top-flight starting rotation that regularly worked deep into games, the K-RodAxford combination effectively shortened games into seven-inning affairs. But on the rare occasion when a starter couldn't work deep, manager Ron Roenicke had the luxury of turning the ball over to some fairly effective middle relievers. Milwaukee's bullpen ranked among the league leaders in several categories including WHIP (2nd, 1.22), ERA (5th, 3.32) and saves (5th, 47). They were near the bottom in total innings pitched (449.2), earned runs (166), losses 23) and hits (410). Those numbers become even more impressive when taking into account the fact that the Brewers didn't have a left-handed reliever for much of the season. Roenicke said repeatedly that he didn't feel the need to add a lefty to the bullpen "just for the sake of having one." Both LaTroy Hawkins and Takashi Saito were incredibly effective against batters on either side of the plate and were an instrumental factor in the Brewers' success. Saito and Hawkins are gone this year, having landed free agent deals in Arizona and Los Angeles, respectively, leaving some very big innings to cover. "It's going to be tough to replace what Sammy and Hawk did for us last year," Roenicke said.The Brewers have several options to cover those innings with few bigger literally and figuratively than Kameron Loe, a 6-foot-8 right-hander who specializes in inducing ground balls. Loe filled a number of roles last season, including the set-up role while Saito and Hawkins worked back from injuries, but he was at his best in the second half.Often a target of fans' scorn a year ago, Roenicke insists that when you look at the burly right-hander's entire body of work, Loe was as good as it gets. Leading the team with 72 appearances, Loe finished the year with a 4-7 record and a 3.50 ERA with one save."I know everybody talks about it but I don't think that Kam' did that bad of a job," Roenicke said. "If you take away, whatever, three or four games, he was really good. In the beginning of the year, he was outstanding in the eighth inning. Then all of a sudden, he had a couple of games that weren't so good but he pitched well for us."If you go back and look at numbers and look at the games that he pitched well and the games that he didn't, he pitched way more good games than he did bad games."Loe said that part of his troubles last season came during a time when he tended to rely more on his fastball than his sinker. This year, he'll again lean heavily on the sinker but hopes to mix in more pitches to make him a little more versatile."When I'm getting ground balls with the sinker and getting them consistently, it's tough to get away from it," Loe said. "But sometimes you can go to it too much and it gets watered down. I think going to my other pitches this year will definitely help me out."Over his last 22 appearances, Loe allowed just four earned runs in 25 innings of work, dropping his ERA from 4.60. It's no coincidence that his numbers improved after the Rodriguez acquisition, which allowed Roenicke to move him out of the set-up role and using him in situations earlier in games, especially against right-handed batters.Along with Loe, newcomer Jose Veras figures to play a big role in 2012. The 31-year-old, acquired from Pittsburgh in the Casey McGehee trade last December, was he Pirates leader and second in the NL with 79 appearances and record 79 strikeouts in 71 innings of work. He went 2-4 with a 3.40 ERA in his first full MLB season, holding opponents to a .204 batting average."I think Veras will play a huge role," Roenicke said. "Kam will kind of do what he did last year but maybe a little more now in the seventh (inning)."Roenicke plans to carry seven relievers in his bullpen this season, leaving three spots to fill once you account for Loe, Veras, Rodriguez and Axford. Marco Estrada will be back, too. Originally a spot starter filling in for an injured Zack Greinke, Estrada was effective out of the bullpen, pitching both in long and middle relief roles, while posting a 1-6 record and a 4.38 ERA.Unlike last year, Roenicke figures to have some lefties at his disposal in 2012. Zach Braddock will have a shot to make the roster after battling a sleep disorder in 2011. Newcomer has been very good in spring training and could very well end up filling the role of left-handed specialist.The most intriguing candidate is Manny Parra. Once one of the Brewers' top minor league prospects, Parra struggled with inconsistency as a starter but seemed to find his niche after moving to the bullpen in 2010.Roenicke didn't see much of Parra last season but thinks he could be a big boost to the relief corps this year. Roenicke doesn't see Parra as a specialist but as somebody who can work entire innings."If he pitches like he did two years ago, he could," Roenicke said. "he's got the good fastball that can work against left-handers or right-handers and a good split-finger for strikeouts. I think he's going to be tough on lefties but not necessarily a left-handed specialist."Having reliable relievers covering innings until Roenicke can turn to his closing duo is a big relief to the starting rotation. Milwaukee's starters finished third in the National League with 98 quality starts and sixth in innings pitched with 992."It's huge," said left-hander Chris Narveson. "Any of those guys can come in and pick you up. A lot of times, you have a tough game but you've kept the team close, you have to guys in between to get to Frankie and Ax. Our middle guys are a big asset that gets over looked."Hitters, too, appreciate the effort. A good bullpen preserves their offensive efforts or gives the lineup a better chance of putting together a late rally."When your bullpen is as good as ours, you know you're never out of a game," said left fielder Ryan Braun. "If you're down one or two runs, it's OK ... to be down five or six late, that's another story."Follow Andrew Wagner on Twitter.
Original Story:
http://www.foxsportswisconsin.com/03/...
THE BACKYARD
BEST OF MAXIM
RELATED ARTICLES
PHOENIX In six seasons on the Milwaukee Brewers' coaching staff, Dale Sveum did it all. Hired by Ned Yost in 2006 to serve as third base coach, he became the team's bench coach a year later. In 2008, Sveum became the unlikeliest of interim managers, taking the reins after Yost was fired with 12 games to play as the Brewers returned to the playoffs for the first time in...
PHOENIX A cursory glance of the Milwaukee Brewers' Cactus League stats shows some gaudy numbers for catcher Jonathan Lucroy, who had the day off Saturday but leads the team with a .636 batting average (7-for-11) with a home run and two RBI in four games. Lucroy is quick to dismiss those stats. "It's spring training," Lucroy said. "We have a lot of guys raking...
PHOENIX After winning his appeal of a 50-game MLB suspension, Milwaukee Brewers left fielder Ryan Braun isn't foolish enough to believe he'll never again hear about his positive test for a banned substance. While talking to Milwaukee sports writers about his two-run home run his first Cactus League hit this season following Milwaukee's 8-6 loss to Cincinnati on Thursday...
PHOENIX Yovani Gallardo is one step closer to being ready for the regular season. The Brewers right-hander threw 45 pitches in a 3.1-inning effort Sunday in Milwaukee's 5-4 victory over the Colorado Rockies at Maryvale Baseball Park. Gallardo allowed a walk and three hits in his second Cactus League start of the year and has yet to allow a run in 5.1 innings of work. &quot...
PHOENIX All good things must come to an end, even in spring training. Left-hander Randy Wolf retired his first 14 batters in Cactus League play before issuing back-to-back walks in the third inning of the Brewers' 12-2 victory against Cleveland on Friday afternoon at Maryvale Baseball Park. In his two starts (4 23 innings), Wolf has allowed just one hit, with one walk and...
Most of you were probably watching the Big Ten championship game, but the Brewers played today, too. The Crew snapped their losing streak by edging out a 5-4 victory against a split Rockies squad. Yovani Gallardo started, allowing 3 hits and a walk while striking out two over 3 1/3 scoreless innings. Marco Estrada added three innings of excellent relief, holding the Rockies scoreless...
After a 12-2 win yesterday, the Brewers fell back down to earth, dropping a pair of split-squad games. A team that included Rickie Weeks, Aramis Ramirez, John Axford, and Chris Narveson dropped a 1-6 contest to the Cubs, and a squad including Nyjer Morgan, Carlos Gomez, and Mat Gamel lost to the Giants 3-13. Neither of these games were rife with highlights, but I'm going to run...
Yovani Gallardo stayed on track for a possible opening day assignment. The former All-Star pitched 3 1-3 scoreless innings Sunday and the Milwaukee Brewers beat a split squad of Colorado Rockies 5-4. Gallardo used 45 pitches to scatter three hits and a walk with two strikeouts. He's fanned six in 5 1-3 innings this spring - he finished fifth in the NL last season with 207 strikeouts...
The 2011 Milwaukee Brewers gave their fans their first division title since 1982. Ryan Braun brought the MVP Award back to Milwaukee for the first time since Robin Yount won the award in 1989. Both feats were Milwaukee firsts since the club has been in the National League. Of course, already in 2012 we have
PHOENIX (AP) -- Randy Wolf and five Milwaukee relievers held the Cleveland Indians to three hits and the Brewers belted four home runs in a 12-2 win Friday. Cristian Guzman lined a single to center with two outs in the seventh off Manny Parra for Cleveland's first hit. Felix Pie had a bloop double in the eighth and Andy LaRoche hit a two-run double in the ninth. Mat Gamel hit...
MLB News

Delivered to your inbox

You'll also receive Yardbarker's daily Top 10, featuring the best sports stories from around the web. Customize your newsletter to get articles on your favorite sports and teams. And the best part? It's free!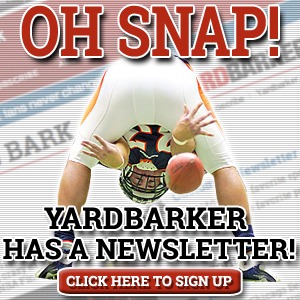 Latest Rumors
The Backyard

Today's Best Stuff

For Bloggers

Join the Yardbarker Network for more promotion, traffic, and money.

Company Info

Help

What is Yardbarker?

Yardbarker is the largest network of sports blogs and pro athlete blogs on the web. This site is the hub of the Yardbarker Network, where our editors and algorithms curate the best sports content from our network and beyond.