Found July 09, 2012 on Losers Bracket:
PLAYERS:
Ryan Braun
,
Zack Greinke
,
Aramis Ramirez
,
Yovani Gallardo
,
Norichika Aoki
,
Michael Fiers
,
Corey Hart
,
Marco Estrada
,
Francisco Rodriguez
,
Martin Maldonado
,
Rickie Weeks
,
Kameron Loe
,
John Axford
,
Carlos Gomez
,
Manny Parra
,
Randy Wolf
,
Jose Veras
,
Cody Ransom
,
Cesar Izturis
,
Nyjer Morgan
,
George Kottaras
,
Travis Ishikawa
,
Tim Dillard
,
Livan Hernandez
,
Taylor Green
TEAMS:
Milwaukee Brewers
Here is my look at the Brewers 25-man Roster Power Rankings…it got really hard after 11 (that's what she said)
***NOTE:  The number in parenthesis is change from last week***
#1: OF Ryan Braun (-) – 7-hits, 2-homers, and 6-RBI this week keeps Braun on top of the list

#2: SP Zack Greinke (-) – Loved the ejection…though with a normally calm Greinke, is frustration setting in?

#3: 3B Aramis Ramirez (-) – 6-game hitting streak, first 5 of those games he had 2-hits in each one.  Ramirez is offensively filling in for Prince just fine
#4:SP Yovani Gallardo (+1) – In his last 2-strats, Greinke has allowed 1-run in 12 2/3 innings…just 7-hits but 8-walks.  Better but still too many walks

#5: OF Norichika Aoki (+1) – Milwaukee may have struck gold with Aoki; 15-game hitting streak heading into the All-Star Break
#6: SP Michael Fiers (-1) – Weird to drop a guy who goes 7 1/3 and allowed just 2-runs on 7-hits…thanks Aoki
#7: 1B Corey Hart (+1) – Had hits in his last 6-games including a homer and the game winning RBI in Sunday's win
#8: SP Marco Estrada (+2) – Hard luck no-decision in Tuesday's debacle when he left with 9-2 lead…nice Sunday after Greinke's surprise start (3-innings, no-runs, no-hits, 1-walk)

#9: RP Francisco Rodriguez (-2) – 4-games this week, gave up one earned run…happened to be in Tuesday collapsed…best in the pen right now
#10: C Martin Maldonado (-1) –A slow and quiet week for Maldonado but his better than expected play (and above .200 average) keeps him in the top-10
#11: 2B Rickie Weeks (+2) – Weeks has hit .297 over his last 10-games.  He had 9-hits this weeks with a couple of 3-hits game, .199 heading into the break, if he was .200 he would be #10

#12: RP Kameron Loe (-1) – His bad is terrible and really erases how solid he has been…7 of his last 8 appearances have been scoreless, the one he gave up 4-runs (Tuesday)
#13: CL John Axford (+2) – Was one strike away from a perfect 3 for 3 week on saves…how does he move up?  You try to figure out 13 through 20!!!
#14: OF Carlos Gomez (+2) – Quiet week for Gomez and the rest of the "middle card" talent on the Brewers

#15: RP Manny Parra (+2) – 1-run in 5-innings this week…ERA is down to a (2012 Brewers) "respectable" 4.38
#16: SP Randy Wolf (-) – Wolf's Wednesday demolished by his 4-run 7th inning…just 2-decisions in his 9-starts, both bad starts but the other 7…should have some wins
#17: RP Jose Veras (-3) – One word to describe his last couple of weeks…YUCKY!
#18: IF Cody Ransom (-) - Hitting over .300 over his last 10.  When called on, he has been there

#19: IF Cesar Izturis (+2) – has had a hit in each of his last 5-starts…probably playing at his offensively ceiling and what you expected defensively
#20: OF Nyjer Morgan (-1) – 2-for-13 this week…at least he didn't push any fans; just has no impact (or need) on this team

#21: C George Kottaras (-1) – He went from a key contributor in April to a guy that if/when Randy Wolf goes, he could too
#22: IF/OF Travis Ishikawa (-) - ya, not much to say

#23: RP Tim Dillard (+1) – Only pitched 1/3 of an inning this week…but it was scoreless
#24: RP Livan Hernandez (-) – only reason he moved up is because the guy below him got sent to Triple-A
#25: IF Taylor Green (-2) – He got sent down to Triple-A to get some consistent at-bats
Dropped from the Rankings:  NONE
Justin Hull is the host of the "Home Stretch" heard 2p-5p on 95.3 FM, WSCO Radio in Green Bay/Appleton Wisconsin.  Follow him on twitter (@jh1570) or facebook.
Original Story:
http://losersbracket.com/2012/07/brew...
THE BACKYARD
BEST OF MAXIM
RELATED ARTICLES
Baseball may have followed football's lead on some instant replay advancements, but it's still not keen on adapting other parts of the sport, like the good ol' ball spike. Zack Greinke found that out the hard way Saturday when he was booted from his start against the Astros after angrily spiking a ball after a call at first base. Greinke was obviously mad at himself after...
LET'S MAKE A DEAL
If the Brewers decide to make Zack Greinke available before the trade deadline, the Angels might be one of the teams interested.
It took just four pitches for Zack Greinke's Saturday start against the Houston Astros to come to a very premature end.After Greinke spiked a ball out of frustration following a close call at first base, the Milwaukee Brewers' ace pitcher was ejected before even registering an out. Having given up an earned run, he took the loss as Milwaukee was eventually defeated, 6-3....
Milwaukee pitcher Zack Greinke is going to get another start before the All-Star break. Greinke tossed just four pitches Saturday before he was ejected after spiking the ball following a close play at first base during a 6-3 loss at Houston. So the Brewers decided to give him the ball again on Sunday. Greinke will become the first pitcher in the majors to start consecutive games...
Milwaukee Brewers left fielder Ryan Braun had been voted to start in four straight All-Star games playing in three of them but it took a fifth straight nomination for Braun to tally his first hit. With a 0-for-7 history with three strikeouts in past All-Star games, Braun came to the plate in the top of the first inning on Tuesday against Detroit ace Justin Verlander looking to...
By JEFF MEZYDLO, STATS Senior WriterA year ago, Zack Greinke struggled to consistently win on the road. That has not been the case during his second season with the Milwaukee Brewers.The subject of trade rumors, Greinke on Saturday tries to win a third straight road start and continue his dominance over a Houston Astros club trying to end a nine-game skid.Last season, Greinke (9...
((HT: MLB/FSAstros)) This is what happens when umpires decide to make themselves the center of attention... In the Milwaukee-Houston game last night, Brewers starter Zack Greinke was late covering first base. In his disappointment, he spiked the baseball in the field of play and got an ejection for his actions... The Astros got the win after Greinke was removed... Greinke...
It's not exactly the way most would have assumed the NL Central would play out, but when the All-Star break arrived, last year's title-winning Brewers were eight games back and the eternally struggling Pirates stood alone in front. Of course, there's plenty of time left in the season, and even last year, Pittsburgh threatened to push the division contenders before falling...
With the Milwaukee Brewers and Philadelphia Phillies 6.0 and 10.0 games out, respectively, of the second wild-card spot in the National League, it's probable that one or both teams will trade their front-line, free-agent-to-be starters — i.e. Zack Greinke and Cole Hamels — before the July 31st trade deadline. "What might either be worth in terms of a trade?" is a question...
Was that fair? Yesterday's post indicated that the Game of the Day feature was on a five day losing streak. So after carefully considering which game was the best lock for being correct, the feature settled on Zack Greinke and the Brewers. You probably heard how that went. Greinke faced two batters, the second of which grounded to first. Greinke raced over and took the throw...
The July 11th, 2012 edition of daily news for the Los Angeles ...
The first half of the Milwaukee Brewers' 2012 season was loaded with uncertainty. Injuries reigned supreme in April and May. Slumps forced the offense to further adjust, as big-time contributors struggled to get their bats going. Uncertainty was the only thing the Brewers could rely on as the once-vaunted back end of the bullpen fell down in June. And now, with the All-Star...
Brewers News

Delivered to your inbox

You'll also receive Yardbarker's daily Top 10, featuring the best sports stories from around the web. Customize your newsletter to get articles on your favorite sports and teams. And the best part? It's free!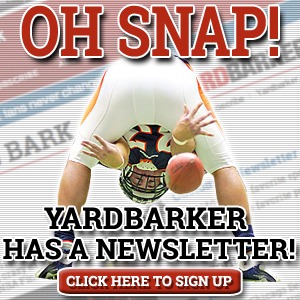 Latest Rumors
Best of Yardbarker

Today's Best Stuff

For Bloggers

Join the Yardbarker Network for more promotion, traffic, and money.

Company Info

Help

What is Yardbarker?

Yardbarker is the largest network of sports blogs and pro athlete blogs on the web. This site is the hub of the Yardbarker Network, where our editors and algorithms curate the best sports content from our network and beyond.