Found August 15, 2012 on Fox Sports Wisconsin:
DENVER Before Monday's matchup with the Rockies began, Brewers manager Ron Roenicke was asked about how the struggles of Colorado's starting staff compared to the struggles of his own bullpen. He quickly explained that, although losses in the eighth and the ninth innings have been particularly hard to stomach this season in Milwaukee that losses rooted in the first few innings of a game might even be worse. "If you have a bad starting staff, you're never in games," Roenicke said. "That's hard. We talk about how hard these have been to lose in the eighth or ninth, they're really difficult when you're losing in the first three innings." Two games later, Roenicke has a very good idea what it feels like to lose games in the first few innings. In Tuesday's game, Brewers pitcher Randy Wolf had only recorded a single outwhich came on a sacrifice bunt before the Rockies had already put up four runs on the board. With one-third of an inning down, Wolf was already on the mound talking to pitching coach Rick Kranitz. Wolf, however, would last until the sixth inning, where he was taken out after giving up 10 hits and six earned runs, while striking out just one batter. "I had little or no idea where the ball was going today," Wolf said. "When you're out there kind of guessing where the ball is going to go, it's pretty tough to pitch." But those struggles were like dj vu for the Brewers, who lost Monday's game in similar fashion, even after they attempted to mount a comeback in the late innings. In Monday's game, with Milwaukee's hottest pitcher Mike Fiers on the mound, Fiers turned in his worst outing of the season, lasting just 2.2 innings and giving up eight earned runs on nine hits. It was Fiers' first outing that lasted less than six innings since June 3, and at no point this season had Fiers lasted less than five innings before Monday night. All in all, in the first three innings of both games combined, the Brewers gave up 13 total runsa total that was too much for even the high-powered Milwaukee offense to overcome. "Obviously you don't want to get behind like that and you know you have to score a lot of runs," Roenicke said on Tuesday. "But in this ballpark, you should always feel like you're going to score a lot of runs. Our offense, no matter how far we get behind, should always feel like we can come back and we can score runs. It's a little different when you go to some ballparks where you know that doesn't happen. But here, four runs down, so what?" In a ballpark like Coors Fieldknown for being one of the best hitter's parks in baseball due to the thin air almost a mile above see leveloffenses have been known to string together runs, even in the late innings, as Roenicke said. But through two games of the series, the elements have only hurt the Brewers, asdespite two impressive comeback attempts on offense poor starting efforts in the game's first two innings have again put Milwaukee in a desperate situation to avoid a sweep for the second series in a row. Follow Ryan Kartje on Twitter.
Original Story:
http://www.foxsportswisconsin.com/08/...
THE BACKYARD
BEST OF MAXIM
RELATED ARTICLES
Two days removed from the birth of his first child, Mark Rogers wasactivated from the paternity listto start Wednesdays game against the Rockies. To make room for him on the active roster, the Brewers sent shortstop Jeff Bianchi to Triple-A Nashville. Occupying the fifth spot in the rotation while Shaun Marcum recovers from elbow tightness that has sidelined him for two months...
MILWAUKEE Aramis Ramirez is not known for getting out of the gates quickly. In his 15 seasons of major league service, Ramirez has held a .300 batting average just three times before June 1st. He's had multiple years -- three to be exact -- that began with an average under .200 in the season's first month. April is also Ramirez's worst month in his career in terms of...
DENVER When Brewers manager Ron Roenicke called up shortstop Jean Segura from Double-A Huntsville a week ago, he was mum on how much the hot prospect would play in his first few games with the Brewers. Six games later and Segura has started in every game, except for Monday's contest against the Rockies, begging the question: Why take him out of the lineup? It appeared that...
DENVER Mired in one of the worst stretches at the plate of his career, Milwaukee Brewers star outfielder Ryan Braun will get the day offWednesday, as his Brewers try to salvage at least one win out of their trip to Colorado. The day off has nothing to do with any lingering injuries, Brewers manager Ron Roenicke said. But with little options left to spark Braun at the plate, Roenicke...
Mark Rogers of the Milwaukee Brewers is not a very lucky fellow. And that is unfortunate because he is from this great state of Maine and Maine is not exactly brimming with baseball success stories. And so it was pretty darned exciting when a kid who went to Mount Ararat High School in Topsham, Maine was the fifth overall selection in the first round of the 2004 draft. He had big...
Milwaukee's Mark Rogers welcomed his first child to the world Monday. He's hoping he doesn't have to wait much longer for his first major league win. Rogers takes the ball Wednesday for the sputtering Brewers in a matchup with a Colorado Rockies team seeking its first home sweep in 2 12 months. After dropping Monday's opener 9-6, Milwaukee (52-63) fell to 1-13...
DENVER Two hours before the Milwaukee Brewers are set to take on the Colorado Rockies in their last game at Coors Field this season, the reliever who was never supposed to be here smiles wide, holding a hand of playing cards close to his chest. Jim Henderson never could have imagined this card game three weeks ago, when he was still just a 10-year veteran of the minor leagues,...
I've been struggling to think of things to write about the Brewers lately. At one point I wanted to write a post about how Jim Henderson is the GREATEST CLOSER IN BREWERS HISTORY, but I obviously missed that bandwagon. Who would've thought that Honey Boo Boo's 15 minutes of fame would last longer than Jim Henderson's 15 minutes of being a good reliever? (Don't...
MILWAUKEE With just 40 games left in the 2012 season, we're about at the time where fingers are pointed, scapegoats are made, and blame is passed as fans question what could have been. What if the bullpen hadn't struggled so much? What if the Brewers had uncovered Mike Fiers earlier? What if injuries hadn't ravaged the clubhouse in May? Then there's an even bigger...
Credit: Brett Davis, US PRESSWIRE A fairly robust debate exists over the importance of a team's road record, but the inability to win consistently on the road can only be a detriment to a team's overall performance and chances to reach the postseason.  The Milwaukee Brewers, unfortunately, fuel this debate for the ugly reason of their terrible play away from the cozy confines...
The Brewers joined in with the Cards a few weeks ago to roll back their uniforms as well. I'm a big fan of the No Name On Back here: Tweet
Brewers News

Delivered to your inbox

You'll also receive Yardbarker's daily Top 10, featuring the best sports stories from around the web. Customize your newsletter to get articles on your favorite sports and teams. And the best part? It's free!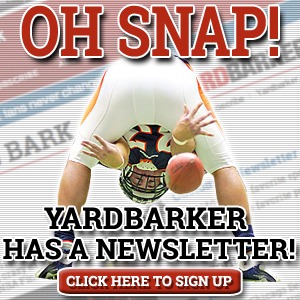 Latest Rumors
The Backyard

Today's Best Stuff

For Bloggers

Join the Yardbarker Network for more promotion, traffic, and money.

Company Info

Help

What is Yardbarker?

Yardbarker is the largest network of sports blogs and pro athlete blogs on the web. This site is the hub of the Yardbarker Network, where our editors and algorithms curate the best sports content from our network and beyond.