Found August 17, 2012 on Holdout Sports:
Washington Nationals rookie outfielder Bryce Harper held a free youth baseball clinic in Fairfax, Virginia on Thursday where he had some interesting (and unusual) advice for some of the future prospects in attendance: "Be as sexy as you can".
We don't know exactly what Harper meant by that (and we would love to hear him explain this one), but we're pretty sure there was no ill intent behind his words. We commend Harper for spending some of his valuable time with local youth, not to mention also donating $2,500 to the Greater Washington Urban League. Keep up the good work, Bryce. Video via ABC7 Washington. H/T Business Insider.
Visit us at http://holdoutsports.com. Follow @HoldoutSports
Original Story:
http://feedproxy.google.com/~r/Holdou...
THE BACKYARD
BEST OF MAXIM
RELATED ARTICLES
On Thursday, Washington Nationals rookie slugger Bryce Harper held a free one-day camp for aspiring baseball players between the ages of 6 and 14. The Bryce Harper Baseball Pro was held at Fairfax (Va.) High School and from the looks of it, a grand time was had by one and all. On top of the thrill [...]
Bryce Harper took a portion of his day off on Thursday to spend time with young ballplayers in the Greater Washington Urban League. He also donated $2,500 to benefit the league. The fact that Harper is already taking time out of his day to give back to the community at his age is very admirable, but parents may have been left scratching their heads at the message the Nationals...
Ha. Fantastic. Via Nationals Enquirer comes this delightful photo of a somewhat chubby boy who grew up to become Washington Nationals rookie phenom Bryce Harper. While it cannot be confirmed for certain that this photo is of a then-12-year-old Harper (which would make this from 2004 — Jesus, I'm old), it certainly looks like him, [...]
WE WANT A PITCHER...
Video up above (via @Allstars_S2) of Bryce Harper getting pitching at his free baseball camp for area kids today at Fairfax High School. Pretty cool thing for Harper to do for the community, along with a donation to the Greater Washington Urban League. Wait, wasn't he supposed to be an arrogant punk? Related: A photo of what might be aa younger, pudgier Bryce Harper circa 2004...
Listen closely at the 1:05 mark for a soon-to-be classic Bryce Harper quote.  It's no "That's a clown question, bro," but it's brilliant nonetheless. The Washington superstar found himself in Fairfax, Virginia this past Thursday at his own day camp for aspiring baseballers—the aptly named Bryce Harper Baseball ProCamp—for youngsters aged 6-14.  Harper interacted...
The kids that participated in a baseball camp with Bryce Harper recently might not end up in the big leagues. But you can bet a couple of them will be looking dapper when they hit the town. "Be as sexy as you can," Harper advised two kids he appeared to be giving hitting tips to. The footage of Harper's important advice is included in a quick cut in an otherwise cool...
Wait for Bryce Harper's sound advice to campers between the ages of 6 and 14 at the 1:05 mark (via Nats Enquirer, again). So now we know what's going through Harper's head when he's at the dish. Previously: 'That's A Clown Question, Bro' | Bryce Harper Appears To Have Been A Husky 11-Year-Old
The photo above is apparently Bryce Harper in 2004, at age 12. Amazing. Seems fitting that this photo would be circulating today, given the Bryce Harper Baseball Camp taking place in Fairfax today. (photo via @natsgirl3411 h/t @recordsandradio) Befriend Nats Enquirer on Facebook. Follow on Twitter.
Ben and Sam discuss the possibility that the Nationals might enter the playoffs without either Bryce Harper or Stephen Strasburg, then talk about how the White Sox have defied injuries yet again and proved the pre-season predictions wrong. Effectively Wild Episode 23: "Benching Bryce Harper/Why We Were Wrong About the White Sox" Download Here (13 MB; 14:42) RSS Feed iTunes Feed
Michael Morse hit a grand slam, Bryce Harper also homered and the Washington Nationals became the latest team to tag a struggling Johan Santana in their 6-4 victory over the New York Mets on Friday night. Ross Detwiler tossed six solid innings and the Nationals sent Santana to his fifth loss in the last five starts. Handed a 2-0 lead, the two-time Cy Young Award winner was perfect...
WASHINGTON -- The Nationals relied on two big swings for their 30th comeback win in Friday's series opener with the Mets. Michael Morse hit a grand slam, and Bryce Harper added a two-run homer as the Washington Nationals scored a 6-4 victory over the New York Mets Friday night. Those two homers gave Washington (74-45) all of its offense in a game where the Nationals fell behind...
WASHINGTON -- Danny Espinosa and Bryce Harper both homered, and starter Gio Gonzalez earned his 16th victory as the Washington Nationals scored a 5-2 victory over the New York Mets on Sunday afternoon. Gonzalez improved to 16-6, although he struggled at times during his 5 2/3 innings. He never got the side out in order and gave up one run on seven hits while needing 110 pitches...
Nationals News

Delivered to your inbox

You'll also receive Yardbarker's daily Top 10, featuring the best sports stories from around the web. Customize your newsletter to get articles on your favorite sports and teams. And the best part? It's free!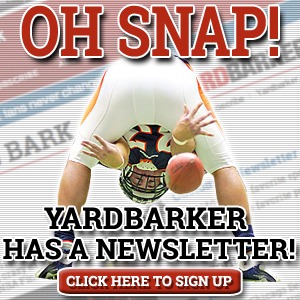 Latest Rumors
Best of Yardbarker

Today's Best Stuff

For Bloggers

Join the Yardbarker Network for more promotion, traffic, and money.

Company Info

Help

What is Yardbarker?

Yardbarker is the largest network of sports blogs and pro athlete blogs on the web. This site is the hub of the Yardbarker Network, where our editors and algorithms curate the best sports content from our network and beyond.