Found June 08, 2012 on isportsweb.com:
Looking back 2010 seems like a different time for the Baltimore Orioles. Midway through the season the O's had easily the worst record in the majors and no signs of improving their fortunes in the years to come. But then came the savior, for a club struggling to remember its glory days; Buck Showalter descended from the heavens (ok it was from ESPN but my thing sounds better) and breathed hope into a team that had not tasted glory since 1998.
But I, like most Orioles fans, am an incredible pessimist. I have tasted so much disappointment while following this franchise that it just comes with the territory. Lucky for Buck this is a franchise with very little expectations.
He took a little bit, last season was just another in the Orioles recent futilities, but this year the Orioles have been injected with something it hasn't seen since Cal Ripken Jr. retired.
Confidence. It's an understated word in sports but it that one thing that can turn a pretender into a contender.
Go right now and watch an Orioles loss from 2 years ago, look really close at each of the players. What do you see? Anger? Disappointment?
No that thing you are seeing is a complete lack of caring. This team knows it is bad and does not truly expect to win its games. Now do the same thing but with this year's squad. Do you see that? This is not the same team from two years ago; they don't just go into games hoping for a win. They go into games expecting to win.
And it's all thanks to the Buck.
His experience and talent as a manager has brought this franchise back to a place it hasn't been for 15 years. The fans are excited, the players are excited, and the whole city can feel a new era is dawning for the Orioles.
Now don't get me wrong I still think that the Orioles are going to collapse and finish in last place in a very strong AL East, I'm an Orioles fan I'm bred to expect failure. But for the first time in my memory I have hope for the future of the franchise. Even if you exclude Buck the Orioles have the look of a playoff team.
The Orioles are one of the younger teams in the majors and will only continue to grow in the years to come. One player is over 30 in the starting lineup, and the two real stars on the team are only 26. Adam Jones is putting up MVP level numbers this season after signing a long term contract and Matt Wieters is the reigning gold glove catcher in the American League.
The final piece to the Orioles playoff puzzle doesn't actually lay with the team. Rather it lies with the decline of the once unstoppable AL East. The Yankees are getting old and the Red Sox have a lot of internal problems that do not look to be solvable in the short term. Things set up for the Orioles and the Rays to compete at the top of the division for years to come.
In 10 years we will look back on this season as a turning point for things to come. And to think it was just two years ago that the Orioles were 32-73 and last place in the majors.
Original Story:
http://isportsweb.com/2012/06/08/buck...
THE BACKYARD
BEST OF MAXIM
RELATED ARTICLES
With some of his recent struggles, some Oriole fans are questioning if Jake Arrieta needs to be sent back to Norfolk for awhile or at least removed from the Oriole rotation. While his hot start was a bit of a mirage, he has been and continues to be a fairly effective pitcher who has just gone through a rough patch.From Fangraphs.com, observe stats from the last six starts for Arrieta...
Since seeing Taijuan Walker last week in Chattanooga, the requests for comparisons between the young right-hander and fellow uber-prospect Dylan Bundy of the Orioles have been coming hot and heavy. The exercise of choosing between the two best pitching prospects in baseball (for me at least) is essentially splitting hairs. Does one prefer velocity or movement? Tall or short? Ceiling...
Adam Jones as we all know has been scuffling at the plate as of late, and has seen his average dip to below .300; however, on a glorious Saturday, he earned his salary and a whole lot more. Jones hit a two-run homer to break a 4-4 tie in the twelfth inning as the Baltimore Orioles defeated the Philadelphia Phillies in interleague action, 6-4. Jones has probably been in pain since...
Adam Jones hit a two-run homer in the 12th and the Baltimore Orioles won their eighth straight extra-inning game, beating the Philadelphia Phillies 6-4 Saturday and spoiling B.J. Rosenberg's major league debut. Jones ended a season-worst 0-for-18 slump with a single in the ninth, then launched a drive over the outstretched glove of center fielder Shane Victorino. Chris Davis...
The Baltimore Orioles were 6-0 at Fenway Park this season heading into Thursday night's series finale. But the Red Sox have had success against Orioles pitching, just not enough to take home a win. Orioles manager Buck Showalter discussed his team's recent success against the Sox, especially at Fenway. Showalter also lent his thoughts on Boston's season so far and explained...
BALTIMORE -- Adam Jones hit a walk-off two-run homer in the bottom of the 12th inning to give the Baltimore Orioles a 6-4 victory over the Philadelphia Phillies on Saturday. Chris Davis started the game-winning rally with a leadoff walk in the 12th against B.J. Rosenberg (0-1), who was making his major league debut. Jones then launched a blast to left-center on a 0-1 pitch and...
Bobby Bundy, RHP, Baltimore Orioles Current Level: AA 2012 Top 15 Prospects Ranking: 5th Current Value: Leveled Off Dylan Bundy's big brother started to realize his potential in 2011 at high-A ball but he's found the going much tougher at double-A in 2012. Bundy, 22, posted a 2.75 ERA in 121 innings last year but his ERA has jumped to 5.46 in 59.1 innings this season. He's...
Clay Buccholz pitched a four-hitter for his third career shutout - all against Baltimore - leading Boston Red Sox over the Orioles 7-0 Thursday night. Buccholz (6-2) struck out six and walked one, throwing 125 pitches, two shy of his career high. It was the fourth complete game for the 27-year-old left-hander, the first since a five-hitter in an 11-0 win at Baltimore on June 4,...
WP: Luis Ayala (2-1, 1.93) LP: B.J. Rosenberg (0-1, 18.00) The Phillies made three untimely errors to keep Baltimore in the game, which ultimately proved costly as the O's walked off in the bottom of the 12th on a home run by Adam Jones. It was the Phillies' 6th walk-0ff loss of the season. Typically in the past, defense and pitching has been this team's strength, but...
The Phils' six runs outburst in the second inning leads to them ending their six-game losing streak, as they hang on to beat the Orioles, 9-6. The Phils took the lead in the first as, with two men on, and with two men out, Shane Victorino hits an RBI single, knocking in Hunter Pence, who had earlier singled, then stopped at second base on Jim Thome's infield single, giving the...
Phillies (28-31) v. Baltimore Orioles (32-25)Pitching Matchups:Friday, 7:05 - Joe Blanton v. Jake ArrietaSaturday, 4:05 - Vance Worley v. Tommy HunterSunday, 1:35 - Cliff Lee v. Jason HammelBirds Batting:Runs - 246 (9th)Avg - .247 (12th)Slug - .422 (13th)Birds Pitching:ERA - 3.73 (8th)WHIP - 1.28 (12th)BAA - .249 (15th)Their Danny Sandoval:Inning-Endy Chavez is still playing and...
Philadelphia Phillies (29-31) vs. Baltimore Orioles (32-26)Vance Worley (3-2, 3.38) vs.  Tommy Hunter (2-3, 5.59)Time: 4:05, Oriole Park at Camden Yards TV: CSN, MASN (VA/MD/DC) Weather: Sunny and hot, 92 Media: Twitter and FacebookThe Phillies erupted last night for 12 hits and nine runs last night against Orioles pitching.  They will be facing facing righty Tommy Hunter today...
Orioles News

Delivered to your inbox

You'll also receive Yardbarker's daily Top 10, featuring the best sports stories from around the web. Customize your newsletter to get articles on your favorite sports and teams. And the best part? It's free!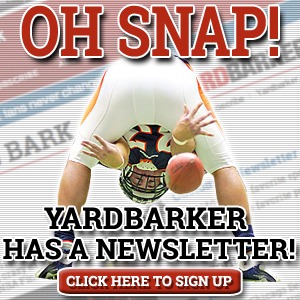 Latest Rumors
The Backyard

Today's Best Stuff

For Bloggers

Join the Yardbarker Network for more promotion, traffic, and money.

Company Info

Help

What is Yardbarker?

Yardbarker is the largest network of sports blogs and pro athlete blogs on the web. This site is the hub of the Yardbarker Network, where our editors and algorithms curate the best sports content from our network and beyond.