Found December 22, 2011 on 22gigantes:
Giants beat writer Hank Schulman (San Francisco Chronicle) has put an end to my speculation that left-handed pitcher Brian Burres signed with the G-men earlier this week.
Schulman reported today that Burres, 30, who was originally drafted by the Giants in 2000, has indeed signed a one-year minor league contract with San Francisco. Schulman's confirmation comes three days after MLB Trade Rumors' Ben Nicholson-Smith first scooped the move:
The Giants signed left-hander Brian Burres to a minor league deal that includes an invitation to Spring Training, MLBTR has learned. San Francisco drafted Burres in the 31st round of the 2000 draft, but the 30-year-old has never played for the Giants at the MLB level. In six seasons with the Orioles, Pirates and Blue Jays, Burres has a 5.75 ERA with 6.4 K/9, 2.6 BB/9 and a 38.3% ground ball rate. He posted a 3.86 ERA with 6.4 K/9 and 2.6 BB/9 in 14 innings with the Pirates this past season and spent most of the year as a starter at Triple-A, where he posted a 4.66 ERA with 6.6 K/9 and 3.1 BB/9 in 129 1/3 innings.
Big time kudos to Nicholson-Smith for scooping the big boys.
Schulman also noted today that the Giants are discussing a minor league deal with another former first-round draft pick, Boof Bonser.
The 30-year old Bonser underwent Tommy John surgery last April and is not expected to be able to begin throwing until next summer.
Bonser was the Giants' top pick in 2000 (the same draft Burres was taken in) and signed a then-hefty $1.25 million signing bonus. The right-hander is probably best remembered as being part of the multi-player trade that saw the Giants send Bonser, Joe Nathan and Francisco Liriano to the Minnesota Twins for A.J. Pierzynski in 2003. That trade has come to epitomize what many Brian Sabean haters think about the Giants' GM.
Bonser has been plagued with injuries since 2009. He had major shoulder surgery nearly three years ago, went on the 60-day DL with a  groin strain in 2010, and now is recovering from TJS on his right elbow.
Most recently, Bonser was with the Oakland A's, where he made 13 appearances in 2010, compiling a 5.09 ERA, 1.435 WHIP, 6.7 SO/9 rate, and 2.3 BB/9 rate in 23 innings.
The Giants seem to be trying to catch lightning in a bottle here with the signings of Burres and Bonser, two former draft picks who went on to have unforgettable careers with other teams. Ryan Vogelsong, who the Giants drafted in 1998 (5th round), made a remarkable comeback last season after San Francisco took a chance on him last spring.
I hope you enjoyed reading "Burres to Giants confirmed; Giants also talking to Bonser." I'm interested in your opinion on this article. Why not leave a comment at 22gigantes.com?
Original Story:
http://feedproxy.google.com/~r/22giga...
THE BACKYARD
BEST OF MAXIM
RELATED ARTICLES
Happy Holidays to all the San Francisco Giants fans out there from SF Giants Rumors!   Henry Schulman of the San Francisco Chronicle (via twitter) confirmed that the Giants have signed former Giant Brian Burres to a minor league deal. They're also talking to 1st rounder (2000 draft) Boof Bonser for a minor league deal. Burres was drafted by the Giants, and was later designated...
Special Episode: GiantsPod Meets Johnny Monell is out! In this special episode, Thomas and Danny chat with Giants minor league catcher Johnny Monell about growing up in a baseball family, an education from Pudge, playing baseball in Puerto Rico, and life in da Bronx. Click on the image below to find it on iTunes: You can also find it on the RSS feed, or by clicking on the play...
Former San Francisco Giants slugger Barry Bonds finished his scandal-shortened career with a Major League record 2,558 walks. Even though he hasn't stepped into a batter's box in four years, Bonds got another free pass last week when he was sentenced to what basically amounts to a slap on the wrist for his conviction in an obstruction of justice charge against him stemming...
It's been reported that Cody Ross has lowered his contract demands. David O'Brien (tweets) of the Atlanta Journal Constitution said Ross wanted a 3-year deal to stay in San Francisco, and it's pitcher friendly ballpark. O'Brien is hearing a 2-year offer is now what Ross is looking for.   Nate Stuhlbarg of CSNBayArea.com speculates that it's possible Ross and the San Francisco...
The big bat on just about every Giants fan Christmas list just signed with the Cardinals for a very reasonable 2 year $26 million deal. When the news of the years and money involved broke over twitter, a justified freak out session broke out among Giants fans, why couldn't the Giants swing this deal? It would have been understandable if the Giants didn'...
2000: Hoping to fill the void created by the departure of Ellis Burks, the Giants sign veteran outfielder Eric Davis to a one-year, $1.5 million contract. The Players Choice Awards' "Man of the Year" had considered retirement, but the lure of more playing time changes his mind. 1994: The Giants trade pitcher John Burkett to the Texas Rangers in exchange for minor league infielders...
by Troy Nelson, 22gigantes.com Many of you have asked me to provide an update on my post from a couple of days ago, when I wrote about how skeptical I was about the supposed report that pitcher Brian Burres had been signed to a minor league contract by the Giants. My skepticism arose as soon as I heard that the Giants had also re-signed infielder Emmanuel Burriss on the same day...
I should note that I wholeheartedly recommend getting Bill James Handbook.  I get it every year, lots of good data, and usually some new data each year.  Like one year:  baserunning.I wrote about the Giants defense the other day, and now today I'm covering baserunning.  The Giants were 12th in the majors in Net Bases Gained, with 38 bases gained, which includes bases taken...
Former major league slugger Barry Bonds is formally appealing his felony charge of obstruction of justice. Bonds' attorneys filed the notice to the federal trial court late Wednesday, asking that Bonds have his conviction tossed out. A three-judge panel will be assigned the case. U.S. District Judge Susan Illston on Friday sentenced baseball's home run king to two years...
Though he began this year as a non-roster player and might not make next season's Opening Day squad, Hector Sanchez has become one of the organization's most indispensable performers.
Sabean couldn't figure out a way to make this happen? That sure seems like an inexpensive, short-term risk, sort of like the one he threw away on Mark DeRosa, for instance; with the exception of being a risk on a player who actually is a great hitter when healthy.
MLB News

Delivered to your inbox

You'll also receive Yardbarker's daily Top 10, featuring the best sports stories from around the web. Customize your newsletter to get articles on your favorite sports and teams. And the best part? It's free!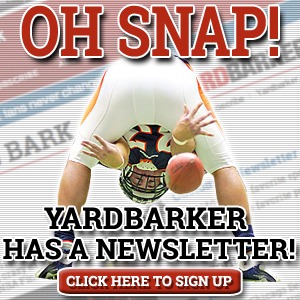 Latest Rumors
The Backyard

Today's Best Stuff

For Bloggers

Join the Yardbarker Network for more promotion, traffic, and money.

Company Info

Help

What is Yardbarker?

Yardbarker is the largest network of sports blogs and pro athlete blogs on the web. This site is the hub of the Yardbarker Network, where our editors and algorithms curate the best sports content from our network and beyond.