Found September 21, 2012 on Taking Bad Schotz:
Posey is in his third season in the MLB and has shown signs of MVP-like talent from day one. In his rookie season, Posey batted .305 with 18 home runs and 65 RBIs in only 108 games. His sophomore season was destined to lead him to the top of the catcher ranks in the league, but then this horrific play against the Marlins happened.
So fast forward to the 2012 season and 10 months removed from surgery and rehab and you have a healthy Posey. Now most of the time, players who come off of major injuries like Posey's broken leg would be afraid to get back behind the plate. It would be completely understandable if a player wanted to ease his way back. But this has not been the case for Posey. The Giants have played 149 games this season and Posey has started in 136 of them. Those 136 games are tops among all catchers in not only the NL, but the MLB. Now I know Posey has logged both 107 games behind the plate and 25 games at first, but regardless, Posey has been out there as much as anyone else. I believe the fact that he rebounded from a major injury will play a minor role in the voting, but the big votes are going to come from what he's done in those 136 games and where the Giants are at in the standings. So let's breakdown where the MVP votes are going to come from and discuss the numbers on the three MVP candidates.
**Note – All ranks are from the National League. Not MLB**
Looking at McCutchen vs Braun, McCutchen has Braun beat in the most important categories. Obviously Braun has more power, which puts him in the tops in HRs, RBIs and SLG, but besides that, McCutchen has been the better hitter and player. Whether he gets a hit or walks, McCutchen is always on base. When on base, McCutchen is right there with Braun at stealing bags and above him in scoring. And if you really want to find the factor in why Braun won't win, just remember he has the positive drug test scandal. I think this will factor into any chance he has, which puts him in third in voting.So looking at these numbers, you should first realize that Posey has about 50 less ABs than Braun and McCutchen. If you wanted to factor in where he would be with the same ABs, Posey would have about another 16 hits, seven walks, seven runs, two home runs, 10 RBIs and four doubles. But that is just a "what-if" scenario. So let's look at his competition.
Now to compare Posey vs. McCutchen, the two basically have identical numbers. McCutchen does have six more home runs, but it's all because of the park he plays in. The Giants have one of the worst hitter's park in the league and if Posey was in another stadium, a good amount of his 36 doubles would have stretched into home runs. For stolen bases, McCutchen has that based on speed obviously, but what will be the deciding factor for the final vote will be records.
Pre-All-Star break, McCutchen was a lock for the MVP award when the Pirates were in the playoff race. Fast-forward to today, the Pirates have fallen to 15.5 back in the division and 4.5 back in the wild card. On the other side, the Giants have surprisingly ran away with the division and are up nine games on the Dodgers, who everyone thought would win.
The only way I see McCutchen winning the award is if the Pirates jump into the playoffs, but I think that is a long shot. Who wins the MVP award really comes down to the best numbers with the best record because obviously numbers don't win the award or Matt Kemp would have won last season.
Posey has put together a remarkable comeback season and pushed the Giants to the top of the National league and he deserves the MVP award.
-Stanley
Original Story:
http://www.takingbadschotz.com/?p=9064
THE BACKYARD
BEST OF MAXIM
RELATED ARTICLES
Buster Posey. In a landslide. If it wasn't a landslide, it should have been. Posey won the Willie Mac Award on Friday as the most inspirational member of the San Francisco Giants. It's mostly voted on by players, and Willie McCovey himself gets a vote. "Ladies and gentlemen, this is a big night for me," McCovey told the crowd before the Giants' 5-1 victory...
PAPER CHAMPION
MLB announced on Friday that players suspended for PED use will not be eligible for that season's individual batting, slugging or on-base percentage titles.
San Francisco's Pablo Sandoval, the NL's starting third baseman in the All-Star Game, had eight home runs at the break. He had none afterward. Until Wednesday, when he homered after 161 homerless at-bats. His first since July 8. More than two months ago. He remained the No. 3 hitter because manager Bruce Bochy was faithful with the Panda, knowing he homered 23 times last...
NEW YORK -- Melky Cabrera has been disqualified from the National League batting title at his own request, a person familiar with the discussions told The Associated Press. The person said Cabrera asked the players' association to convey his desire to the commissioner's office and that an agreement to make him ineligible was reached Friday. The person spoke on condition of...
San Francisco Giants outfielder Melky Cabrera has been ruled ineligible for the National League batting title -- at his own request. Cabrera had continued to lead the NL with a .346 batting average despite being suspended 50 games for performance-enhancing drugs Aug. 15. Without Friday's action from Major League Baseball and the players' union, there's an excellent chance...
Pablo Sandoval hit a three-run homer and a solo shot, and the NL West-leading San Francisco Giants reduced their magic number to clinch the division to four by beating the Colorado Rockies 9-2 on Thursday. Buster Posey also connected for the Giants to back another strong start by Barry Zito (13-8) as San Francisco completed a four-game sweep. Zito won his fifth straight decision...
Matt Cain pitched eight solid innings to earn his career-best 15th win, Pablo Sandoval homered for his first time in two months and the San Francisco Giants moved another game closer to clinching the NL West title with a 7-1 victory over the Colorado Rockies on Wednesday night. Sandoval's three-run shot in the first inning off Tyler Chatwood (4-5) was his ninth homer of the...
Is that Barry Zito?  It sure looks like it.  Do we now know the reason why Zito's gotten so many women over the past decade?  It can't be the ridiculous millions of dollars he's earned in the bigs while being a mediocre pitcher could it?  Of course not!  It's his rock hard tushy as evidenced by the pain it put Aubrey Huff in. How'd you get those rock hard cheeks Barry?
A person familiar with the discussions tells The Associated Press that Melky Cabrera has been disqualified from the National League batting title at his own request.
It's likely only a matter of days before the San Francisco Giants clinch their second NL West title in three seasons. While that appears to be a foregone conclusion, Ryan Vogelsong's struggles are much harder to define. The Giants hope to inch closer to the division title and see improvement from Vogelsong on Friday night in the opener of a three-game set against the visiting...
In support of Alex Smith's lucky hat, Giants Manager Bruce Bochy wore a 49ers hat to his interviews today. And I think that's just alright. Here is what Bochy had to say about it: "Alex supported us, so I'm going to support him," Bochy said, according to the San Jose Mercury News. "They're a great club and I'm honored to wear it."  This one's for you, Bruce.
MLB News

Delivered to your inbox

You'll also receive Yardbarker's daily Top 10, featuring the best sports stories from around the web. Customize your newsletter to get articles on your favorite sports and teams. And the best part? It's free!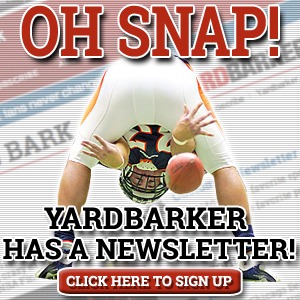 Latest Rumors
The Backyard

Today's Best Stuff

For Bloggers

Join the Yardbarker Network for more promotion, traffic, and money.

Company Info

Help

What is Yardbarker?

Yardbarker is the largest network of sports blogs and pro athlete blogs on the web. This site is the hub of the Yardbarker Network, where our editors and algorithms curate the best sports content from our network and beyond.