Found May 27, 2012 on Pro Sports Daily:
The Chicago Cubs' revolving door at closer took another spin Sunday. Out went right-hander Rafael Dolis. In went, well, whomever manager Dale Sveum feels right for the situation. In other words, it appears to boil down to either right-hander Shawn Camp or left-hander James Russell to close out games. With a 12-game losing streak after Sunday's 10-4 loss at Pittsburgh, the Cubs haven't had many save chances. However, they were tied in Saturday night's game before Dolis hit Matt Hague with a pitch to force in the winning run. Dolis hasn't been getting hit around. He's just had no command, with 17 walks in 25 1/3 innings. That includes walks to the only two batters he faced Sunday. "That's the frustrating thing," manager Dale Sveum said. "The back end of the bullpen is giving it up because of walks and hit batters. Nobody is hitting the ball and doing things. We're imploding by walking guys and hitting guys." This is the t...
Original Story:
http://www.prosportsdaily.com/article...
THE BACKYARD
BEST OF MAXIM
RELATED ARTICLES
The closer carousel continues to spin in Chicago as Rafael Dolis has been removed as the starting closer for the Cubs. Manager Dale Sveum removed the volatile Dolis after he allowed at least one run in five of his past six innings of work. With an ERA approaching five and a save conversion percentage of just 67%, it makes sense for Sveum to try a new option at closer until Carlos...
Hank Conger blasted a solo home run and an RBI double, Zach Borenstein hammered a three-run HR, and Mike Sodders cracked a three-run double, leading the Angels to a 17-1 thrashing of the Cubs at Diablo Park Field #3 in Tempe, AZ. Shawon Dunston Jr belted a home run leading off the game, and that was the only Cub run of the day. 19-year old RHP Tayler Scott (Cubs 2011 6th round draft...
When Sveum told Rafael Dolis that they need him to fill in for Carlos Marmol, he took them way too literally.  "So you don't want me to walk everyone while blowing games?  Totally mi mal!"  That was Rafael Dolis talking through his translator who speaks Spanglish.  "Can we get a translator who speaks English and Spanish…Separately!"  That's Sveum losing his shizz...
The face of Joe Mather batting third will forever haunt my nightmares of the 2012 Cubs. Padres Cubs *Venable, CF *DeJesus, RF Denorfia, RF Castro, SS *Alonso, 1B Mather, CF Quentin, LF *LaHair, 1B *Headley, 3B Soriano, LF Hundley, C *Stewart, 3B #Cabrera, 2B Barney, 2B #Parrino, SS *Lalli, C Suppan, P Wood, P What's more amazing, that the Cubs have lost...
Theo Epstein expected some rough stretches for the Chicago Cubs. He didn't envision this. With 12 straight losses entering Monday's game against San Diego, the Cubs were on one of the longest skids in franchise history and tied with Minnesota for the worst record in the majors. Epstein says he doesn't think ''this is indicative of the type of team we are'...
"Could the Cubs send Ryan Dempster 8.1 miles south to the White Sox?" That was the question posed by WSCR's David Schuster during the Sox pregame show today. "Dempster has pitched well but has nothing to show for it," Schuster further explained minutes before the White Sox took on the Cleveland Indians at U.S. Cellular Field. As he explained, Dempster should be another...
To say the Chicago Cubs are a franchise known for losing is akin to saying the Irish are a race known for drinking. But Losing 12 in a row i(tying the Kansas City Royals for the worst in baseball this year) isn't loveable for any Major League Baseball team, even the loveable losers. The Cubbies, worst in the majors with a 15-32 record and .319 winning percentage (tied with the...
The Chicago Cubs AAA affiliate, the Iowa Cubs, made a huge PR department blunder tonight; their media relations employees appear either a.) incompetent or b.) manipulative. When the organization itself (the insider of all insiders) gets the news wrong, as they did regarding top prospect Anthony Rizzo, it's either gross negligence or a desperate play for publicity. You tell me Iowa...
First things first I guess I should plug last night's podcast.  Let me just say it was a pretty epic disaster, but it will get better.   Now that might be pretty embarrassing, but is there anything more embarrassing then how the Cubs lost last night?  They walked Josh Harrison who was trying to bunt AND [...]
MLB News

Delivered to your inbox

You'll also receive Yardbarker's daily Top 10, featuring the best sports stories from around the web. Customize your newsletter to get articles on your favorite sports and teams. And the best part? It's free!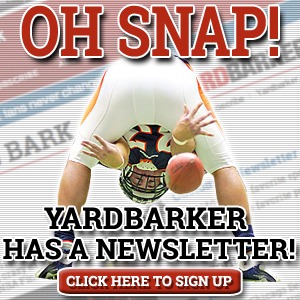 Latest Rumors
Best of Yardbarker

Today's Best Stuff

For Bloggers

Join the Yardbarker Network for more promotion, traffic, and money.

Company Info

Help

What is Yardbarker?

Yardbarker is the largest network of sports blogs and pro athlete blogs on the web. This site is the hub of the Yardbarker Network, where our editors and algorithms curate the best sports content from our network and beyond.