Found April 25, 2012 on Fox Sports:
PLAYERS:
Logan Morrison
,
Jose Reyes
,
Hanley Ramirez
,
Eduardo Perez
,
Miguel Cabrera
,
Albert Pujols
,
Dan Uggla
,
Ozzie Guillen
,
John Buck
,
Emilio Bonifacio
,
Gaby Sanchez
,
Omar Infante
TEAMS:
Miami Marlins
,
Detroit Tigers
,
Los Angeles Angels
,
Atlanta Braves
,
Chicago White Sox
,
Boston Red Sox
I'd like to argue that the Miami Marlins can't win with youngsters such as left fielder Logan Morrison, 24, and right fielder Giancarlo Stanton, 22, hitting in the middle of the order. Well, Morrison is the least of the team's problems, and Stanton at least has something of an excuse, which is more than most of his teammates can say. The Marlins are 7-10 after falling to the Mets on Wednesday night, 5-1. They have scored a total of four runs during their four-game losing streak. And Stanton offered a damning assessment of the team afterward, saying, "That sense of urgency without panic isn't there." Shortstop/leadoff man Jose Reyes is batting .217. Third baseman/No. 3 hitter Hanley Ramirez is batting .234. The Marlins' new park appears decidedly pitcher-friendly, and Morrison and Stanton, who barely played in spring training, "need to get their feet under them," according to hitting coach Eduardo Perez. The Marlins won the 2003 World Series with Miguel Cabrera, 20, batting cleanup. I'm not saying they can't contend with Morrison and Stanton in the 4-5 spots, particularly when Morrison leads the team with a .319 batting average. But Cabrera turned out to be one of the great hitters of this generation. And the '03 Marlins demonstrated championship mettle. In time, these Marlins might field the American League-style lineup that Morrison envisions, grinding through at-bats, wearing down opposing starters. But like so much else with this team, I'll believe it when I see it. Imagine if the Marlins had signed first baseman Albert Pujols -- well, the Albert Pujols that the Angels thought they were getting. Heck, imagine if the Marlins still had Dan Uggla hitting 30 homers per season at second base. The presence of such a slugger would reduce the pressure on Morrison and Stanton, who often bat fourth and fifth, and indeed give the Fish more of an AL look. Not that they should need help. "The talent we have in the lineup is good enough to score runs," manager Ozzie Guillen said. "We will come out of this. Before the season is over, we will come out of it. Right now, we're pressing. And pressing the wrong way." True enough. But the Marlins still appear to be one adult voice short in the clubhouse, someone to instill urgency, accept responsibility -- and yes, deliver a hit that says, "enough is enough." Ramirez, 28, should be that guy. Morrison and Stanton can't be, due to their youth and recent physical issues. Morrison, coming off surgery on his right knee, had only 15 at-bats in the spring training. Stanton, dealing with inflammation in his left knee, had only 21. Not surprisingly, the two have combined for just five extra-base hits in 105 at-bats. Stanton, who hit 34 homers last season, is the Pujols of the National League, stuck on none. "Both of them are grinding," Perez said. "They understand they can't play at 100 percent. But at the same time, they understand the team needs them. It's better to have 80 percent of (Morrison and Stanton) than not have them at all." Both will be fine, probably better than fine -- the Marlins, to a man, say that Morrison and Stanton are hard workers, willing pupils, eager to succeed. Veterans such as catcher John Buck laud Morrison's knowledge of hitting, while most in the game view Stanton as a superstar waiting to happen. "I know everyone expects a lot from me, as they should," Stanton says. "I'm prepared for that." The Marlins have other threats -- center fielder Emilio Bonifacio, a speedster coming off a breakthrough season; first baseman Gaby Sanchez, a consistent 20-homer, 40-double type; and second baseman Omar Infante, the surprising team leader with five home runs. Still, the Fish will need to hit better collectively in a division in which only one club -- the Braves -- is performing at a high level offensively. It's early, but the Braves entered Wednesday leading the NL in runs per game. The Marlins were 10th, the Nationals 12th, the Mets 13th and the Phillies 15th. "We have a good lineup. We can wear pitchers down -- like the Red Sox can, like the Yankees can," Morrison said. "We feel like we have an American League lineup. Yeah, you might get us out. But you might use 25 pitches an inning to do it." Morrison is not out of line to suggest that -- the Marlins last season ranked third in the NL in pitches per plate appearance. Reyes generally is below average in that category, but not by much. His addition, plus the renewed health of Ramirez, who looked fantastic all spring coming off left-shoulder surgery, figured to make the Marlins a much more dynamic offensive club. It hasn't happened yet. It might not happen at all. But the consensus in the clubhouse is that if the offense falters, it won't be because Morrison and Stanton are overwhelmed hitting in the middle of the order. "Usually young guys aren't asked to do that. When they struggle, you wonder how they'll wear it," Buck says. "But Stanton and LoMo, they're pretty tough mentally. They're definitely able to shoulder it and handle it. They're extremely good hitters, very advanced for their age." They will need to be. The Marlins left themselves no other choice.
Original Story:
http://msn.foxsports.com/mlb/story/mi...
THE BACKYARD
BEST OF MAXIM
RELATED ARTICLES
Jose Reyes sharing a moment with Jeff Wilpon. Photo by Clayton Collier. Unless you were living under a rock or otherwise incapacitated, it was impossible not to hear about Jose Reyes' return to Flushing with his last-place Miami Marlins. After an eventful offseason by the Marlins, headlined by the 6-year, $106 million deal that got Reyes in one of those God-awful Miami uniforms...
The Miami Marlins lost their fourth straight game on Wednesday as the New York Mets won 5-1.    The game continued a rough road trip for Miami which has not won since leaving Marlins Park last week and has been outscored 12-4 in the span.     The Marlins who are in last place in the National League East now sit at 7-10 on the year. Mark Buehrle put together another great effort...
When Jose Reyes inked his name on a six-year, 106 million dollar deal back in December it was admittedly hard to be rationale. The Mets were seemingly letting one of the faces of their franchise walk away to a division rival. With all that being said, months later it is becoming increasingly apparent that Met fans need to collectively stand up and salute Sandy Alderson for saving...
NEW YORK (AP) -- Justin Turner drew a bases-loaded walk in a sensational 13-pitch at-bat and Kirk Niewenhuis hit an RBI single with two outs in the ninth inning as the Mets rallied past Heath Bell and Miami 3-2 Thursday, the Marlins' fifth straight loss. After the game, the Mets said starter Mike Pelfrey has a partial tear of a ligament in his right elbow and most likely will...
Miami Marlin Jose Reyes returned to NY yesterday. Fans showed up early for autographs and to sing the Jose song. The Mets put together a video tribute and Jose was announced in the Marlins'... Full story at Bob's Blitz ~ http://www.bobsblitz.com
Get used to it. Jose Reyes makes his highly anticipated return to Citi Field tonight as the Mets host the Marlins in the opener of an important (for April) three-game set. The Mets will send Johan Santana to the mound tonight looking to end a two-game losing streak. He'll be opposed by Miami's ace Josh Johnson. First pitch is scheduled for 7:10 p.m. and the game can be seen on...
Jose Reyes went hitless in his return to Citi Field and Lucas Duda lined a tiebreaking single in the eighth inning that caromed off reliever Edward Mujica, sending the New York Mets to a 2-1 victory over the Florida Marlins on Tuesday night. Johan Santana and Josh Johnson zipped through the first six innings in a crisp pitchers' duel between healthy-looking aces. Santana, coming...
Just minutes ago, I asked you on Facbeook and Twitter what your thoughts about Jose Reyes' return tonight. Tell us what you think on Facbeook, Twitter, by email (adamgross@metsonline.com), or by commenting on this post. We will post your responses! Here are your responses (we will post more as they come in): Thomas Hill: won't boo, wont cheer. i'll sit back let it happen...
Tune into FOX Sports Florida at 6:30 p.m. to watch the Miami Marlins take on the Arizona Diamondbacks. The Arizona Diamondbacks hope a break in the schedule will re-energize their offense and struggling bullpen. The Miami Marlins need to fix similar problems, but they won't get any rest leading into this four-game series. Arizona opens a 10-game trip Friday night as the Marlins...
I went to Citi Field last night specifically to cheer Jose Reyes in his first game back in New York. I appreciate all he did for the team and can't see how anyone can blame him for leaving when the Mets did not make him an offer. I stood and cheered for his first at-bat, then treated him like any other member of the Marlins, rooting for the Mets to get him out, but not booing...
The first of anything that Jose Reyes does against the Mets can be pretty jarring. Take Wednesday, when Omar Infante crushed a home run off R.A. Dickey to make the score 1-0. Who do you think was waiting for Infante at the top step with a choreographed handshake? That's right, Reyes.Now I've been the guy who has spent years defending the choreography. So I'm not going...
The night was supposed to be all about ex-Met Jose Reyes' return to New York in his splashy new Miami Marlins uniform. The more significant story, though, turned out to be a pair of gems thrown by aces injured in 2011, as Johan Santana and Josh Johnson locked up in an old-fashioned pitchers' duel in the first game of their three-game series at Citi Field on Tuesday. As...
MLB News

Delivered to your inbox

You'll also receive Yardbarker's daily Top 10, featuring the best sports stories from around the web. Customize your newsletter to get articles on your favorite sports and teams. And the best part? It's free!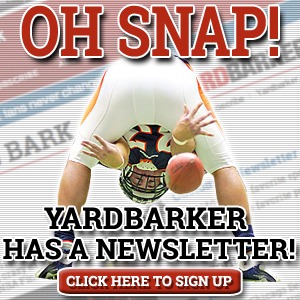 Latest Rumors
The Backyard

Today's Best Stuff

For Bloggers

Join the Yardbarker Network for more promotion, traffic, and money.

Company Info

Help

What is Yardbarker?

Yardbarker is the largest network of sports blogs and pro athlete blogs on the web. This site is the hub of the Yardbarker Network, where our editors and algorithms curate the best sports content from our network and beyond.