Found October 15, 2012 on CJ Sports NFL Talk:
As a Yankees fan, it bothers me that we supposedly "buy" championships. In recent years, the Yankees have only won 2 championships; 2000 and 2009. How does that constitute buying anything? Seems to me that we should have spent more if that were the case. I digress. Here we are again, another postseason division win, the start of the ALCS, and now 10 games away from a 28th World Series championship. Here are the specifics. The Yankees are in a 0-2 hole right off the bat. They are expected to come back against a red-hot Tiger team that has momentum on their side. The loss of Girardi's father and the Captain of the Yankees must fuel the fire that burns deep for number 28. There are other factors that come into play. A-Rod. With Jeter out, the Alex Rodriguez must step up immediately to bring this club into World Series contention. Game 1 of the ALDS, Rodriguez went 0-4 with 3 K's. Game 2 he went 1-4 with 2 K's. Game 3, 0-3 with 2 more K's. You see the pattern. He was ultimately benched in Game 5 in order to make way for others to make it happen for him. Game's 1 and 2 of the ALCS came quick, fast and in a hurry. The 0-2 deficit and the loss of Jeter are a lot of weight to bear for A-Rod as a leader on this team. Game 1 of the ALCS he went 0-3 and with 1 K. Game 2 he was marginally better with at least a hit. That's not going to make it! We need the A-rod of the past to make it to 28! Without Jeter at the helm, it is Rodriguez's responsibility to show up and earn his paycheck or I can see his future with the Yankees in question. Jayson Nix. Poor Jayson, being thrown into the fire of a pennant race with minimal playing time in the 2012 regular season seems to be unfair, but this is why you play the game. With a regular season BA of .243, 4 HR's, 18 RBI's with a OBP of .306 and a slugging percentage of .384, he will be given the opportunity to show what he can do when the team needs him the most. His first start for the injured Jeter was an abysmal showing at 0-3 with a K. He must at least produce something positive for the Yankees to get back into this race. One more immediate loss, and they will be on the opposite end of what happened to them against Boston in the ALCS of 2004. As a Yankee fan, I am not interested in having to win 3 games in a row just to tie the series. I would like to win one game at a time and get back into this thing. Everyone else needs to step up. Pitching, closers, Ichiro, Ibanez, who has been superb, all need to continue to do what they are doing. One win will put the Yankees right back in this series and will not make it feel like a challenge that is seemingly impossible. 28 is close, the Yankees just need to calm down and claim it for Jeter and Girardi's dad.
Original Story:
http://110sportztalk.com/can-the-yank...
THE BACKYARD
BEST OF MAXIM
RELATED ARTICLES
HE GOT GAME
The girl Alex Rodriguez was reportedly flirting with during a Yankees ALCS game is an Australian model who has a bikini line.
Alex Rodriguez's girlfriend seems unfazed by a gossip report that suggested the Yankees player was trying to cheat on her. Torrie Wilson, who has been dating A-Rod since at least last December, wrote the following message on Twitter during Game 3 of the ALCS:Gotta love the gossip mills. It's amazing how ppl get their kicks, huh?— Torrie Wilson (@Torrie11) October 17, 2012Wilson's...
Alex Rodriguez returned to the Yankees' starting lineup for their AL championship series opener against Detroit on Saturday night, dropped to sixth in the batting order. Rodriguez was 2 for 16 with no RBIs in the division series against Baltimore, going hitless in 12 at-bats against right-handed pitchers with nine strikeouts. Manager Joe Girardi pinch hit for him in Game 3 and...
Alex Rodriguez may not be able to see a 95 mph fastball down the middle anymore, but he still knows how to spot a hot number in the stands.During the ninth inning of Game 2 of ALCS on Sunday, A-Rod was reportedly seen openly flirting with a couple of pretty ladies behind the New York Yankees dugout while the team was in the middle of a frantic comeback during a crucial game against...
(Eds: With AP Photos.) By JIM LITKE AP Sports Columnist Alex Rodriguez is as good as gone. He was the most feared hitter of his generation once. Now he's an afterthought. Yankees manager Joe Girardi said as much in the aftermath of Tuesday night's AL championship series Game 3 loss to the Tigers. What may turn out to have been New York's last chance to change the course...
Alex Rodriguez bats in a game on April 19, 2008. (Photo credit: Wikipedia) New York Yankees Raul Ibanez sent Buck's Birds a message need I say more?Yes, and that is Yankees skipper Joe Girardi deserves a ton of credit for pinch-hitting Ibanez for Alex Rodriguez in the ninth inning when his team was down 2-1.Not only did Ibanez hit the tying home-run, but he also went on to hit...
Will the Yankees bring the 2012 ALCS back to Yankee Stadium?Once again the New York Yankees couldn't muster up enough at the plate to score two runs, which handed them their third lose at the hands of the Detroit Tigers, 2-1.It was a game the Yankees could have easily won, as once again pitchers were phenomenal for New York and if the bats could do a smidgen of what they are capable...
After last night's game, I couldn't sleep. Too angry. Too frustrated. If I owned a nuclear bomb, I would have driven to New York and blown up the city. That's how mad I was. (Note to world: Never give me control of a nuclear bomb.) Finally, I drifted off to Cougar Town, clutching one thin tendril of Yankee hope:Somehow, over the winter, the Yankees get rid The Three Stooges...
The New York Yankees 9th-inning hero, Raul Ibanez came through once again to tie the Game 1 of the ALCS vs. Detroit Tigers4-4.Derek JeterBut just 15-minutes later, in the top of the 12th-inning, the Tigers scored but in-between the two runs the Yankees postseason took a turn for the worst.The moment caused the Stadium to go silent, as not even the Tigers wanted to watch the Yankees...
Let's  be positive today!Robinson Cano got as many hits today as he had in his last 26 at-bats combined!Eric Chavez had as many hits today as he had in the entire postseason!Curtis Granderson had been averaging 2 strikeouts per game; he didn't strike out once today!Alex Rodriguez didn't strike out with a runner in scoring position a single time today!Not a single fan...
Yankees News

Delivered to your inbox

You'll also receive Yardbarker's daily Top 10, featuring the best sports stories from around the web. Customize your newsletter to get articles on your favorite sports and teams. And the best part? It's free!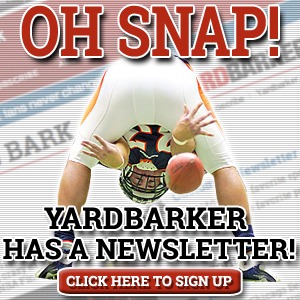 Latest Rumors
The Backyard

Today's Best Stuff

For Bloggers

Join the Yardbarker Network for more promotion, traffic, and money.

Company Info

Help

What is Yardbarker?

Yardbarker is the largest network of sports blogs and pro athlete blogs on the web. This site is the hub of the Yardbarker Network, where our editors and algorithms curate the best sports content from our network and beyond.