Found December 07, 2011 on Fox Sports Kansas City:
PLAYERS:
Dayton Moore
,
Ned Yost
,
Melky Cabrera
,
Jonathan Sanchez
,
Jonathan Broxton
,
Gio Gonzalez
,
Roy Oswalt
,
Bo Jackson
TEAMS:
Kansas City Royals
,
San Francisco Giants
,
Oakland Athletics
,
Philadelphia Phillies
KANSAS CITY - Dayton Moore did not arrive at baseball's winter meetings by falling off a turnip truck. In case you're not familiar with that good ol' country phrase, perhaps I should put it in a crisper, clearer sentence. Moore is no fool. Yes, he knows that Royals fans are excited about the coming season, and that radio chat shows back in Kansas City are buzzing about possible trades. There is conversation about contending for a playoff spot in 2012, and no, it's not followed by sarcastic laughter. The Royals finally have built a stockpile of talent, and they are letting their young stars develop instead of trying to rush the process. But now there are bona fide expectations. That 71-91 record the Royals wrapped up in September is being considered nothing more than a stepping stone to greater accomplishments. "Playing .500 (in 2012) has never entered my mind," manager Ned Yost said this week in Dallas, with reporters' microphones whirring away. "I think we're going to play much better than .500." Yost is putting himself on the spot just a bit with that prediction. The Royals have finished above .500 just once (2003) since Anyone remember? Was it after the Civil War? Yost is not given to idle boasting, so he's obviously quite serious about a dramatic breakthrough next summer. And a season that's better than 81-81 would automatically push the Royals into contention in the AL Central. Exciting stuff, then - assuming Yost is anywhere close to correct. All this hoopla about 2012, which includes the All-Star Game at Kauffman Stadium, also puts Yost's boss under the gun, as well. But unlike a few of his predecessors in the Royals' general manager seat, Moore has no intention of getting skinned just because there are rising hopes at home. We all know the gruesome history - horrible miscalculations like trading franchise pitcher Bret Saberhagen for three guys who couldn't play a lick. Moore is smarter than that. It's worth noting, however, that Dayton must agree with Yost about possibilities for this coming season. Previous moves and patient handling of minor league prospects suggested that Moore was looking more toward 2013 and beyond for serious playoff runs - but apparently he has pushed that timetable forward. Why else trade proven center fielder Melky Cabrera for starter Jonathan Sanchez, then sign reliever Jonathan Broxton -- pitchers who both will be free agents after 2012? Those acquisitions scream out that the Royals consider themselves contenders. Right now. Once the fan base at home buys into that mind-set, hey, naturally everyone wants Moore to keep on pulling the trigger. Find another key piece of the puzzle, Dayton -- and how about wrapping it up this week during the winter meetings? This is the kind of position where Moore most resembles one of his mentors, former Royals and Atlanta GM John Schuerholz. I don't know if Dayton learned all of his diversionary tactics directly from Schuerholz, but the words sure sound the same. If Moore says the Royals basically are content, and now are looking for extra pieces - like a right-handed utility infielder and an extra lefty for the bullpen - he's telling the truth. But that doesn't mean that a potential blockbuster deal might have reached the discussion phase in some dark, sound-proof hallway. When you hear or read Moore's statement on what he has planned, always remember that just because he isn't fibbing, well It doesn't mean he's volunteering the WHOLE truth, either. Maybe the Royals are still considering some package that would land Oakland left-hander Gio Gonzalez. Perhaps they really might take a flier on free agent Roy Oswalt and his dodgy back. Or maybe not. With Moore in charge, it's best to ignore rumors. I'm not saying that he plants them himself while working on something else, but He may not exactly discourage some camouflage, either. I keep recalling a conversation with Schuerholz that occurred when my boss insisted I track down a rumor; specifically, I was supposed to ask if the Royals were about to trade Bo Jackson - who was healthy and very marketable at the time. "Let's say we're very close to making a deal, for Bo or anyone else," Schuerholz said. "If I tell you that it's possible, or that we're working on it, you'll have a terrific story that will be a huge headline in tomorrow's newspaper. "That would be great for you. Your editor would be thrilled. But how would publication of that story help me make the Royals a better baseball team? "That's my job. And helping you create headlines could make my job more difficult." Whether or not Moore picked up the art of avoiding specific information directly from Schuerholz, Dayton has become a master of the art. He does tell the truth. If another club grabs a pitcher in a trade, and you ask why the Royals couldn't have made that move, Moore might say: "We talked about it, but the price - which involved some of our best prospects -- was just too high." What Dayton does not add in that explanation was just who those prospects were, or what precise offer was rejected. And why should he? Why help other clubs learn exactly what value the Royals place on each of the players in their organization? The bottom line here is that we know Moore is optimistic about 2012. If he feels that if the price is reasonable, he'll try to strengthen for this season. But we also know that Royals must be prudent with limited funds, because there will come a time when they have to pay some current young players a lot of money - in seasons where they figure to be better than 2012. It's a balancing act, with a bit more emphasis on the coming season than Moore might have predicted, say, a year ago. Dayton won't deny any of that. If you want specifics, though, he's not your guy. The Royals may do little or nothing between now and April - or they may shock everyone by adding a No. 1 starter. But you're not going to know by reading Dayton's expression or listening to his remarks. As Schuerholz would put it: How would tossing out some hint help Moore make the Royals better? It wouldn't. So he won't.
Original Story:
http://www.foxsportskansascity.com/12...
THE BACKYARD
BEST OF MAXIM
RELATED ARTICLES
Ned Yost participated in an interview at the Winter Meetings in Dallas.
The Pittsburgh Pirates acquired infielder Yamaico Navarro from the Kansas City Royals in exchange for minor league pitcher Brooks Pounders and infielder Diego Goris.
The Pirates have acquired Yamaico Navarro from the Royals in exchange for Brooks Pounders and Diego Goris. tweets Jenifer Langosch of MLB.com. Bob Dutton of the Kansas City Star first broke news that Navarro was heading to Pittsburgh (Twitter link).
The Royals battled the clock Wednesday in an effort to trade utility infielder Yamaico Navarro to enable them to make a selection Thursday in the Rule 5 Draft at the Winter Meetings. Pittsburgh, Seattle and Houston appeared possible destinations.
The Pirates made a trade late on Wednesday to acquire infielder Yamaico Navarro from the Royals in exchange for Minor Leaguers Brooks Pounders and Diego Goris.
The Royals traded infielder Yamaico Navarro to Pittsburgh for two minor-league players late Wednesday in a clock-beating move that cleared a roster space prior to Thursday morning's Rule 5 Draft at the Winter Meetings.
DALLAS | A year ago, the Royals shifted right-hander Aaron Crow to the bullpen, after a disappointing season in the minors, as an acclimation step to the big leagues -- and it paid off big. Crow put together a dominant first half that turned him into an All-Star.
The Royals pulled off a bit of misdirection Thursday in the Rule 5 Draft at the Winter Meetings by selecting a lefty reliever - an identified area of need - and immediately flipping him to the New York Yankees for $100,000.
When the news broke this afternoon that the Pirates were no longer in on Wilson Betemit and that they'd made their roster moves to accomodate Erik Bedard and Nate McLouth without releasing Ross Ohlendorf, my gut feeling was that it was a sign that there was another move in the offing. It turns out that was a good instinct: the Pirates traded Brooks Pounders and Diego Goris tonight...
Opening Day just got more interesting for the Royals. They'll launch the 2012 season in Anaheim with Albert Pujols in the Angels' lineup on April 6. "A player of that caliber is going to make any lineup better," Kansas City manager Ned Yost said.
MLB News

Delivered to your inbox

You'll also receive Yardbarker's daily Top 10, featuring the best sports stories from around the web. Customize your newsletter to get articles on your favorite sports and teams. And the best part? It's free!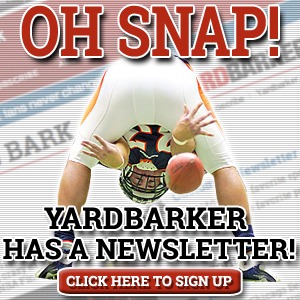 Latest Rumors
The Backyard

Today's Best Stuff

For Bloggers

Join the Yardbarker Network for more promotion, traffic, and money.

Company Info

Help

What is Yardbarker?

Yardbarker is the largest network of sports blogs and pro athlete blogs on the web. This site is the hub of the Yardbarker Network, where our editors and algorithms curate the best sports content from our network and beyond.