Found March 31, 2013 on Fox Sports Midwest:
LA MONTE, Mo. Clintster's Cave is ready for Opening Day. The St. Louis Cardinals memorabilia a wall-sized photo of players spilling toward the mound after the 2011 World Series win, the framed photo of Stan Musial, the pillowcase with stitched birds is proudly on display. A 70-inch LCD TV screen is locked on MLB Network. And the newest scorebook, still wrapped in plastic, patiently waits to be filled with red ink. "I just get excited this time of year," Clint Perriguey said from inside his baseball shrine. "It's supposed to be spring, warm weather baseball." Some say the Cards have the best fans in baseball. They can be found from the big cities on the coasts to the tiniest towns in the Show-Me State. The latter describes La Monte, a blip of just more than a thousand people along U.S. Route 50 between Sedalia and Warrensburg. Four miles off 50, down a blacktop road that rolls through harvested corn fields, past grazing cows and over two one-lane bridges, lives a 38-year-old man who has as much passion for the Cardinals as anyone you can find. Come to Clintster's Cave to see a true Cardinals fan. But first, a heads up. The best view comes from the floor. Perriguey refuses to let this story be a sad one. "I don't dwell on my physical condition," he said. The small man has a big motto: You live with the hand you're dealt, no matter how tough the draw. He has a severe case of a crippling disease called osteogenesis imperfecta. Since birth, the rare condition has stunted his growth and brittled his underdeveloped bones. The result is a perfectly healthy mind trapped inside an extremely limited body. He has never walked, and must use a wheelchair when he's outside of his home. He estimates he's had as many as 10 fractures in his arms and wrists alone problems caused by seemingly minor events like tumbling out of a wagon and squeezing a water gun too hard. To survive, he has learned his limits. Often, staying safe means missing out. But Perriguey isn't looking for sympathy. Instead, he talks about what he has: two loving parents who have lived with him all his life, a strong faith in God and a diehard allegiance to the St. Louis Cardinals. "I've been a Cardinals fan since I can remember," he said. "I feel like I'm a part of St. Louis, even though I'm not. I love the history and tradition." It passed down through generations. His grandmother would let him stay up late when her transistor radio could pick up the broadcast of St. Louis road games. His father, Rick Perriguey, was also a fan. Before he started working for the family's heating and air conditioning company, he had dreams of playing for the Cards. Instead, he settled for telling stories to his son. He spoke of the group that won the 1967 World Series, and cursed the Detroit Tigers for storming back and ruining the chance of a back-to-back finish the following year. Clint Perriguey took that foundation and expanded. He would never be able to be a third baseman his favorite position. But he could dedicate a lifetime to studying the game. He learned the players. He read of Musial and adored Ozzie Smith. When a teacher from his school took him to his first game in St. Louis in the late 1980's, speedster Vince Coleman handed him a pair of pine-tar-stained gloves. He experienced the ups and downs. He still bristles at the mention of umpire Don Denkinger's blown calls in the 1985 World Series. The 2006 and 2011 wins made that a little better, though. He fell more and more in love. The pace that is too slow for some is just right for him. He enjoyed the strategy, the smaller, unnoticed competitions pitching matchups, base running, lineup changes that play out in the span of nine innings. After a while, he started keeping score. He filled book after book while watching games on TV. He only used red for the Cards. "Clint lives and breathes the Cardinals," Naomi Perriguey said of her son. "If he can't watch them, or listen to them, then he's lost." Even when a car accident threatened his life, Clint Perriguey kept up. The driver crossed two lanes of traffic and hit the Perrigueys head-on. "They didn't see me," Naomi Perriguey said. "And I didn't see them." It happened in August of 2003, when her son was 29. The mother had sore back and bruises. The son, despite wearing a seatbelt and sitting in the back, had two broken legs and a fractured pelvis. "I've dealt with a lot of pain in my life," Clint Perriguey said. "It's no picnic. But that was excruciating." He was helicoptered to a Kansas hospital for a two-week stay. He returned home, but was forced to stay in bed for the better part of four months. Fragile bones take a long time to heal. The painful waiting period was the hardest part of his life. "Did I have those moments where I thought, 'What the hell is going to happen to me? What the hell am I going to do?'" Clint Perriguey said. "Sure. But I just waited it out. I knew I was going to get better. I wanted to get better." He turned to the Cardinals for a needed distraction. Those games on TV were an escape. "I watched baseball," he said. "I've got to follow baseball, and I was missing my Cardinal games." Things are better for Clint Perriguey these days. Some pain from the accident still flares at times, but not often. He hasn't had a new break in more than a year. He and his parents were able to move into a new house in 2010. The one-story home is suited for his needs. Sinks are lower, furniture is easy to move and doorways are extra-wide. But the best is reserved for Clintster's Cave, a special wing of the house that got its name when a family friend provided a Cardinals banner, complete with the phrase, to hang on a wall already adorned with St. Louis gear. Here, a reverse ramp stretches down into the floor so he can easily dismount from his wheelchair. From there, he can travel how he prefers: using his arms to quickly scoot his body across the floor. His wing also has an accessible bathroom and bed that sits flush with the carpet. "It's made me more independent," Clint Perriguey said of the house his dad designed. And then there's the impressive contraption right in the middle of it all. The command center, as Clint Perriguey calls it, is a low desk (the drawers have Cardinal buttons) that faces the room's massive TV. With plenty of space for his laptop computer and scorebook, it's the ideal place to catch a game. This is where Clint Perriguey will be when St. Louis takes the field to play the Arizona Diamondbacks on Monday, the first game of a brand new season. The plastic will be off the scorebook by then. Red pen in hand, one of the truest Cards fans will continue to track his team. You can follow Ben Frederickson on Twitter @Ben_Fred or email him at frederickson.ben@gmail.com
Original Story:
http://www.foxsportsmidwest.com/mlb/s...
THE BACKYARD
BEST OF MAXIM
RELATED ARTICLES
The St. Louis Cardinals have one of the best uniforms in all of Major League Baseball and up until this year, had been one of the few organizations in baseball resistant to wearing alternate jerseys. The Cardinals have worn a Sunday hat during home games, but other than that, for several years, the Cardinals have wore red hats and white uniforms at home and grey jerseys and blue...
On Monday October 22nd, 2012, 31.8% of St. Louis houses had their TV tuned to Game 7 of the NLCS.  A huge rating, for sure. But in a baseball-crazy city 9 innings away from back-to-back pennants, the number on the surface seems low. At least until you put yourself back in that dark space. Where the Cardinals were up 3-1 in the NLCS, at home and ready to pop bottles just...
The St. Louis Cardinals have placed closer Jason Motte on the disabled list with a strained right elbow, the team has announced. Motte reported soreness in his throwing arm following a spring training appearance last Thursday. There's currently no timeframe for his return, and the Cardinals are prepared to enter the regular season with Mitchell Boggs as their fill...
The St. Louis Cardinals have spent a lot of dollars this spring on securing the futures of Adam Wainwright and Allen Craig in Cardinals' uniforms for years to come. The extensions the Cardinals gave out are truly signals of how the organization values players like Wainwright and Craig. But lets not forget just how important Yadier Molina is to this Cardinals' team. The...
On Saturday, the St. Louis Cardinals' minor leaguers faced the Miami Marlins clubs for the sixth and final time this spring. It is also the last day for competition in Florida. The games were held on the Miami side of the Jupiter complex. In addition, Extended Spring Training Red faced the White squad. It was another clean sweep day, as all four Cardinals clubs won. Memphis and...
PHOENIX (AP) -- Adam Wainwright begins earning his newfound wealth on Monday. The right-hander will be on the mound for his third Opening Day start when the Cardinals face the remodeled Diamondbacks, who for the second year in a row will open with Ian Kennedy. Wainwright's start comes four days after he agreed to contract that guarantees him 109.5 million over the next six...
PHOENIX (AP) Adam Wainwright begins earning his newfound wealth on Monday. The right-hander will be on the mound in his third opening-day start when the St. Louis Cardinals face the remodeled Arizona Diamondbacks, who for the second year in a row will open with Ian Kennedy. Wainwright's start comes four days after he agreed to contract that guarantees him 109.5 million over...
If you listen to the various pundits out there, the St. Louis Cardinals are predicted by many to finish no better than second to the Cincinnati Reds.  Even the Post-Dispatch's Jeff Gordon is calling this a "transition" year for the Cards, as they deal with season-ending injuries to Rafael Furcal and Chris Carpenter, while also breaking in youngsters like Shelby Miller...
PHOENIX (AP) Ian Kennedy struck out eight in seven strong innings and the Arizona Diamondbacks used 15 hits to beat the St. Louis Cardinals 6-2 in their season opener Monday night. Kennedy (1-0) allowed two runs on five hits with one walk. St. Louis' Adam Wainwright (0-1) went six innings, giving up four runs, three earned, on 11 hits. He struck out six with no walks. Arizona...
Adam Wainwright begins earning his newfound wealth on Monday. The right-hander will be on the mound in his third opening-day start when the St. Louis Cardinals face the remodeled Arizona Diamondbacks, who for the second year in a row will open with Ian Kennedy. Wainwright's start comes four days after he agreed to contract that guarantees him $109.5 million over the next six...
(Photo: Mike Ehrmann) Adam Wainwright has not been generous to the Brewers over the years.  Among current players with a fair number of at bats against Wainwright, only Aramis Ramirez (.404) and Corey Hart (.265) hit him respectably.  Although I could not find Wainwright's career numbers versus the Brewers overall (apparently I need to be a STATS LLC client for that) I was...
Yesterday we looked at the American League Promotions, today we'll walk through the National League, starting with the Mets! New York Mets: I'm disappointed with the magnetic schedule (actually I'm disappointed with the MLB that a magnetic schedule is a promotion) but it looks almost the same as last year's! Come on SNY. However this Dog bandana is creative Chicago Cubs...
MLB News

Delivered to your inbox

You'll also receive Yardbarker's daily Top 10, featuring the best sports stories from around the web. Customize your newsletter to get articles on your favorite sports and teams. And the best part? It's free!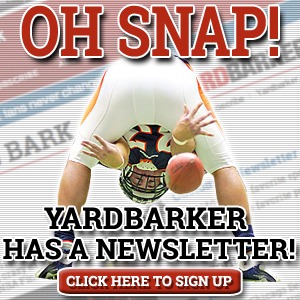 Latest Rumors
The Backyard

Today's Best Stuff

For Bloggers

Join the Yardbarker Network for more promotion, traffic, and money.

Company Info

Help

What is Yardbarker?

Yardbarker is the largest network of sports blogs and pro athlete blogs on the web. This site is the hub of the Yardbarker Network, where our editors and algorithms curate the best sports content from our network and beyond.