Found April 08, 2012 on Fox Sports Wisconsin:
PLAYERS:
Mike Matheny
,
Chris Carpenter
,
Corey Hart
,
Aramis Ramirez
,
Ryan Braun
,
Kyle Lohse
,
Jaime Garcia
,
Adam Wainwright
,
Jake Westbrook
,
Zack Greinke
,
Yovani Gallardo
,
Randy Wolf
TEAMS:
St. Louis Cardinals
,
Milwaukee Brewers
MILWAUKEE Mike Matheny held out hope as long as he could that pitcher Chris Carpenter would be healthy enough to return to the St. Louis rotation by Opening Day. When it became clear during spring training that Carpenter would miss extended time into the regular season, Matheny, the Cardinals manager, had no choice but to call for a backup plan. As backup plans go, he can do a lot worse than Lance Lynn. Lynn made his first start of the season Sunday and stymied the Milwaukee Brewers, as St. Louis rolled to a 9-3 victory in the rubber match of a three-game series at Miller Park. Lynn lasted 6 23 innings and allowed one run on two hits with eight strikeouts and one walk. Considering that Lynn entered spring camp expecting to be a reliever and had started just two major league games, his performance was all the more impressive. "He's just tough," Matheny said. "He's tough mentally. He's tough physically. He's a workhorse. He goes out there and he's got the arm and the body that can take that kind of heavy workload. That's going to play good for him in the future. You just never know what you're going to get that first outing." What the Cardinals got was a gem of an outing from Lynn against a Brewers lineup that lacked pop for the second time in three games. And more performances like the one on Sunday could spell trouble for the rest of the National League Central because St. Louis (3-1), the defending World Series champion, hasn't skipped a beat in 2012 without one of its go-to pitchers. Carpenter, a stalwart in the Cardinals rotation since 2004 and a former Cy Young Award winner, has been sidelined this season with a nerve ailment in his throwing shoulder. He hasn't faced live hitters since throwing batting practice March 3. Lynn, meanwhile, had appeared in only 18 major league games during the regular season, with 16 coming in relief. But he also pitched under the toughest of circumstances out of the bullpen last season, making 10 postseason appearances for the Cardinals on the way to a World Series title. Five of those games came against the Brewers in the NLCS, when he didn't allow a run in 5-13 innings pitched. In other words, an early-season start against these same Brewers hardly fazed him. "I've started my whole life," Lynn said. "Relieving was fun and I enjoyed it because I got to pitch in a lot of big situations and big games. That's always fun. As a competitor, you enjoy those situations and enjoy those challenges. This is a new challenge and I've just got to keep preparing myself in between starts and doing what I have to do to keep moving forward."> On Sunday, Lynn's only slip was allowing a solo home run to Brewers right fielder Corey Hart, who launched his third long ball of the season. Lynn's day ended when he walked Aramis Ramirez with two outs in the seventh inning. With his pitch count at 100, Matheny pulled him for a reliever. The effectiveness of Lynn amazed even the Brewers. "I was surprised that somebody can transition from the bullpen to a starter and maintain his stuff," Brewers left fielder Ryan Braun said. "His velocity was consistently in the mid-90s. He had really good command of his fastball both sides of the plate. Last year, he didn't throw many of his slider-cutter pitch, whatever he was throwing today. And he really threw that pitch well today, too. I was impressed." Lynn's emergence could go a long way toward helping to keep the Cardinals the class of the NL Central. Fellow starters Kyle Lohse, Jaime Garcia and Adam Wainwright pitched well in their season debuts, and Jake Westbrook opens his season Monday against Cincinnati. It's still early in the season, but Milwaukee (1-2) showed it will have to play awfully well to surpass St. Louis for a second straight season. Last year, the Brewers won a club record 96 games to edge the Cardinals by six games in the standings. But St. Louis defeated Milwaukee 4-2 in the NLCS on the way to a World Series title. While Brewers pitcher Zack Greinke showed his Cy Young Award form in a victory on Saturday, Yovani Gallardo and Randy Wolf weren't sharp against the Cardinals. Neither was the hitting in two of three games. Of course, the Cardinals pitching staff had a lot to do with that. "I just think the confidence that all these guys took out of the postseason last year -- that 'I can do this and it's not going to get any more intense than the World Series and the playoffs down the stretch' -- it tells you something about yourself," Matheny said. "And I think those guys have all taken that into the games and it's made them all better." The results have left the Brewers already playing catch-up in the NL Central. Follow Jesse Temple on Twitter.
Original Story:
http://www.foxsportswisconsin.com/04/...
THE BACKYARD
BEST OF MAXIM
RELATED ARTICLES
So far, the St. Louis Cardinals are making it look easy in 2012. And while no one would say anything in 2011 was easy—maybe when they put Game 7 of the World Series out of reach…maybe—the Cards are playing a lot like they did at the end of last season. And that's no small feat, for a couple of reasons. Mike Matheny and his revamped coaching staff may not have been tested...
Lance Lynn pitched two-hit ball into the seventh inning and the St. Louis Cardinals beat the Milwaukee Brewers 9-3 on Sunday, taking two out of three games from their NL Central rivals to start the season. Ryan Braun hit his first home run of the year for the Brewers, a solo shot with the game well out of reach in the ninth. It was the third career start for Lynn (1-0), who played...
Next up for the Brewers, "CHEATER!" That wasn't exactly how the Cubs' PA guy introduced Ryan Braun in his first at-bat in a road game this year, his first at-bat in his new life. It was just how the guy in front of me in the left-field bleachers Monday night at Wrigley Field drowned out the announcement. Other people held up signs comparing Braun to Barry Bonds...
The St. Louis Cardinals begin the 2012 season with nine consecutive series against National League Central opponents following last Wednesday's opener in Miami. We will know a lot more about the real pecking order in the final year of the six-team division as the games over the next 30 days unfold. Unfortunately, if you are an AT&T U-verse customer in the St. Louis area, you...
      Dear Milwaukee Brewers Facebook Page Author Person, I sincerely feel bad for you, and have nothing but respect for your terrible job. No matter the outcome of the game, you have to put out a somewhat positive little Facebook post. This is OK when the Brewers win, but lets be honest, this has to be down right terrible when they lose. And their last stretch of games (dating...
Fans Throughout Cardinals Nation Urged to Go RED for Kids to Celebrate Opening Day Organizations asked to sponsor "Rally Everyone Days" (RED) to support team & Cardinals Care ST. LOUIS (April 2, 2012) – To kick off the 2012 season and help celebrate the 15-year anniversary of the founding of Cardinals Care, the St. Louis Cardinals are encouraging local businesses, schools...
hell yes...do I sense 161 and 1? Zack Greinke and the Milwaukee Brewers dominated the St. Louis Cardinals in the second game of the season.  Here is the Losersbracket.com overreaction to the first win of the season: Corey Hart over Cory Hart by 11.5 Ron Roenicke:  Pulling all of the right strings to start Greinke today.  Who knew? Ryan Braun:  Doubled sharply…clearly he was...
MILWAUKEE (AP) -- Corey Hart homered twice, Zack Greinke pitched three-hit ball for seven innings and the Milwaukee Brewers beat the St. Louis Cardinals 6-0 on Saturday. Rickie Weeks homered while Aramis Ramirez and Carlos Gomez added RBI doubles for the Brewers, who rebounded after dropping Friday's opener. Ryan Braun had a pair of doubles and drew a walk after going 0 for...
CINCINNATI (AP) -- Matt Holliday, David Freese and Yadier Molina homered during the St. Louis Cardinals' big first inning, and Jake Westbrook found his control after a rough start, beating the Cincinnati Reds 7-1 on Monday night. The defending World Series champions improved to 4-1 with an offense that hasn't missed Albert Pujols so far. Only 20 pitches into the game, Reds...
By JEFF MEZYDLO, STATS Senior WriterAfter finally holding the St. Louis Cardinals' offense in check, the Milwaukee Brewers believe they can sustain some success against their division rival. The Brewers have a chance to take their opening series with a second straight win over the reigning World Series champion Cardinals on Sunday at Miller Park. St. Louis (2-1) totaled 29...
Starters MIL- Zack Greinke: 7 IP, 3 H, 0 R, 0 BB, 0 HR, 7 K (91 pitches, 61 strikes) STL- Adam Wainwright: 5.2 IP, 4 H, 3 R, 1 BB, 1 HR, 6 K (88 pitches, 56 strikes) Brewers Highlights Rickie Weeks: 2-4, HR Ryan Braun: 2-3, 2 2B Corey Hart: 2-3, 2 HR Cardinals Highlights David Freese: 2-4 Yesterday Recap Zack Greinke was on his game today, and it was awesome. The...
The Brewers dropped their opening series to the Cardinals, losing to Jaime Garcia and Lance Lynn in three relatively high-scoring games. The Cubs, meanwhile, did their best to try to have the bullpen/defense blow late leads in all three games against the Washington Nationals. This will be Aramis Ramirez's first appearance in Wrigley not wearing [...]
MLB News

Delivered to your inbox

You'll also receive Yardbarker's daily Top 10, featuring the best sports stories from around the web. Customize your newsletter to get articles on your favorite sports and teams. And the best part? It's free!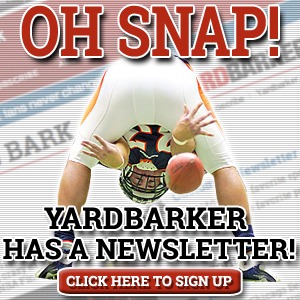 Latest Rumors
The Backyard

Today's Best Stuff

For Bloggers

Join the Yardbarker Network for more promotion, traffic, and money.

Company Info

Help

What is Yardbarker?

Yardbarker is the largest network of sports blogs and pro athlete blogs on the web. This site is the hub of the Yardbarker Network, where our editors and algorithms curate the best sports content from our network and beyond.