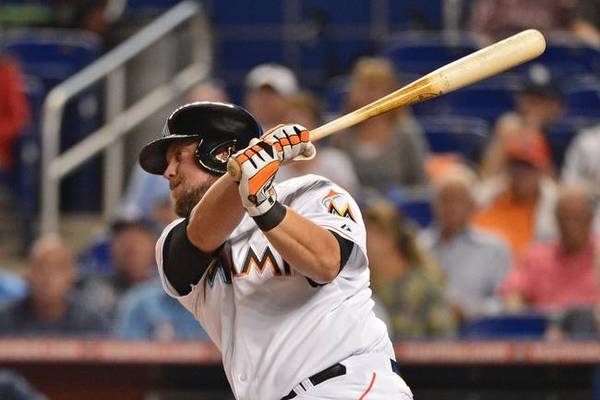 Jun 2, 2014; Miami, FL, USA; Miami Marlins third baseman Casey McGehee (9) hits an two run RBI single during the first inning against the Tampa Bay Rays at Marlins Ballpark. Mandatory Credit: Steve Mitchell-USA TODAY Sports
In the pantheon of strange MLB seasons, Casey McGehee's name deserves some prime real estate. Somehow he's driven in 53 runs this year — 13.7% of the Marlins' total runs on the season — with just one, lone home run. Giancarlo Stanton has 62 RBI, just nine more than McGehee, but he's hit 20 extra blasts. Sometimes baseball doesn't make sense. numberFire featured a post on Wednesday providing some explanation for McGehee's odd season: McGehee leads all of baseball with a .398 batting with RISP. The next closest hitter to him is Cleveland's Lonnie Chisenhall, at .370. That's a ridiculous number, far better than the MLB average with RISP of .249. And as most followers of baseball know, hitting with runners in scoring position is a difficult feat to repeat on a year-in, year-out basis. These are McGehee's career numbers in that department. This is a fairly typical fluctuation in batting with RISP, something the struggling St. Louis Cardinals offense has discovered this year. Click here to read the rest of the article. They go on to explain that McGehee is due for regression. This is absolutely true, but it's actually not something we've begun to see even as the Marlins offense continues to sputter. These are McGehee's RBI totals by month: April: 16 May: 18 June: 14 July: 5 (8 days) In an attempt to project McGehee's rest-of-season RBI totals, let's look at what his RBI total should look like at the midway point had he not benefited from both Miami's ridiculous start and his own great batting average with RISP. Over the last 30 days the Marlins have scored 103 runs, which ranks 23rd in the league. Already that seems like a fair estimate. Miami isn't the worst offense in baseball, but they're definitely not in the top half either. That works out to 3.81 runs per game. If you project that rate over the full season, you get an adjusted season total of 343 runs. As of July 9, Miami has actually scored 387 runs, so our estimated 343 is 88.6% of their actual total. McGehee is batting .398 with RISP, averaging 1.24 RBI per hit for a total of 46 RBI in these situations. Let's say he's more reasonably a .285 hitter (with a .302 average this season thanks to a .373 BABIP, that seems like a good estimate). If McGehee had batted .285 this season with RISP instead of .398, his RBI total with RISP would be 33, not 46. That 13-RBI adjustment would bring his season total down from 53 to 40. That's 40 RBI per 90 team games. With 72 team games remaining, our math projects McGehee for 32 RBI the rest of the way, bringing his season total to 85. That's still a great season on the whole, but his production down the stretch certainly will be underwhelming. McGehee must have more power than he's displayed thus far (just 1 HR on the season), so his only real chance at coming close to his current RBI rate is to go on a mini power binge in the second half, but even then he'd need 7-9 HR the rest of the way just to keep pace with his current RBI rate. I doubt many people are buying McGehee at this point, but with 53 RBI on the year at a shallow third base position, maybe you can cash in before the correction.
Read the rest of this story...
MORE FROM YARDBARKER
MLB News

Delivered to your inbox

You'll also receive Yardbarker's daily Top 10, featuring the best sports stories from around the web. Customize your newsletter to get articles on your favorite sports and teams. And the best part? It's free!