Found April 10, 2013 on Pirates Prospects:
Charlie Morton and Francisco Liriano both threw at Pirate City this afternoon. Morton threw a 35-40 pitch bullpen session, which came two days after he threw two innings in an extended Spring Training game. Liriano threw two innings of a simulated game, throwing about 30 pitches total. I spoke with both pitchers after their work today to discuss how they were feeling physically, and when they expected to return to the majors. Charlie Morton has already started throwing in extended Spring Training games. Charlie Morton Morton threw two perfect innings on Monday against the Toronto farm system. The results don't say much, since he was mostly going up against guys who will be in the GCL and short-season A-ball this summer. The outing was significant, since it was the first time he got in an actual game during his rehab work. "I think it's more about getting into the game, getting into a game environment, getting the adrenalin going," Morton said. "And then obviously you like to go out and do well and perform. This isn't about bullpens and live BPs. It's about what you can do in the game." You could tell that Morton was looking forward to getting back on the mound. He immediately knew that it had been nine months and three weeks since he had last thrown in an actual game. From here, the right-hander will start building up his innings, just like he would if this were the start of Spring Training. Morton admits that his timetable for a return is out of his control. "This is my first Tommy John rehab. The only thing I can tell is how I'm rebounding physically from throwing bullpens and between games," Morton said. "I think how I feel today would be the best way to determine how I'm bouncing back. And I feel good today." Morton said he has no soreness, and that the current plan is for him to throw three innings in a start on Saturday at Pirate City. He's using his full arsenal at this point, and was throwing a few curveballs today at the end of his bullpen session. He's been mixing in curveballs in his bullpens since early March, and feels good about his command of all of his pitches. As for his return, that might be out of his control, but Morton does have a goal for when he'll make it up to the majors. He also admits that there are other factors involved which could impact his return. "I have goals. I want to be back in May. Getting back to the big leagues, it's a whole other step. That's not only determined by what I do, and how I'm pitching, but the situation in Pittsburgh. Ideally, they wouldn't need me up there. Ideally, everybody will be pitching well, and the team is winning, and they're like 'thanks, but we're all set.'" Since the Pirates are paying Morton $2 M this year, I don't think he will have to worry about finding a spot on the major league roster. He could have trouble cracking the rotation at that point, but he should return to the majors when he's ready. Francisco Liriano Liriano threw 30 pitches in two innings of a simulated game today. He looked sharp in the first inning, with good command and movement of all of his pitches. In the second inning he dealt with some control problems. He had some good looking pitches in the second, including a few nice changeups, but his stuff was definitely better in the first. After the outing, Liriano noted that his right arm, which he broke over the off-season, is fully healed and doesn't bother him. At this point he's working on his mechanics and pitches, getting ready for the season as if it was the start of Spring Training. Today was one of the first games where he faced live hitters. He should throw a bullpen on Friday, and could go three innings in his next game. A big problem for Liriano the last few years has been his lack of control. He's working on his mechanics, focusing on staying back in his delivery a bit longer. He also attributes the control issues to his two-seam fastball, which he was throwing more often than his four-seam fastball the last few years. Last year he threw the two-seam 41% of the time, compared to 9% with his four-seam fastball. "Last two years I've been throwing too many two-seam," Liriano said. "That's a pitch that got me in trouble. Just working on my mechanics, and throw less two-seams, and go from there." In his next outing, Liriano will throw three innings and 45 pitches in a real game. He will continue to add innings and pitches from there until he's ready to return to Pittsburgh. Like Morton, Liriano is hoping to return in May. "I hope for May. Between [the beginning] and the middle of May," Liriano said. "It feels great. Just trying to throw some pitches in, and I haven't faced a hitter in a while, so it feels a little bit weird to me. But I think a couple more games and I'll be ready to go."
Original Story:
http://feedproxy.google.com/~r/Pirate...
THE BACKYARD
BEST OF MAXIM
RELATED ARTICLES
Spring Training is over for the full season teams, but for players who will start the year in Jamestown, the Gulf Coast League, or the Dominican Summer League, there's extended Spring Training. Extended Spring Training works similar to regular Spring Training in minor league camp. The team works out in the morning, then plays games in the afternoon against the Phillies, Blue Jays...
TOP OF THE SYSTEM A look at how the current top 20 prospects did today.  Note that this list doesn't include players currently in the majors. If a player is in the majors, he will be removed, everyone below him will be shifted up a spot, and a new player will be added to the bottom of the list. Rankings are from the pre-season rankings, and links to each prospect writeup can be...
Jason Grilli's Pittsburgh Pirates entrance video wants you to understand one thing: It's Grilled Cheese Time!
Gerrit Cole There's one thing you notice when you cover prospects closely: there's no middle ground with expectations and reactions. At times it seems like there are pretty much only two reactions to a prospect. If there is a good report, or a player is performing well, there are calls for a promotion. If the player has a flaw, or is going through some struggles, the reaction...
The Altoona Curve defeated the Harrisburg Senators 5-4 in their first home game of the year. Starting pitcher Casey Sadler was solid in the victory, going six innings and surrendering three runs on six hits, walking one and striking out two. Offensively, the Curve were led by second baseman Jarek Cunningham who went 3-for 4, including a two-run homer in the third inning. Gift Ngoepe...
Pirates (3-5) at D-Backs (5-3) 3:40 PM–Chase Field, Phoenix MLB.com Gameday TV: ROOT Bring out the brooms! The Bucs go for the sweep in today's afternoon game out in Phoenix. This would obviously be a great way to recover from the rough Dodgers series and would build some momentum going in to a weekend home series against the Reds. It would be especially great if the offense...
It took more than a week, but the Pittsburgh Pirates finally showed something resembling consistency on offense in the Bucs' 6-5 win on Wednesday against Arizona at Chase Field. Starling Marte had two hits, including a two-run double in the fourth, in the Pirates 6-5 win at Arizona. Photo credit: David Hague The Pirates posted a season-high in runs scored and broke into double...
More than anything, this was a James McDonald Game. McDonald had a 1-0 lead when he took the mound in the first inning. He walked two of the first three hitters, then gave up a double, then a home run. It looked like the Pirates were going to be stuck with J-Mac at his worst. Instead, McDonald set down nine of the ten hitters he faced in the second, third, and fourth innings, only...
After posting a 2.78 ERA over 71 appearances for the Astros in 2011, Mark Melancon did not adjust well to the American League last season. He was traded to the Red Sox in the offseason and recorded a 6.20 ERA in 41 appearances. The right-hander came to Pittsburgh in the Joel Hanrahan deal and told PiratesDugout.com's George Von Benko that he feels comfortable in the Bucs bullpen.
A bittersweet night in Phoenix saw a Pirates win as well as an injury to perhaps the Pirates' best pitcher.  The Arizona heat warmed up the Pirates' bats as they scored a season-high 5 runs to give them a 5-3 run over the Diamondbacks. Wandy Rodriguez was standing in the on-deck circle before he had…
The ninth weekend of the college season is about to get under way, as most teams reach the midway point in their schedule last week. This weekend we have a match-up between two top pitchers on Saturday, as well as two top batters starting a three game series against each other on Friday. The Pirates have the #9 and #14 picks in the upcoming June amateur draft. Throughout the college...
Sometimes life can be challenging.  For example, I've spent basically the entirety of the past two days either in a hotel lobby, on a roof, snaking pipes, or shopping for a new toilet. That's not to complain, adversity is what makes life great.  Hopefully the Pirates have learned that lesson and this response is real. A series…
Pirates News

Delivered to your inbox

You'll also receive Yardbarker's daily Top 10, featuring the best sports stories from around the web. Customize your newsletter to get articles on your favorite sports and teams. And the best part? It's free!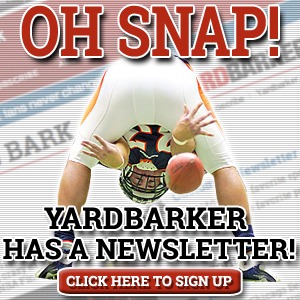 Latest Rumors
The Backyard

Today's Best Stuff

For Bloggers

Join the Yardbarker Network for more promotion, traffic, and money.

Company Info

Help

What is Yardbarker?

Yardbarker is the largest network of sports blogs and pro athlete blogs on the web. This site is the hub of the Yardbarker Network, where our editors and algorithms curate the best sports content from our network and beyond.