Found August 02, 2012 on Midwest Sports Fans:
[Editor's note: While working on this analysis of the Baltimore Orioles' chances of contending into September, Andrew put together a section on Chris Davis. It's so long and such in-depth statistical analysis that we're just breaking it out as its own article.] Chris Davis has finally begun to translate his well-documented minor league success into his big league game. While Davis' 25+ home run pace is in line with his career averages, his current .260 batting average has been a welcome surprise for the Orioles. Analyzing Davis' statistics, there is certainly reason for optimism: Davis'  batting average on balls in play is .329, which, although high, is absolutely sustainable. When Davis hits a line drive or a fly ball, he gets a hit better than 50% of the time (.511 avg), and that statistic is not a mistake–when Davis hits the ball squarely, he hits it hard. Even more encouragingly, since Davis is a power hitter a good majority of his balls in play will inevitably be fly balls and line drives. The problem with Davis this year however (as has been his problem throughout his career), is his pathetic strikeout-to-walk ratio. Currently, Davis strikes out 5 times for every 1 walk–and Davis strikes out a lot. His 108 strikeouts this year lead the Orioles by a comfortable margin, and keep in mind, this is an Orioles team that includes Mark Reynolds, one of the most prolific strikeout hitters in Major League history. A further analysis of Davis' statistics reveals another interesting trend: When facing a pitcher for the first time in a game this year, Davis is hitting .285 with and OPS over .800. However, when Davis is facing a pitcher who he already has batted against in a game, his average drops down to .230. The reason for this disparity is that pitchers throw Davis fewer strikes in his subsequent at bats against them–in other words, they pitch around him. While this should lead to more walks for Davis, it accomplishes exactly the opposite–it leads to more strikeouts because Davis continues to swing, whether the ball is down the heart of the plate or in the dirt. Davis is currently swinging at 38.6% of pitches he sees outside the strike zone, which is over 8% greater than the league average. Perhaps more troubling, Davis is only making contact with 55% of the non-strike pitches that he swings at, which is 12% below the league average. Thus Davis swings at more balls than the average MLB player and makes contact with a lower percentage of those pitches than the average MLB player. It should therefore not come as a surprise that Davis is among the league leaders in strikeouts. Luckily for Davis, there is a relatively simple solution: stop swinging at bad pitches. If Davis wants to sustain any long term success in the major leagues, he must adopt a much more selective approach at the plate. Davis' swing is fundamentally sound (it's actually a thing of beauty), and his consistently high BABIP suggests that there is no problem with his timing or vision. Rather, the problem is with his selectivity. By narrowing the zone in which he swings at pitches, Davis will undoubtedly accrue more walks and strikeout less. More importantly, he will force pitchers to throw him strikes, which will allow him to do what he does best: hit the ball hard. Whether Davis will be able to adopt a more selective approach in the future remains unclear. However one thing is for sure–his future absolutely depends on it. Davis is arbitration eligible for the first time in 2013 and under team control until 2016. If he can figure out how to become more selective, he could and should become a building block of the Orioles offense for years to come. Under this scenario, the Orioles could buy out the rest of his arbitration-eligible years and sign him to a long term extension at a very reasonable rate. However, If the Orioles don't see him as a long term fit, it is possible that they will try to move Davis. perhaps this coming off season, when he is at his peak value. As an Orioles fan, I am rooting for Davis to become a face of the franchise, but as a more arbitrary observer, I realize that such an arrangement may not be in the best interest of the franchise. ***** The source I used for the statistics was fangraphs.com
Original Story:
http://feedproxy.google.com/~r/Midwes...
THE BACKYARD
BEST OF MAXIM
RELATED ARTICLES
Orioles' management blew it. For the first time in 15 years Baltimore is heading into August as a legitimate playoff contender. As today's trade deadline approached it was looking like those chances would be bolstered with Phillies pitcher Joe Blanton. But, as has become the norm for the Orioles, no deal could be brokered. The already fading playoff aspirations become a distant...
The Baltimore Orioles' top draft pick, Kevin Gausman, is expected to make his pro debut Monday. MASNsports.com reported the right-hander from LSU will join the Aberdeen (Md.) IronBirds soon and would debut with three innings against State College at University Park, Pa., in a short-season Class A game. Gausman threw a heavy workload for LSU this season, and will work in a...
Cal Ripken Jr. spoke publicly Friday about his mother's kidnapping, which occurred last week. The Hall of Fame infielder said he does not know why his 74-year-old mother, Vi, was kidnapped at gunpoint from her home outside Baltimore, blindfolded and driven around for nearly 24 hours. She was found unharmed in her car near her home early the next morning, according to ESPN.com...
After discussing the AL team with arguably the most talent on its roster, it only seems appropriate that I now discuss the AL team with arguably the least talent on their roster. The Baltimore Orioles are a team that has been synonymous with losing for the better part of the past three decades. In a way, the Orioles are kind of like Val Kilmer's acting career–big in the early...
The trade deadline has come and gone, with the Orioles (probably correctly) deciding to stand pat. Some thoughts on the non-trades and other things: Taking Joe Blanton's contract off Philadelphia's hands would have been fine. Having the Phillies pick up most of it and throwing a mediocre prospect their way wouldn't have been the worst either. That they reportedly requested...
Chris Davis hit a go-ahead grand slam in the Orioles' seven-run second inning and Baltimore rallied from five runs down to beat the New York Yankees 11-5 on Tuesday night. Nick Markakis had a two-run homer among his three hits for the Orioles, who have won four of their last six, but finished July 13-14, their first month below .500 all season. Ivan Nova allowed a career-high...
When Chris Tillman steps on the mound, one of two things often happen: he is either extremely good, or he just flat out sucks. His consistency has always been an issue throughout his Oriole tenure, but he has looked much better in his handful of starts in 2012; however, last night, the bad Chris Tillman returned for a while as he gave up five runs in the opening inning against the...
Red Sox's GM, Ben Cherington said that they haven't ruled out acquiring right handed pitcher Derek Lowe although they haven't made a decision on him yet (via Nick Cafardo of the Boston Globe). Another team that could be interested in Lowe are the Baltimore Orioles. Dan Connolly of the Baltimore Sun said that it wouldn't be surprising if the Orioles make a "big push"...
Orioles News

Delivered to your inbox

You'll also receive Yardbarker's daily Top 10, featuring the best sports stories from around the web. Customize your newsletter to get articles on your favorite sports and teams. And the best part? It's free!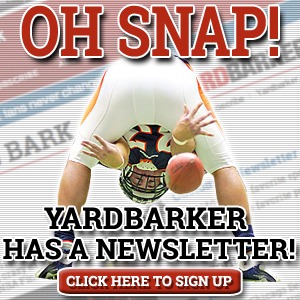 Latest Rumors
Best of Yardbarker

Today's Best Stuff

For Bloggers

Join the Yardbarker Network for more promotion, traffic, and money.

Company Info

Help

What is Yardbarker?

Yardbarker is the largest network of sports blogs and pro athlete blogs on the web. This site is the hub of the Yardbarker Network, where our editors and algorithms curate the best sports content from our network and beyond.