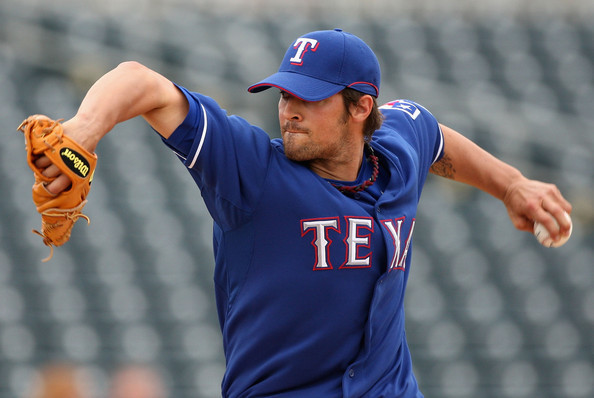 Texas Rangers left-hander C.J. Wilson is considered one of the top prizes on baseball's free agent market this winter, especially after helping lead his team to back-to-back American League championships. Several teams are expected to throw big money in the direction of the 30-year-old hurler and he could become a very rich man as a result. Well it turns out that Wilson may not be going anywhere.
Wilson – who went winless in five postseason starts – said there is a great chance that he'll stay with the Rangers. But if he wants to stay with Texas, he may have to give the team a hometown discount for that to happen.
Now that CC Sabathia has been inked to what is essentially a five-year, $122 million contract, the price for Wilson has likely increased. The Rangers definitely want Wilson back, but would they be willing to spend $100 million to retain him? Probably not.
SI.com's Jon Heyman thinks the Washington Nationals are going to make a big push for Wilson, and could offer him a deal in the $75-80 million range. That's a steep price for him, despite the fact that he has been great for the Rangers over the past two seasons.
This year, Wilson went 16-7 with a 2.94 ERA and a 1.19 WHIP in 34 starts. He also finished with 206 strikeouts and allowed just 73 earned runs, 74 walks and 191 hits in 223.1 innings.
2010 was Wilson's first full season as a starter and he was excellent. He finished the year with a 15-8 record, a 3.35 ERA and a 1.25 WHIP. He tossed 204 innings, struck out 170 batters and allowed just 76 earned runs, 93 walks and 161 hits.
Clearly he is very important to what the Rangers have done over the past two seasons, but his success could price him right out of Texas. If Wilson wants to be back in Arlington next season, he may have to give the Rangers a discount, and frankly, I do think he's the kind of guy who would do that.
I expect him to be the starter for Texas on Opening Day in 2012.
MORE FROM YARDBARKER:
Most strikeouts by a hitter in a single season
MORE FROM YARDBARKER
MLB News

Delivered to your inbox

You'll also receive Yardbarker's daily Top 10, featuring the best sports stories from around the web. Customize your newsletter to get articles on your favorite sports and teams. And the best part? It's free!