Found July 18, 2012 on Fox Sports Wisconsin:
MILWAUKEE It was apparent the moment John Axford began his conversation with reporters Monday night that something had been different this time. For the Milwaukee Brewers closer who has struggled on so many occasions this season his ERA ballooning to over 5.00 and his WHIP following suit over 1.50 this night had presented a much more complex set of frustrations. He had inexcusably walked two batters and put Matt Holliday at the plate with the bases loaded, almost beckoning him to knock in the game-tying runs. He was trying too hard, that much was certain, and as he walked off the field having blown his sixth save of the season, he did his best not to hang his head as boos rained down on him from his own fans. He claimed after the game that he didn't hear the boos, but as superhuman as John Axford may have seemed at times especially last season there's no doubting those boos meant something. Axford has spent a great deal of this season explaining that his struggles haven't affected his confidence. After all, this is the closer who saved 49 consecutive games in 2011 and the beginning of 2012. But his face on Monday night told a completely different story a story of a pitcher who didn't know what was wrong or how to fix it. "In all honesty, I couldn't feel anything," Axford said. "It was the most awful outing I've had all year." No position in the major leagues relies on confidence more than a closer. And with the bevy of one-run games the Brewers have found themselves in, confidence from Axford and the manager who has to have someone to rely on in the ninth inning of a tight game -- is even more important than usual. There was no confidence in Axford's body language as he fought to keep the Brewers in Monday's ninth inning, and there was even less as he addressed the media after the game. And for that reason, the Brewers had no choice but to make a change. It's a move that had to rank among the toughest of the season for manager Ron Roenicke, considering how important Axford was to the team's resurgence last season. Axford will get a chance to redeem himself -- Roenicke said Wednesday that "in a perfect world" Axford would be closing again by the end of the season. He is still very much a part of the team's long-term plans as he should be. But for now, a closer without confidence is a liability Milwaukee can't afford in such a crucial stretch. And that's exactly why Francisco Rodriguez provides possibly the best replacement option in the major leagues. He oozes confidence. When asked Sunday whether he had acclimated to his role as a setup man one held for the Brewers for a full calendar year since the team acquired him from the Mets -- he showed some of that confidence and bite firsthand. "I'm a closer," Rodriguez clarified. "My mentality is as a closer. I've been a closer my whole career. I've been a setup man for one year. Don't tell me that I'm a setup. I'm waiting for my opportunity. When that time comes, I'll be ready for it." And he was on Tuesday night, after the Brewers handed him the job he had yearned for. After allowing the Cardinals to get runners on the corners with no outs in the ninth inning, Rodriguez was as ready as any closer in major league baseball could be. He induced a groundball that kept David Freese at bay on third base. He struck out Skip Schumaker. And he forced a pop fly to end the game. One slight difference in that ending, and the Brewers might be second-guessing their change after Tuesday night's game. But Rodriguez's confidence is what helped him get out of a jam he created racking up his 293rd career save and it's exactly what's going to help Milwaukee start a renaissance in its struggling bullpen. At least, that's what Roenicke hopes. Rodriguez is not without his flaws. He's battled on several occasions this year with inconsistent command. And his frustrations have been palpable on multiple occasions this season. But the Brewers' bullpen, more than anything, needs one guy to take the lead and help the others feel like they don't need to press. They need confidence and swagger, and who better to provide it than a guy who holds the majors' single-season record for saves? "Somebody has to do it," Roenicke said in regard to a leader emerging in the bullpen. And on Tuesday night, as Francisco Rodriguez threw his hands up into the air out of raw emotion, celebrating a performance that on any other day may have been a blown save, it was obvious that he is Milwaukee's best hope to reignite the bullpen. At least for now. Follow Ryan Kartje on Twitter.
Original Story:
http://www.foxsportswisconsin.com/07/...
THE BACKYARD
BEST OF MAXIM
RELATED ARTICLES
MILWAUKEE John Axford trudged off the mound with his head down, slower than usual. Boos rained downon him in his home park, as he walked off the field, having blown his sixth save of the season. But this blown save holding onto a 2-0 lead with two outs in the ninth inning against a division rival was by far the most cruel in a season that hasn't been short on cruelty for...
MILWAUKEE Just days after John Axford had hit what seemed like rock bottom on Monday, the Brewers former closer got to experience a few things he never had as Milwaukee's ninth inning specialist. The first man out of the bullpen on Wednesday, Axford relieved starter Tyler Thornburg and threw 1.1 solid innings, giving up just one hit in that span. It was an enlightening experience...
One day after his worst outing in a difficult season, John Axford lost his job as the Milwaukee Brewers' closer. Manager Ron Roenicke said before Tuesday night's game against St. Louis that Francisco Rodriguez will be handling ninth-inning duties while Axford tries to get his confidence back in lower-pressure situations. ''It's always difficult when you'...
Milwaukee Brewers manager Ron Roenicke made official Tuesday what most people expected, including John Axford. Axford is being moved out of the closer's role and being replaced for the time being by Francisco Rodriguez. The last straw came Monday night when Axford turned a 2-0 lead over the Cardinals into a 3-2 loss by allowing three ninth-inning runs on three hits and two...
MILWAUKEE After a record season as the Milwaukee Brewers closer in 2011, an inconsistent 2012 cost John Axford his ninth-inning role. Manager Ron Roenicke announced Tuesday that Francisco Rodriguez will replace the closer who had a string of 49 consecutive successful saves broken in early May. "Frankie is going to close right now," Roenicke said. "Ax, we're...
After surrendering 8 baserunners and 4 earned runs in 3 post-All Star break appearances, John Axford was removed from his spot as anchor of the bullpen by Brewers manager Ron Roenicke. Axford's struggles began in June, when he posted a K/BB of 10/7 and coughed up 4 HR. Superficially, Axford's month of July has also been bad, with a 5.00 ERA and 1.56 WHIP not bringing any reassurance...
MILWAUKEE -- In the two games after John Axford was removed as the Brewers' closer, replacement Francisco Rodriguez converted saves both times against St. Louis. That does not mean that "K-Rod" will be the closer the rest of the year, however. In fact, general manager Doug Melvin and manager Ron Roenicke made it clear that they hope to get Axford back closing games...
Former Met Closer Francisco Rodriguez has been given the closing responsibilities for the Brewers after former closer John Axford blew his sixth save of the season. Axford has been terrible this season, with a 5.35 earned run average and 73% save conversion rate. Francisco Rodriguez, a former closer for the Angels and Mets with 292 saves, has a 3.67 ERA on the season in 41.2 innings...
MILWAUKEE (AP) -- Just when it looked as if their recent offensive struggles were getting even worse, Allen Craig and the St. Louis Cardinals pulled off one of their most impressive rallies of the season. Craig hit a bloop RBI single off closer John Axford, completing a ninth-inning rally and lifting St. Louis to a 3-2 victory over the Milwaukee Brewers on Monday night. Craig&...
MILWAUKEE Time will tell whether or not the three-run ninth inning Monday night will prove to be a turning point for the slumping St. Louis Cardinals. But desperate for a big hit after getting swept in Cincinnati, they'll gladly take it. Down to their last out and looking at a frustrating fourth-straight loss ahead of them, the Cardinals instead rallied for three runs off Brewers...
MLB News

Delivered to your inbox

You'll also receive Yardbarker's daily Top 10, featuring the best sports stories from around the web. Customize your newsletter to get articles on your favorite sports and teams. And the best part? It's free!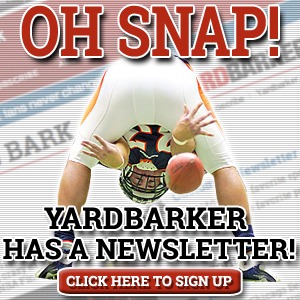 Latest Rumors
The Backyard

Today's Best Stuff

For Bloggers

Join the Yardbarker Network for more promotion, traffic, and money.

Company Info

Help

What is Yardbarker?

Yardbarker is the largest network of sports blogs and pro athlete blogs on the web. This site is the hub of the Yardbarker Network, where our editors and algorithms curate the best sports content from our network and beyond.