Found October 31, 2011 on Fox Sports Kansas City:
Before all the Bubba Starling hoopla overtook Kansas City fans this summer, another Royals first-round pick was projected to make a significant impact with the big-league club. And much more quickly than Starling likely will. Christian Colon, the Royals' top pick in 2010, continues to make steady improvement, at least enough to envision him as the final piece to the Royals' infield of the future. Colon, 22, was drafted out of Cal State Fullerton as a shortstop. But the Royals, more than pleased with the development of Alcides Escobar at that position, see Colon as a likely second baseman, even though they haven't mentioned any of this to him. "Honestly, they haven't said anything to me like that," Colon said in a phone interview. "I've played shortstop most of my life, and I've been playing it in college and the pros. "I played shortstop last year at high A (Wilmington) and this year at Double-A (Northwest Arkansas). "I only got a couple of starts at second base this year." But Colon, a right-handed hitter, presently is playing in the Arizona Fall League and he has made all 11 of his starts at second base. The transition may have started. "I'm not reading anything into it," he said. "I can play both positions. I'm happy playing both. "I will say it's nice to be getting the reps at second base. I actually think it's kind of easier playing second base. The throws are definitely easier. "I'm also getting used to feeding the shortstop on double plays, and also turning double plays from second base. "I kind of like turning double plays from there. You don't have to go flying across the bag. It's just a catch and turn and throw." Colon said he doesn't have a preference regarding shortstop or second base -- but it's obviously he still maintains a shortstop's pride. "I think I'm a pretty good fielder, and I can play shortstop," he said. "But hey, I'll play wherever they want me to play. "Obviously, whatever gets me to the big leagues faster." Colon does pay attention to the Royals' youth movement -- watching as prospects Eric Hosmer, Mike Moustakas and Salvador Perez have not only advanced to the big-league club, but established themselves there. "I've got the 'MLB App' on my phone," Colon said, "so I can keep up with all the highlights at night. It's fun to watch them. Hoz is just an incredible talent. He's amazing. "And Moose, he's just one of those old-fashioned baseball guys. He's a baseball rat -- lives and breathes it. You knew even when he struggled early on, he would fight his way out of it. He'd find a way." Colon played last year and part of this year with Perez. "He's got all the tools," Colon said. "He's big, he can block the plate, throw anyone out. But I was kind of surprised that when he got up there, he just dominated. He raked it. "That just shows you that baseball development is a process. You have to learn and get better at each step -- and that's what he has done. "People don't always understand that the whole key is to get better at each step along the way. It takes time. With (Perez), he just got better at each level." Colon hopes to follow that same path. He hit .278 at Wilmington last year, with three homers and 30 RBIs. This year at Northwest Arkansas, he hit .257 with eight homers and 61 RBIs. "I think I'm learning," he said. "It's a big jump to Double-A -- everything is better at Double-A. The pitchers are better, and they really know what they're doing. The defense is better, and it's harder to get hits. But you make adjustments." Colon said the main thing he's working on this fall is patience when hitting with two strikes. "It's just a matter of discipline," he said. "I know I can be a hitter that will hit for average. I've always been that way. I think I can have a little pop, too. "I hit eight homers this year. But I know that's not my game. They've got other guys, like Hoz and Billy Butler, to do that. "My job is to get on base and also to play great defense. That's hopefully what will get me to the big leagues." The Royals also are interested in Colon's leadership qualities. "He's got a good baseball mind, and he's definitely one of those guys you could see as a leader," said Royals assistant general manager of scouting and player development J.J. Picollo. "You can definitely see him becoming part of the future in Kansas City. He's got some things to work on, but fortunately he's a hard worker. He's progressing and you know that one day it will come all together for him."
Original Story:
http://www.foxsportskansascity.com/10...
THE BACKYARD
BEST OF MAXIM
RELATED ARTICLES
Alex Gordon opened the 2011 season wondering how he'd handle the challenge of playing left field in Kauffman Stadium. After 20 outfield assists, only two errors and a highlight reel full of spectacular catches, Gordon's question was answered emphatically Tuesday night. He was awarded the Rawlings Gold Glove as the best defensive left fielder in the American League. Gordon...
The Royals will be well-represented in the Arizona Fall League's sixth annual Rising Stars Game on Saturday night at Surprise, Ariz. Pitchers Nate Adcock and Jeremy Jeffress, infielder Christian Colon and outfielder Wil Myers have been selected from the Surprise Saguaros.
Eric Hosmer won the Royals' 2011 Joe Burke Special Achievement Award, as voted by the Kansas City Chapter, Baseball Writers' Association of America.
Outfielders Alex Gordon and Jeff Francoeur are among the American League finalists to receive Gold Gloves for defensive excellence when Rawlings announces this year's winners at 9 p.m. Tuesday on ESPN2.
KANSAS CITY, Mo. (AP) -- Joakim Soria will keep closing games for the Kansas City Royals into next season. The team announced Monday that it had exercised its option on the two-time All-Star, which is valued at 6 million for 2012. The Royals also hold options for 2013 of 8 million and 2014 for 8.75 million, with 750,000 buyouts each year. "This decision was more of a formality...
Pitchers Bruce Chen and Jeff Francis, two parts of the Royals' 2011 rotation, declared for free agency, the club announced on Sunday. Catcher Jason Kendall joined them on the open market.
Left fielder Alex Gordon and right fielder Jeff Francoeur are the only two Royals among the finalists for a Rawlings Gold Glove Award.
Royals first baseman Eric Hosmer started his major-league awards hardware collection earlier this season when picked twice as the American League rookie of the month and twice as the Royals' player of the month. Now he can add the Joe Burke Special Achievement award for his season-long accomplishments.
The Kansas City Royals have picked up their 2012 club option on closer Joakim Soria.
Not that there was ever much doubt, but the Royals made it official Monday that they will retain closer Joakim Soria through the 2012 season by choosing not to exercise a buyout option in his contract.
Royals News

Delivered to your inbox

You'll also receive Yardbarker's daily Top 10, featuring the best sports stories from around the web. Customize your newsletter to get articles on your favorite sports and teams. And the best part? It's free!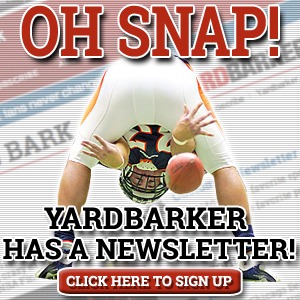 Latest Rumors
The Backyard

Today's Best Stuff

For Bloggers

Join the Yardbarker Network for more promotion, traffic, and money.

Company Info

Help

What is Yardbarker?

Yardbarker is the largest network of sports blogs and pro athlete blogs on the web. This site is the hub of the Yardbarker Network, where our editors and algorithms curate the best sports content from our network and beyond.