Found November 21, 2011 on Dugout Central:
By Bob Owens
Recently Bud Selig mentioned that he intends to retire after the 2012 baseball season, forcing the owners and players to find a (suitable) replacement for the first time in 20 years. So I decided to take a brief look at the 9 men who have been commissioner of our nations beloved pastime, and see what kind of backgrounds they had, and if some are better than others. As I said, these will be brief write-ups, just hoping I or we can glean something from this list.
1. Judge Kenesaw Mountain Landis. (1920-1944) Obviously he came the field of law. He was hired shortly after the World Series of 1919, and in one of his first acts, banned 8 players from the Sox for their role in the scandal. Landis also barred Babe Ruth and Bob Meusel for the first 40 games of 1922 for barnstorming without permission. ( Wonder how many homers that prevented Ruth from hitting)  He also prevented owners form signing African-American players, and it is worth noting that he did not get along with Branch Rickey, the man who signed Jackie Robinson shortly after the death of Landis.
2. Albert  Benjamin" Happy" Chandler: (1945-1951) Another person with a legal background, his law degree came from the University of Kentucky. It was on his watch that the first players pension fund was created. The year was 1947. he also had to intervene when a feud took place between the Yankees and the Dodgers over personal. I wonder what the Cubs and Red Sox think about this one.
3. Ford C. Frick: Held the job from 1951-1965 No lawyer here. He started his career as a high school English teacher, but soon gave it up to concentrate on newspaper work in Colorado. In 1922 he move East  to join the sports staff of the New York American, and in 1923, moved to the Evening Journal where he was a ghostwriter for Babe Ruth.  He also became a broadcaster, but in 1940 he was elected President of the National League.
He was the brainchild of the HOF, and also helped Brooklyn Philadelphia and Boston franchises stave off bankruptcy.
He was elected as commissioner in 1951, after a long search by the owners, who were reluctant to lose Frick in his current capacity. During his tenure baseball expanded from 8 teams in each league to 10.
4. General William D Eckhart: (1965-1968) He was a military man who also held an MBA from Harvard.   He upset many people when he refused to cancel baseball games after the assassinations of Robert Kennedy and Martin Luther King Jr. was forced to resign from his post after only 3 years on the job and with 3 years left on his contract.  He did however promote the Dodgers tour of Japan in 1966. The first CBA was negotiated in 1968.
5. Bowie Kuhn: (1969-1984). Another lawyer.  An eventful era for baseball as the reserve clause for players ended, and there were labor strikes, with the one in 1981 being the most famous. He also suspended a number of players for conduct he deemed unbecoming including:
1. Denny McLain for promoting a bookmaking operation and for carrying a gun in 1970.
2.  Willie Mays in 1979 and Mickey Mantle in 1983 for promoting casinos. Both were later reinstated by Peter Ueberhoth
Baseball also held the World Series at night for the first time during his tenure. Kuhn assumed that a prime time telecast would attract a wider audience, and the World Series has completed been shown during at night time since then.
6. Peter Ueberoth: (1984-1989) He majored in business rather than law and was well known for organizing the 1984 Summer Olympics in Los Angeles. He was also named "Man of the Year" in 1984 by Time Magazine. He reinstated both Mays and Mantle but suspended many players for cocaine use in what became known as the 'Pittsburgh drug trials."
He also called the owners "damned dumb" for signing free agents to hefty contracts, which is tantamount to collusion.  One of the tenants of the CBA stated that "Players shall not act in concert with other players, and clubs shall not act in concert with other clubs. Ueberoth also said that it was "not smart" for owners to sign players to long-term contracts. Because of these meetings, the owners went to court 3 times against charges of collusion and were fined 280 million dollars.
7. A. Bartlet Giamatti (1989-1989)  Held the post for only 154 days,  and died just 8 days after banishing Pete Rose from the game. He got the job because the owners were impressed with how well he did as president of Yale University. In addition to his ruling on Rose, Giamatti was known for three other things
1.. Being a huge Red Sox fan
2. Having a Yankee fan as his best friend.
3. He forced umpires to enforce the balk rule.
8. Fay Vincent. (1989-1992) Vincent was Giamatti's best friend and Yankee fan. He was a lawyer who worked for the S.E.C and then went to Columbia pictures and Coca-Cola. Baseball hired him as deputy commissioner in 1989, mainly because Giamatti urged them to. He was forced to deal with the 1989 World Series that was disrupted by the earthquake. And turmoil continued for him. In 1990, there was a lockout as Don Fehr was worried about the owners implementing a salary cap. He also suspended George Steinbrenner form the game after the brash owner paid a gambler $40,000 for "dirt" on Dave Winnfield.
But what did him in was this quote:  "The union basically doesn't trust the Ownership because collusion was a $280 million theft by Selig and  Reinsdorf  of that money from the players. I mean they rigged the signing of free agents. They got caught. They paid $280 million to the players. And I think that's polluted labor relations in baseball ever since it happened. I think it's the reason Fehr has no trust in Selig."5 owners were largely responsible for ousting Vincent, and they somehow became known as the 'Great Lakes Gang."
1. Bud Selig of the Brewers
2. Jerry Reinsdorf of the White Sox
3. Stanton Cook of the Cubs
4. Carl Pohlad of the Twins
5. Peter O'Malley of the Dodgers.  Had no idea LA and Lake Erie were so close.
9. Bud Selig: (1992-present) We have wriiten at length about him, so really not too much to say to this crowd about him. That being said, the one thing that has not been mentioned by him recently is the fact that he created a huge conflict-of-interest when he asked George Mitchell, who was working for the Red Sox to write his damning report. Extremely poor judgment on the part of Selig, in my opinion.
So there we have it. A brief re-cap of the 9 men who have held the job as baseball commissioner. Let us know help baseball in its search for # 10.
Will it be Rob Manfred?
Will it be Rudy Guilliani?
Will it be Bob Costas
Will it be me?
Or will it be somebody else?
Original Story:
http://www.dugoutcentral.com/?p=2340
THE BACKYARD
BEST OF MAXIM
RELATED ARTICLES
For all the criticism and vitriol absorbed by commissioner Bud Selig (see: 1994 World Series), baseball has become the most stable of the major sports, writes Joe Henderson.
According to MLB.com, Bud Selig is a hero. When he became commissioner in 1992, Major League Baseball was a $1 billion a year business. Baseball had revenues of over $7 billion in 2011. The sport is at an all time high for popularity. But are the changes that have been made and the pending changes that come with the new labor agreement what baseball fans want? In 1994 when the...
In 1992, MLB Commissioner Fay Vincent made $650,000. Meanwhile, current Commissioner Bud Selig, who helped organize the plot to remove Vincent from the job, made $18.4 million in the past year. That's a pretty nice cost of living adjustment. Fred Wilpon was a Selig supporter back in those days (then co-owner Nelson Doubleday backed Vincent) and that long-term friendship is most...
Bud Selig and Michael Weiner(Photo: AP)Major League Baseball and the Player's Union unveiled a new Collective Bargaining Agreement (CBA) yesterday which will maintain labor peace for at least another five years. When this new agreement expires in 2016 there will have been 21 consecutive years of labor peace in the sport, which is something to be proud of when you consider some...
I tried to watch the press conference where Bud Selig announced the new Collective Bargaining Agreement, although it was hard to keep track of the announcement while following all of the details on Twitter.  I didn't catch every word that was said, so I probably missed an announcement that went something like this: "We're proud to say that with this new Collective Bargaining...
NEW YORK - Baseball Commissioner Bud Selig and union head Michael Weiner smiled and exchanged handshakes while...
Major League Baseball and the Major League Baseball Players Association unveiled the latest collective bargaining agreement yesterday afternoon, and it brings numerous changes, many of them major. Before we break down the new CBA, though, let's pause and attempt to digest just how remarkable it is that both sides were able to come to an agreement without the slightest trace...
Last week, I wrote a little bit about some information I came across regarding Bud Selig, his friendship with Fred Wilpon, Sandy Alderson, and the state of the Mets. I left that post with this:"There is something amiss with this franchise. Can you see it?"Here is another log for that fire to warm you up:According to ESPN.com, the Mets could be increasing their debt, currently...
Baseball players and owners recently signed a new collective bargaining agreement that will start the testing of HGH and expand the playoffs to 10 teams.  Major League Baseball will now be the only North American professional sport to be blood testing on human growth hormones. An initial positive test for HGH would result in a 50-game suspension, the same as a first positive...
The effects of Major League Baseball's new collective bargaining agreement can't be described within one post, even one as long as this. It will take a while for teams and players to adjust to the game's new conditions, but here's an early look at ten highlights from the CBA (in no particular order): Playoffs may expand in 2012 - If Commissioner Bud Selig gets...
The new collective bargaining agreement includes radical changes to draft pick compensation, the postseason, arbitration, and much more.  Here's a look at some reactions to the new CBA.. Tom Verducci of Sports Illustrated writes that the new agreement helps put Commissioner Bud Selig's legacy in order but doesn't agree with the new limits imposed on spending on...
MLB News

Delivered to your inbox

You'll also receive Yardbarker's daily Top 10, featuring the best sports stories from around the web. Customize your newsletter to get articles on your favorite sports and teams. And the best part? It's free!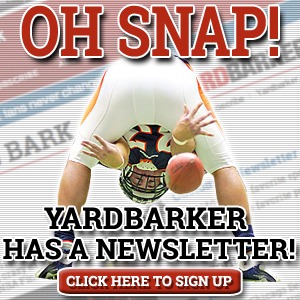 Latest Rumors
The Backyard

Today's Best Stuff

For Bloggers

Join the Yardbarker Network for more promotion, traffic, and money.

Company Info

Help

What is Yardbarker?

Yardbarker is the largest network of sports blogs and pro athlete blogs on the web. This site is the hub of the Yardbarker Network, where our editors and algorithms curate the best sports content from our network and beyond.