Found March 21, 2013 on Cardinals Fan in Cubs Land:
When the Cardinals made their qualifying offer to Kyle Lohse, they were counting on two things: (1) that Lohse and greedy agent Scott Boras would like turn it down and (2) as a result they would get a draft pick from the supplemental round (between the first and second rounds of the draft). However, that may no longer be the case. Any team who signs Lohse would lose their first round pick, along with the allotted dollars for that pick and that is the main factor deterring teams from signing Lohse (along with his still high asking price). According to the CBA, if a team waits until after the June draft, they would not lose their first round pick for signing Lohse.  In addition, the Cardinals would lose their draft pick compensation if Lohse does not sign before the next June draft.  Thus, there's been speculation that Lohse would wait until after the June draft to sign. However, according to Peter Gammons, Boras insisted that Lohse wouldn't have to wait that long, indi...
Original Story:
http://cardinalsfancubsland.blogspot....
THE BACKYARD
BEST OF MAXIM
RELATED ARTICLES
In a move that is mildly surprising, the Cardinals released infielder Ronny Cedeno yesterday. Cedeno, who was brought in as a backup to Rafael Furcal, quickly became expendable when it was determined that Matt Carpenter could handle the second base job and Pete Kozma won the short stop job.  This allowed the Cardinals to use Daniel Descalso as their backup short stop and, with...
The St. Louis Cardinals sent home one unproductive veteran player Tuesday in their latest round of cuts, and they need to do the same with another, even if it costs the team a relatively large amount of money. The Cardinals brought Ronny Cedeno in to spring training as an insurance policy at the shortstop position since Rafael Furcal did not recover from an elbow injury he suffered...
Recently, I have released my top 20 Cardinals prospects for 2013 at my site, cardinalsfarm.com. The Cardinals are in a good spot with these prospects in that many of them are probably going to contribute at the major league level this year. In the top 10, the Cards could see six make appearances in the majors this year (Michael Wacha, Kolten Wong, Shelby Miller, Trevor Rosenthal...
The Texas Rangers have continuously been linked to pitcher Kyle Lohse yet continue to publicly deny interest in the free agent. Lohse has been linked to a variety of teams over the winter but thus far all have denied any interest in the right hander. The failure of Lohse to sign a deal is a combination of two things CLICK TO READ MORE COMENTARY
FOX Sports Midwest will air a 30-minute St. Louis Cardinals Season Preview premiering Saturday, March 23 at 11:30 a.m. and replaying five times before opening day. I was around Dan McLaughlin, Pat Parris and producer Max Leinwand while they were working on the special in Jupiter and there should be some meaty content for Cardinals minor league fans included, as well. St. Louis Cardinals...
The St. Louis Cardinals, according to many sources, seem to be searching for starting pitching. The one thing the team has made sure that everyone is well aware of is the depth of starting pitching in this organization.  If that is true, then why the search for another arm in the rotation? According to Derrick Goold of The St. Louis Post Dispatch, it appears the team feels the...
On Friday, the St. Louis Cardinals had a camp day, with Memphis taking on Springfield and Palm Beach opposing Peoria on the back fields of Roger Dean. There was also an intersquad game. Triple-A Memphis defeated Double-A Springfield while major leaguer Ty Wigginton helped Class-A Peoria tie A-Advanced Palm Beach. It was a rough day for pitching, as 14 of the 21 hurlers reported...
David Freese homered in his first game in a week and the St. Louis Cardinals beat the New York Mets 3-2 Thursday. Freese had been out since March 14 with back stiffness stemming from a hard fall he took while chasing a foul ball. The 2011 World Series MVP hit a leadoff home run in the fourth and played five innings in the field. Mets infielder Justin Turner got a hit in his return...
FOX Sports Midwest will air a 30-minute Cardinals Season Preview premiering Saturday, March 23 at 11:30 a.m. and replaying several times before opening day. Cardinals Season Preview on FOX Sports Midwest Saturday March 23 11:30 a.m. Sunday March 24 11 a.m. Monday March 25 9 p.m. Wednesday March 27 3 p.m. Sunday March 31 10 p.m. Monday April 1 7:30 p.m. FOX Sports Midwest will also...
Here are the results from the minors yesterday; a couple of close games, and 1 huge blowout for the bad guys. Memphis got drilled, but the hitting was OK (not enough to overcome the pitching though). Minor League Highlights – 3/21 Memphis lost to Las Vegas, 19-6 Memphis Pitching Nick Additon 1.1 IP, 4 H, 6 ER, 3 BB, 2 K's Michael Blazek 1.2 IP, 4 H, 2 ER, 2 BB, 2 K's Barret...
Just a quick update; the 4 farm teams played against each other. Minor League Highlights – 3/20 Memphis defeated Springfield,4-2 Memphis Pitching John Gast 3 perfect IP, 2 K's Eduardo Sanchez 1.2 IP, 4 H, 1 BB, 3 K's Deryk Hooker 2 IP, 3 H, 1 BB Victor Marte 2 IP, 2 H Dixon Llorens 1 IP, 3 H, 2 ER, 1 BB Memphis Hitting Tommy Pham 1-for-2 with a 2-run HR and a sac fly Ryan...
(Photo: Lohse doing his Tony LaRussa impersonation.) After the Brewers failed to secure the services of longtime nemesis Ryan Dempster, the next best option on the free agent market seemed to be Kyle Lohse.  Considering that the Brewers' 2011 division title was attributable in no small part to the acquisitions of Zack Greinke and Shaun Marcum, it's understandable that fans...
Cardinals News

Delivered to your inbox

You'll also receive Yardbarker's daily Top 10, featuring the best sports stories from around the web. Customize your newsletter to get articles on your favorite sports and teams. And the best part? It's free!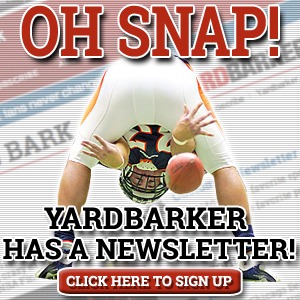 Latest Rumors
Best of Yardbarker

Today's Best Stuff

For Bloggers

Join the Yardbarker Network for more promotion, traffic, and money.

Company Info

Help

What is Yardbarker?

Yardbarker is the largest network of sports blogs and pro athlete blogs on the web. This site is the hub of the Yardbarker Network, where our editors and algorithms curate the best sports content from our network and beyond.