Found July 12, 2012 on Philliedelphia:
PLAYERS:
Michael Bourn
,
Brad Lidge
,
Eric Bruntlett
,
Shane Victorino
,
Ryan Madson
,
Jonathan Papelbon
,
Scott Boras
,
Jimmy Rollins
,
Cole Hamels
,
Joe Blanton
,
Placido Polanco
,
Jose Contreras
,
Ty Wigginton
,
Melky Cabrera
,
BJ Upton
,
Jiwan James
,
Tyson Gillies
TEAMS:
Atlanta Braves
,
Washington Nationals
,
Philadelphia Phillies
,
Cincinnati Reds
,
San Francisco Giants
,
Tampa Bay Rays
Photo Courtesy of Corey Shaw There seems to be a ton of talk about former Phillies outfielder and current Atlanta Braves leadoff man Michael Bourn.   Bourn has developed into one of the top leadoff hitters in the game since being traded as part of the deal that landed Brad Lidge and Eric Bruntlett.  You might even say that the Phillies traded Bourn for a World Series title.  I think fans are satisfied with that. Since the Phillies are facing a hole in center field with the free agency of Shane Victorino, many have started to speculate that Michael Bourn could be a free agent target of the Phillies in the offseason.   Just as the Phillies were looking to turn in Ryan Madson for an upgrade in Jonathan Papelbon, they could take the same approach with Victorino and Bourn.  For the difference in pay, Bourn may be much more productive. So far the Inquirer's Bob Brookover advocates signing Michael Bourn, as he repeatedly voiced in Monday's Philly.com chat: To me, if you add a...
Original Story:
http://www.philliedelphia.com/phillie...
THE BACKYARD
BEST OF MAXIM
RELATED ARTICLES
Michael Bourn, Jason Heyward and Martin Prado molded into baseball's top outfield in one year's time.
Manager Fredi Gonzalez has set his second-half rotation with right-hander Tim Hudson pitching versus the Mets on Friday, followed by right-hander Tommy Hanson. Right-hander Jair Jurrjens will face the Giants in the first of a three-game series beginning on July 17. Who starts on July 15 depends on how right-hander Ben Sheets progresses with his minor league starts. Currently, Sheets...
Chipper Jones said in a speech before Tuesday's MLB All-Star Game that he wasn't going out losing. He and the rest of the National League squad made sure that was the case, dominating the American League and walking away with an 8-0 victory and home-field advantage in the upcoming World Series. Jones received just one at-bat in the contest, and it came in the sixth inning...
"Look grandpa! Baseball!" And so, 19 year old Bryce Harper is apparently glued to 80 40 year old Chipper Jones' side on the top step of the NL dugout during the All-Star Game. That's a good thing. Interestingly, during his pregame speech to the NL All-Stars Chipper Jones revealed that Harper nearly killed one of his kids with a line drive during BP. Still...
If you're a diehard baseball fan and your younger years land somewhere in the 1990s, chances are you have a soft spot for Chipper Jones. OK, maybe Mets fans feel a little differently, and perhaps cable wasn't readily available in some households. But for most others, Jones was the face of Braves baseball on TBS, and you watched Braves Baseball on TBS. Don't lie. You know...
Uh, accidentally hit publish early - come back later for the rest! :) photo from the MLB Fan Cave Facebook page   Pictures! Videos! Kimmie in his purple shirt. I love it, and I don't like purple. Chipper in his Chipper truck Do you think the little Ugglas will remember being in the parade? The only Bourn truck picture we could find. Wish we'd found one where he was smiling...
You gotta love it. He's 40 years old and still has a love for the game that most people would be lucky to feel once in their life. The All Star game may be a poorly run show, but it's certainly a special moment for the newbies and the older players. Of course Chipper got a hit in his only at bat and now he'll head back to Atlanta where every 5th game is a scheduled off day...
KANSAS CITY, MO.-- This wasnt another alleged conspiracy, the equivalent of the fastball that Chan Ho Park supposedly grooved to Cal Ripken Jr. in 2001, enabling Ripken to hit a home run in his final All-Star Game. Let the record show that Rangers second baseman Ian Kinsler actually did try to field the slow, five-hopper by the Braves Chipper Jones through the first-base hole on...
After beginning the 2012 season as the rookie shortstop for the Atlanta Braves, Tyler Pastornicky is continuing to improve his game in Triple-A. He came out of Spring Training with a starting spot in Atlanta but was moved to Gwinnett after the Braves decided to call up Andrelton Simmons from Double-A. Since then, he has not been discouraged and continues to improve in every aspect of his game.
There's a small update to the Beliefs in Baseball event on Saturday -- it's now at 2pm. Have you bought your tickets yet? I'll be there! Facebook event ~ * ~ * ~ * ~ * ~ * ~ * ~ * ~ * ~ * ~ * ~ * ~ * ~ We are hosting our first annual Beliefs in Baseball event Saturday, July 14th. Bring your group out to hear Sid Bream, Matt Diaz, and Atlanta Braves team chaplain, Jay...
Watch as Chipper Jones gives an inspiring speech before his final All-Star Game appearance.
MLB News

Delivered to your inbox

You'll also receive Yardbarker's daily Top 10, featuring the best sports stories from around the web. Customize your newsletter to get articles on your favorite sports and teams. And the best part? It's free!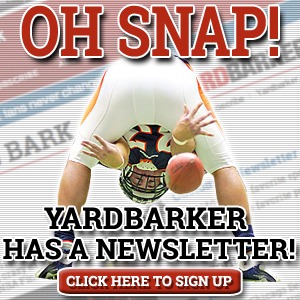 Latest Rumors
Best of Yardbarker

Today's Best Stuff

For Bloggers

Join the Yardbarker Network for more promotion, traffic, and money.

Company Info

Help

What is Yardbarker?

Yardbarker is the largest network of sports blogs and pro athlete blogs on the web. This site is the hub of the Yardbarker Network, where our editors and algorithms curate the best sports content from our network and beyond.