Found September 24, 2013 on Fox Sports Arizona:
PLAYERS:
Kevin Towers
,
Kirk Gibson
,
Justin Upton
,
Paul Goldschmidt
,
Cody Ross
,
Martin Prado
,
Randall Delgado
,
Chris Johnson
,
Willie Bloomquist
,
Nick Ahmed
,
Didi Gregorius
,
Chris Owings
,
Stephen Drew
,
Archie Bradley
,
Tyler Skaggs
,
Aaron Hill
,
Adam Eaton
,
Miguel Montero
,
Eric Chavez
,
Brandon McCarthy
,
Trevor Cahill
,
JJ Putz
TEAMS:
Arizona Diamondbacks
,
Atlanta Braves
,
Boston Red Sox
SAN DIEGO -- The Diamondbacks did not upgrade their payroll to about 90 million to field a team that will finish near .500 for the second straight season. That much is clear.While D-backs managing partner Ken Kendrick said Tuesday that he, like most, is disappointed with the D-backs' mediocre season, he also said that he is convinced that general manager Kevin Towers and manager Kirk Gibson are the right men for their jobs, if that were ever in question."Absolutely," Kendrick said when asked if Towers and Gibson will be back in 2014."They've performed well. They're established with us. We believe in them. When the results on the won-loss side are not what you hoped for, you look at everybody. We have things we can talk about, and we know we need to do better jobs. Obviously this year is not what we hoped for, but I'm confident we will be better."It's a very competitive business. You are defined by your competition, and the Dodgers have stepped up their game. We'll look at where we need to improve and discuss what to do."The D-backs could increase their payroll again next season, even after the D-backs' spending reached its highest level since 2002, Kendrick said, but "we are not about to spend that amount" -- referring to the Dodgers' 215 million commitment.Kendrick said he believes significant injuries helped derail the D-backs, although no one in the organization wants that to be construed as an excuse. He also said he likes the work Towers has done in building the farm system, that he believes the season demonstrated that the Justin Upton trade was a positive, and that he feels the team is in a position to trade from strength when the the off-season market opens.With the talent glut on the left side of the infield and the potential need of another power bat to pair with Paul Goldschmidt -- depending on how Cody Ross recovers from his fractured hip -- Kendrick made it sound as if a move or two was inevitable. Adding to the starting rotation is "definitely a possibility," Kendrick said"We'll make offseason changes," he said. "You could trade some established players. You could trade younger kids because their value is at a high level. If I'm Kevin, I'm feeling pretty good about the talent I have. "With the array of players, both veterans and young players with good value in our minor league system, we're well-positioned to take advantage of one of the things Kevin does very well, make player moves."The Upton trade was widely panned in national circles when it was made last January, but the Diamondbacks believe the contributions of Martin Prado and Randall Delgado have been comparable to what Justin Upton and Chris Johnson have given the Braves.Prado is hitting .280 with 12 homers and 79 RBI, while Upton is hitting .261 with 26 homers and 67 RBI. Prado's WAR of 1.9 is just short of Upton's 2.2. Johnson has had perhaps the most unexpected season, hitting .327 with 11 homers and 66 RBI, tilting the offensive edge to Atlanta. Delgado has been a pleasant surprise since joining the rotation by necessity in June and staying there by merit the rest of the year.Of the D-backs' four shortstops, free agent Willie Bloomquist is unlikely to return, but the D-backs have a top glove man in Nick Ahmed (obtained in the UptonJohnson deal) at Class AA Mobile and could deal from strength there. At the same time, Kendrick said, Didi Gregorius and Chris Owings could tag-team the position until and unless one separates himself."All of a sudden, from Stephen Drew missing and having a hole there we have young guys, all with talent competing to be our future. It could help in a significant offseason addition," Kendrick said.The starting rotation and bullpen played below expectations, with injuries also factoring in, and Kendrick said he expects top prospect Archie Bradley and Tyler Skaggs to compete for rotation jobs next season. Bradley, the seventh player taken in the 2011 draft, was the D-backs' minor league pitcher of the year with an arsenal that includes a 98 mph fastball. Scouts said he needed to refine his secondary stuff, but that should come with time."Bradley is going to have his day," Kendrick said. "Whether it is next season, you don't know, but he has the potential for making this club next year. Tyler has not had as good a year as we would have expected, but he still has the potential to be a top of the rotation starter."Kendrick took notice that Gibson was able to field his regular 25-man group very infrequently because of long-term injuries to Ross, Aaron Hill, Adam Eaton, Bloomquist, Miguel Montero, Eric Chavez, Brandon McCarthy, Trevor Cahill and J.J. Putz. "I think Kirk has been hamstrung by not having all the players available. It makes it tough to manage the club," Kendrick said."I'm very supportive of our leadership. I think they can get better in certain ways. You look at Kirk. He'd be a junior in college now (in his third year) as a manager. He's not in graduate school. He's not a senior. I learned a lot in graduate school. You would expect he will do the same. He is very dedicated to success, very determined."I think we may have to get him more reliable talent, or maybe talent that is even better."Follow Jack Magruder on Twitter
Original Story:
http://www.foxsportsarizona.com/mlb/a...
THE BACKYARD
BEST OF MAXIM
RELATED ARTICLES
The Diamondbacks on Monday named pitcher Archie Bradley and shortstop Chris Owings the organizations pitcher and player of the year, respectively. Chris Owings and Archie Bradley had exceptional seasons, Diamondbacks director of player development Mike Bell said in a statement. Both Chris and Archie's stats are among the best in all of minor league baseball, and their character...
Last week, the Los Angeles Dodgers clinched the National League West title, the team's first since 2009. Unfortunately, they were in Phoenix at the time for a series against the Arizona Diamondbacks, not the friendly environs of Dodger Stadium. Reports indicate that the Diamondbacks organization specifically asked the Dodgers not to celebrate on the field […]The post Sportswriter...
Didi Gregorius tripled home the tiebreaking run in the 12th inning to lift the Arizona Diamondbacks over the San Diego Padres 2-1 on Tuesday night. Paul Goldschmidt hit his NL-best 36th homer for the Diamondbacks, extending his hitting streak to 14 games and increasing his league-leading RBI total to 124. Gregorius tripled down the right-field line against Luke Gregerson (6-8)...
SAN DIEGO -- Didi Gregorius tripled home the tiebreaking run in the 12th inning to lift the Arizona Diamondbacks over the San Diego Padres 2-1 on Tuesday night. Paul Goldschmidt hit his NL-best 36th homer for the Diamondbacks, extending his hitting streak to 14 games and increasing his league-leading RBI total to 124. Gregorius tripled down the right-field line against Luke Gregerson...
As pitches go, it's one Arizona Diamondbacks starter Brandon McCarthy wished he had back. ''I felt good but I made a couple of mistakes, including the one to (Nick) Hundley, and it cost us,'' McCarthy said. McCarthy had won two straight starts against the San Diego Padres but he couldn't make it three as Hundley's three-run homer was the difference in...
The San Diego Padres pitcher looked familiar, producing an outing the Arizona Diamondbacks once saw on a regular basis. ''He was more like the way he (used to) pitch,'' Diamondbacks catcher Miguel Montero said. ''The last time I faced him, he was throwing too much secondary stuff and was falling behind in the count. Then, 3-0, 3-1, you just have to throw...
SAN DIEGO -- Kevin Towers and Kirk Gibson plan to meet Monday to evaluate player personnel and the coaching staff, the object being to make sure the two groups mesh. Part of the discussion will involve "particular players we need to get to. Things we need to work on," Towers said."What are the strengths of our staff? What are the weaknesses of our staff? Do we have...
The Los Angeles Dodgers caused a controversy when they jumped into the swimming pool beyond the fence at Chase Field after beating the Arizona Diamondbacks to clinch the NL West last week. D-backs infielder Willie Bloomquist ripped the Dodgers, calling their celebration "disrespectful and classless." We agreed with him that the celebration was classless, but […]
The Diamondbacks set a major-league record for extra innings played in a single season while taking a 2-1 victory in 12 innings over the San Diego Padres at Petco Park. The three extra innings gave the Diamondbacks 78 extra innings this season two more than the 1969 Minnesota Twins. The Diamondbacks scored first on Paul Goldschmidt's sixth-inning solo homer but the Padres tied...
MLB News

Delivered to your inbox

You'll also receive Yardbarker's daily Top 10, featuring the best sports stories from around the web. Customize your newsletter to get articles on your favorite sports and teams. And the best part? It's free!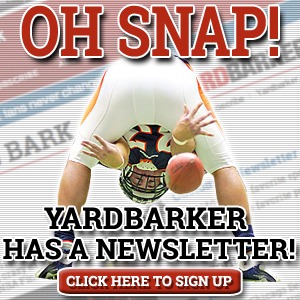 Latest Rumors
The Backyard

Today's Best Stuff

For Bloggers

Join the Yardbarker Network for more promotion, traffic, and money.

Company Info

Help

What is Yardbarker?

Yardbarker is the largest network of sports blogs and pro athlete blogs on the web. This site is the hub of the Yardbarker Network, where our editors and algorithms curate the best sports content from our network and beyond.