Found March 18, 2013 on Fox Sports Arizona:
PLAYERS:
Wade Miley
,
Randall Delgado
,
Kirk Gibson
,
Tyler Skaggs
,
Patrick Corbin
,
Adam Eaton
,
Andre Ethier
,
Gerardo Parra
,
Justin Upton
TEAMS:
Arizona Diamondbacks
,
Los Angeles Dodgers
,
Atlanta Braves
GLENDALE, Ariz. The Diamondbacks received some encouraging signs from their starting rotation Monday, when Wade Miley showed well in a camp game and rotation contender Randall Delgado had a third straight strong appearance. Despite missing a start because of arm fatigue, Miley can get enough work to be ready for his first regular-season start on April 3 against the Cardinals, D-backs manager Kirk Gibson believes. Delgado continued to assert himself in a thinned field for the final rotation spot, pitching five innings in the D-backs 5-3 victory over the Dodgers a few hours after Tyler Skaggs was eliminated from the competition and optioned to Class AAA Reno. Delgado gave up two runs in five innings, the Dodgers scoring twice in the fifth on a groundball single, a bunt single, two stolen bases and another single that drove in two. Gerardo Parras throw from center to the plate was in time to nail Dee Gordon, the second runner, but it bounced out of Miguel Monteros glove. Delgado and left-hander Patrick Corbin are the remaining candidates for the No. 5 spot in the rotation. And while the D-backs have said that a second lefty to accompany Miley would be the choice in a perfect world, Delgado has come on strong, giving up two runs in his last 10 23 innings. He said Skaggs demotion would not change his approach. I just try to keep the same mentality, he said. Delgado was helped by his outfielders Monday. Adam Eaton turned a fly ball into a double play when he caught Andre Ethier returning late to first base on a fly out in the second inning, and Gerardo Parra made a diving catch in center field with one out and a runner on second base in the fourth. Everybody played well. When you play like that, you play with more confidence, Delgado said. I tried to throw what Montero was calling behind the plate. One of the pieces obtained from the Braves in the Justin Upton trade, Delgado seems to have settled in nicely in his first camp with the D-backs. He hit 95-96 mph in his previous start, Gibson said, and usually sits in the low 90s, plenty of velocity. I do that every year, Delgado said. "You go a lot of months without seeing a hitter. It was a new team. I talk with everybody, and that makes me feel more confident. I practice every day and try to be better." Gibson can see Delgado coming along nicely. He is building confidence, no question. He is getting more familiar with his team, his catchers. He just has to trust his stuff, Gibson said. "He was facing a pretty good lineup today. They didnt bite on a lot of his secondary stuff. He got in trouble, but he got out of it. Hes trying to get more consistent with his pitches. Hes close." Miley hit 93 mph with one fastball and was in the 90s on several others while throwing against a team of Diamondbacks minor leaguers at Salt River Fields. He threw 26 pitches in two innings in what was his first appearance in a game since March 7. He was scratched from a March 12 appearance because of arm fatigue after topping out at 82-83 mph in the previous start. I felt good. It was good to get back out there and have some success, Miley said, adding that the time off helped out a lot, I guess. It did feel a whole lot better, and I was able to locate. When I wanted to go in, I went in. Miley gave up a looping single to left field in the second but got out of the inning on a double-play grounder on a 73 mph curveball, a pitch he is hoping to use more this season. If Miley reports no lingering issues Tuesday, the D-backs believe he will be able to progress quickly enough to open the season as scheduled in the No. 3 spot in the rotation. He has pitched six innings this spring, counting his two innings Monday. His next start could come Sunday. Everything looked great," pitching coach Charlie Nagy said. "Its one of those things where it really wasnt an injury. It was fatigue, dead arm, whatever you want to call it. You can take big strides with that. You can go from here to four (innings), to four to six and go from there." EATON GETS A BREATHER Adam Eaton singled, tripled, scored a run and doubled a runner off first base in the first 2 12 innings, and that was enough for Gibson to see. Eaton, who started in right field, was replaced on defense in the last of the third inning after tripling in a run in the top of the inning and scoring on a one-out grounder. He slid headfirst into third base on his triple to left-center and left the field between innings with trainer Ken Crenshaw, but no injury was involved. Eaton is hitting .382 with 21 hits in 55 at-bats. I just want to slow him down a little bit. Got him a couple of at-bats. He was aggressive on the bases, made a good throw, Gibson said. Its getting him ready. We want to keep him sharp, continue to play him, let him get used to some situations. Hes really engaged in what is going on out there, Gibson said. Gibson joked with Eaton when he brought him out. Youre done, you little bastard, Gibson said.
Original Story:
http://www.foxsportsarizona.com/mlb/a...
THE BACKYARD
BEST OF MAXIM
RELATED ARTICLES
SCOTTSDALE, Ariz. Willie Bloomquist was in town for less than a day before he was back in the Diamondbacks lineup. After getting two at-bats and playing six innings in the field in two weeks with Team USA in the World Baseball Classic, Bloomquist was anxious to do more. He talked his way into the game Sunday in a meeting with manager Kirk Gibson. It (WBC) was a great experience...
SCOTTSDALE, Ariz. Trevor Cahill has altered his diet to eliminate foods his body tolerates with reluctance. He has redistributed his weight through offseason training sessions, and the Diamondbacks have seen a more agile man off the mound this spring. Lest anyone believe the D-backs do not appreciate the changes, here is what Kirk Gibson had to say before Cahills fourth spring...
Outfielder Cody Ross (calf) ran at 50 percent of his weight-bearing load on a treadmill Tuesday and took batting practice later. There seems to be some concern as to his availability for Opening Day. Dont know yet, general manager Kevin Towers said. Were erring on the side of being cautious. We dont want to rush him. Ross has seven at-bats this spring. If for some odd reason...
The three-man competition for the fifth spot in the Diamondbacks' starting rotation was trimmed to two Monday when Tyler Skaggs was optioned to Triple-A Reno. Skaggs, a left-hander who's considered one of the team's top prospects, had struggled for much of camp, making five starts and getting hit hard in all but one. In his last appearance on Saturday, he went 2 23 innings...
The Arizona Diamondbacks have optioned left-hander Tyler Skaggs to Triple-A Reno, narrowing the list of candidates for the team's fifth starting spot. Skaggs, fellow lefty Patrick Corbin and right-hander Randall Delgado had been vying for the final spot in the Arizona rotation. But Skaggs had struggled in outings this spring. Corbin helped his status with a solid outing this...
The Arizona Diamondbacks have placed outfielder Jason Kubel on the 15-day disabled list with a strained left quadriceps and activated outfielder Cody Ross. Kubel says he felt a problem in his leg in the final game of a series in Milwaukee on Wednesday. He was out of the lineup Friday but made a pinch-hit appearance, singling in the eighth inning in a 3-0 victory over the Los Angeles...
Arizona Diamondbacks outfielder Cody Ross continues to be hampered by a left camp injury, which manager Kirk Gibson admitted could cause the offseason acquisition to begin the year on the disabled list, according to Steve Gilbert of MLB.com. Gibson notes that Ross seems to be recovering from his injury slower than expected. "It's just been slow,&quot...
SCOTTSDALE, Ariz. When it comes to aggressiveness on the bases, the Diamondbacks are not really trying anything new this spring. They are simply trying to do what they like to do better. Running into outs was a problem in 2012, and it goes without saying that D-backs need to improve there to make their somewhat-smaller-ball style work this season. They understand. Kirk Gibson confronted...
Aaron Hill is a wealthier man this year, Trevor Cahill a slimmer one. Both had their best days of the spring in the Arizona Diamondbacks' 9-1 victory over the Los Angeles Dodgers in a split-squad game Sunday. Hill - who signed a contract that will earn him $40.5 million over the next four seasons - homered, doubled and singled while driving in four runs. Cahill - on a diet...
Patrick Corbin had another strong spring start, pitching into the fifth inning Sunday as the Arizona Diamondbacks beat the San Diego Padres 8-6 in a game between split squads. The left-hander who threw 107 innings in the major leagues last season and is competing for the No. 5 spot in the starting rotation, allowed one run on nine hits in 4 2-3 innings. He struck out four. Diamondbacks...
The U.S. is 0 for 3 so far at World Baseball Classics as the Americans were eliminated from the 2013 tournament on Friday March 15 after dropping a 4-3 decision to Puerto and a 38-year-old pitcher named Nelson Figueroa. The right-hander led his teammates to their glorious win and will now head into the event's semifinal stage. Figueroa said his team was the underdog and it motivated...
MLB News

Delivered to your inbox

You'll also receive Yardbarker's daily Top 10, featuring the best sports stories from around the web. Customize your newsletter to get articles on your favorite sports and teams. And the best part? It's free!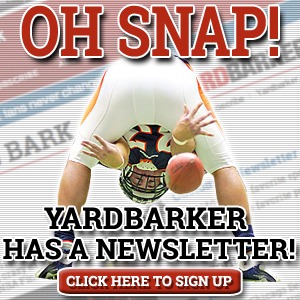 Latest Rumors
The Backyard

Today's Best Stuff

For Bloggers

Join the Yardbarker Network for more promotion, traffic, and money.

Company Info

Help

What is Yardbarker?

Yardbarker is the largest network of sports blogs and pro athlete blogs on the web. This site is the hub of the Yardbarker Network, where our editors and algorithms curate the best sports content from our network and beyond.