Found February 20, 2012 on Fox Sports Arizona:
Joe Saunders had two words for his offseason. Weird. Crazy.They seem as good as any. Saunders was a Diamondback. Then he was not. Then he was again, becoming the final piece in a starting rotation that appears as solid as any in the pitching-rich National League West. The experience of being temporarily on the job market made him stronger mentally and physically -- and maybe even a little bit sexier. My wife said my butt has gotten a little bit smaller, Saunders said with a smile, the result of all the extra work he has done to prepare for this season and beyond. Even before Saunders spent two months in limbo, he was a regular at the D-backs' training facility at Salt River Fields, with help and encouragement from strength and conditioning coach Nate Shaw. Not only is it a big year for me, but it is a big year for the team. I wanted to come up here and see what I could do for myself. I feel like Im in the best shape Ive ever been in heading into a spring training, said Saunders, beginning his second spring with the D-backs and his eighth in the major leagues. Just working hard and trying to get after it. Everybody says, 'Hey, you lost weight.' No, I havent lost weight. Maybe it has gone to my toes or something like that. Saunders does seem more chiseled as he prepares for a big year, a contract year. He will become a free agent at the end of the season, and the market for quality, innings-eating left-handers is always at a premium. No telling what he could command this winter, although all things considered, he still would rather remain a Diamondback.Saunders held the same position last offseason, but it seemed that was not to be when the D-backs did not offer him a contract at the early-December deadline for arbitration-eligible players, fearing the cost (maybe 8.5 million) if he were to accept arbitration. The D-backs offered a two-year deal and the Saunders camp came back with a three-year counter, but the numbers did not mesh, so Saunders became a free agent. After they non-tendered me, we pretty much figured that wed parted ways. Thats the funny thing about this game. You think you are done and then, OK, the Diamondbacks want you back, Saunders said. Saunders received feelers from a half-dozen teams before the sides renewed contact, leading to a one-year, 6 million deal that pushed the D-backs, willingly, over their projected budget. Once they got to 6 million, it was pretty easy. Go get them this year and see what we can do, Saunders said. Its a process, and when you have gone through a process like that, it gets kind of frustrating and you start to get a little impatient. But you have to sit back and let the chips fall where they may, because you have no say in anything. I always wanted to come back here. The D-backs always wanted Saunders back, general manager Kevin Towers was quick to point out, saying the business side of the equation was misinterpreted as a lack of interest. They had their sights set on what they thought the appropriate number was, and we thought differently. Ultimately, they came back to us. We saw the value of the deal they approached us with, and he probably took a little to stay here because of comfort level. Its home. He knows his teammates. Knows the division. It worked out well in the end, and thats all I care about, Towers said. Towers also said he sees a different look to Saunders this season. Hes been busting his tail in the offseason, coming into camp in great shape and ready. Last year probably wasnt in as good a shape as he was in the past and thus the kind of slow spring and slow start. Ive seen a guy who has been very focused and very determined so far this winter, Towers said. I think this year youll probably see a little bit different guy. The D-backs would take the guy they saw in 2011, when he was 12-13 with a 3.69 ERA in a career-high 212 innings. After overcoming a nagging hip injury that was partly responsible for an 0-5 start, Saunders was 12-8 with a 3.20 ERA and 16 quality starts over the final 4 12 months. The D-backs won 15 of hislast 25 starts. The No. 3 starter a season ago, Saunders might drop to No. 4 this season with the addition of right-hander Trevor Cahill to the Ian KennedyDaniel Hudson 1-2 punch, not that it matters. The rotation is unbelievable. On paper this team has gotten even better than where we were last year. You cant be excited enough to come back. K.T. (Towers) did such a good job of adding and not subtracting, and that was one of the main reasons I wanted to come back, Saunders said. I saw the moves they made and I said, OK, this team is still going to be good. Lets try this out."Follow Jack Magruder on Twitter
Original Story:
http://www.foxsportsarizona.com/02/20...
THE BACKYARD
BEST OF MAXIM
RELATED ARTICLES
Saunders might not have received maximum value or security when he signed a surprise one-year, $6 million deal last month. But the way he sees it, some things are more important.
What else can baseball fans do in January but dream of October? In You May Say I'm a Dreamer, the Outside Corner staff will imagine the route to a World Series in 2012 title for all 30 teams. The Arizona Diamondbacks are the 2012 World Series champions!  A year after their brilliant "worst to first" campaign, the D-Backs proved they are here to stay after their thrilling...
PHOENIX -- Kirk Gibsons offseason letter to his players came with a warning. I told them if they werent in shape, theyd have a tough spring," Gibson said when camp opened Sunday. Dont get Gibson and the Diamondbacks wrong -- they are proud of their success last year, and they believe the reservoir of confidence gained will help moving forward. But make no mistake: Reaching...
J.J. Putz's job description with the Diamondbacks isn't limited to the ninth inning. He's also the team prankster, mentor, occasional spokesperson and clubhouse uniter.
Though he somewhat flew under the radar, reliever David Hernandez was a key part of the unexpected success the D-backs had last year en route to winning 94 games and the National League West.
In addition to monitoring the workload of reliever Takashi Saito, the D-backs plan to take it easy on closer J.J. Putz this spring.
There were not a lot of nerves for D-backs No. 1 pick Trevor Bauer as he threw his first bullpen session of the spring Tuesday.
Notes: Perhaps none bigger than the two-year, $15.5 million deal given to free-agent outfielder Jason Kubel, who likely will replace Gerardo Parra as the primary left fielder.
D-backs GM Kevin Towers and manager Kirk Gibson are well aware of the perception that the starting rotation is already set, and they will do the best they can to not let it permeate the clubhouse.
Diamondbacks News

Delivered to your inbox

You'll also receive Yardbarker's daily Top 10, featuring the best sports stories from around the web. Customize your newsletter to get articles on your favorite sports and teams. And the best part? It's free!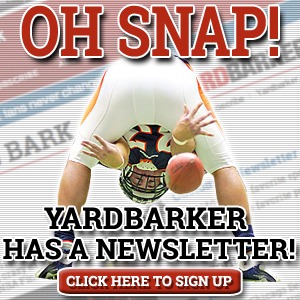 Latest Rumors
The Backyard

Today's Best Stuff

For Bloggers

Join the Yardbarker Network for more promotion, traffic, and money.

Company Info

Help

What is Yardbarker?

Yardbarker is the largest network of sports blogs and pro athlete blogs on the web. This site is the hub of the Yardbarker Network, where our editors and algorithms curate the best sports content from our network and beyond.