Found February 21, 2012 on Fox Sports Arizona:
SCOTTSDALE, Ariz. -- When the Diamondbacks signed reliever Takashi Saito to a one-year contract this offseason, they knew exactly what they were getting into. They were so aware of the 42-year-old's injury history they didnt even have him take a physical, because they knew he would probably fail it. The Diamondbacks decided Saito was worth the risk. "We felt that the risk wasn't that big of a risk for us," Diamondbacks general manager Kevin Towers said Monday. "We thought that his skill set and what he could bring to the club far outweighed the risk." Saito made just 30 appearances for the Brewers last season, compiling a career low 26 23 innings. The right-hander pitched just twice in the first week of the season before going on the disabled list with the first in a string of injuries, hamstring tightness. While getting that issue worked out, Saito suffered a strained oblique. Saito also experienced shoulder tightness while rehabbing the oblique but finally came off the disabled list just before the All-Star Break. The injuries cost Saito about half the season, but he still played a key role in the bullpen that helped the Brewers win the NL Central and reach the NLCS. In typically light duty -- pitching on back-to-back days just once -- Saito posted a 2.03 ERA, the third-best mark of his career and best since 2007. His WHIP (walks and hits per innings pitched) was only slightly higher than his 2010 mark, but he also collected a career low in strikeouts per nine innings. Against the D-backs in the NLDS, Saito threw three scoreless innings and allowed just two hits. With such efficiency, it's hard not to wonder what Saito might have accomplished in a healthy season. The D-backs hope to find out, and that starts with taking things slow this spring so he's properly conditioned come Opening Day. "That wasnt the way it went last year," D-backs manager Kirk Gibson said. "I talked to Ron Roenicke, his manager from last year, about that and he said (Saito) just got behind. So we don't want him to go too far and pull a hamstring like he did last year. His program will be a little different." Gibson said Saito will take on a lighter load in pickoff drills and fielding practice. Saito said he's about midway through the conditioning program he started upon returning to Japan after last season and plans to reach full strength in the next month. "Of course I have confidence that I will be able to stay healthy this year," Saito said Monday through interpreter Shigenari Matsumoto. "Conditioning is the highest priority this spring." Towers said based on everything the team has heard over the past few seasons that Saito would have failed a physical. D-backs advanced scout Mark Weidemaier, who was with the Dodgers at the same time Saito was, even said Saito's arm could go with one pitch. Despite such pessimism, the D-backs are confident he can strengthen a bullpen. "You just have to watch how you use him and utilize him in games," Towers said. "He's in great shape, and he's been about as consistent a reliever as any I can think of in the game over the last five years." Said Gibson: "The biggest thing he has is that he closed, and he was very good at it. It takes a different bird to be able to do that. You have to have a certain mentality, a certain thought process and a certain belief and confidence in your pitches." Saito said he feels healthy and looks forward to the prospect of a full season. But at 42 and given his recent injury history, he knows it's no given. "I have confidence if I'm healthy that I can maintain what I've done in the past," Saito said. "But I also understand how difficult that is. The everyday process of training is very important."
Original Story:
http://www.foxsportsarizona.com/02/21...
THE BACKYARD
BEST OF MAXIM
RELATED ARTICLES
Joe Saunders had two words for his offseason. Weird. Crazy.They seem as good as any. Saunders was a Diamondback. Then he was not. Then he was again, becoming the final piece in a starting rotation that appears as solid as any in the pitching-rich National League West. The experience of being temporarily on the job market made him stronger mentally and physically -- and maybe even...
SCOTTSDALE, Ariz. Stress, Trevor Bauer believes, is defined by your perspective. While many people seek to avoid it, he embraces it. He believes his success as a pitcher depends on his ability to function with it, so he immerses himself in it. His workout routine comes from the please, sir, can I have another? school. Bauers pregame regimen, which includes an hour of stretching...
What else can baseball fans do in January but dream of October? In You May Say I'm a Dreamer, the Outside Corner staff will imagine the route to a World Series in 2012 title for all 30 teams. The Arizona Diamondbacks are the 2012 World Series champions!  A year after their brilliant "worst to first" campaign, the D-Backs proved they are here to stay after their thrilling...
2011 RecapAfter going an NL West-worst 65-97 in 2010, the Diamondbacks were able to turn it around under manager Kirk Gibson in his first full season at the helm in Arizona, going 94-68 and winning the NL West crown.  The starting rotation was surprisingly strong, as Ian Kennedy (21-4, 2.88 ERA) and Daniel Hudson (16-12, 3.49 ERA) both had career years, while Joe Saunders (12...
J.J. Putz's job description with the Diamondbacks isn't limited to the ninth inning. He's also the team prankster, mentor, occasional spokesperson and clubhouse uniter.
Shaw throws a cut fastball that some in the Diamondbacks clubhouse liken to that of Yankees closer Mariano Rivera.
Though he somewhat flew under the radar, reliever David Hernandez was a key part of the unexpected success the D-backs had last year en route to winning 94 games and the National League West.
In addition to monitoring the workload of reliever Takashi Saito, the D-backs plan to take it easy on closer J.J. Putz this spring.
There were not a lot of nerves for D-backs No. 1 pick Trevor Bauer as he threw his first bullpen session of the spring Tuesday.
D-backs GM Kevin Towers and manager Kirk Gibson are well aware of the perception that the starting rotation is already set, and they will do the best they can to not let it permeate the clubhouse.
Diamondbacks News

Delivered to your inbox

You'll also receive Yardbarker's daily Top 10, featuring the best sports stories from around the web. Customize your newsletter to get articles on your favorite sports and teams. And the best part? It's free!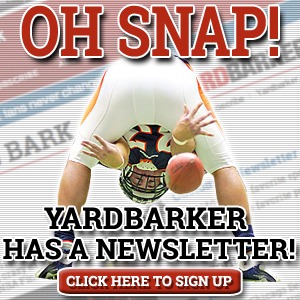 Latest Rumors
The Backyard

Today's Best Stuff

For Bloggers

Join the Yardbarker Network for more promotion, traffic, and money.

Company Info

Help

What is Yardbarker?

Yardbarker is the largest network of sports blogs and pro athlete blogs on the web. This site is the hub of the Yardbarker Network, where our editors and algorithms curate the best sports content from our network and beyond.